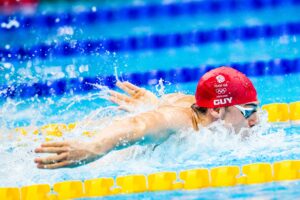 After his races, Guy emphasized that in-season swims were good to practice, but the focus was is on swimming fast when it matters most.

L'australiana Cate Campbell parla dell'importanza che gli atleti condividano i propri problemi di salute mentale "Non siamo supereroi"

Cate Campbell talks about the many high-profile swimmers who have discussed their experiences with mental heath struggles.

Sates, who already did major damage on day 1 by beating Olympic champion Dean in the 200m free, got it done for 200 IM gold tonight in 1:58.31
More Video

11
After getting a first-hand look at Loughborough, it's easy to see why an NCAA athlete looking to keep swimming might take the leap across the pond.

9
Proud produced 21.89 for silver in the men's 50 free while winning the B-final of the 50 fly in a time of 23.22, which would have placed 2nd in the A-final

10
Arno Kamminga of the Netherlands nabbed the men's 200m breast victory here in a time much quicker than Monaco.

1
Israel's national record holder Anastasia Gorbenko was the fastest woman in a very tight 200m IM field, which saw the top 3 finishers separated by only .34.

Men's butterfly was stacked, with Nicholas Santos (23.03) and Kristof Milak (1:53.89) combining to break both meet records in the fly events today

6
Although beat out for 200 free gold by newly turned Pro Matt Sates, Dean still shined with a silver medal-worthy time of 1:46.27

2
Elendt of both Germany and the University of Texas fired on all cylinders, registering a super quick prelims time of 1:05.82 in this women's 100m breast.

81
Dressel could win a lot of gold medals at World Champs. Could the mixed relays be a redemption moment for Team USA after the 2020 Olympic Games?
Widget
Copy and paste the code below into your web editor to embed this category's top swimming stories into your website.
Here's how the widget will display on your site:
Video Swimming News by SwimSwam