Australian swimming legend Ian Thorpe spoke out against FINA's decision to ban transgender women from elite female competitions in a recent interview.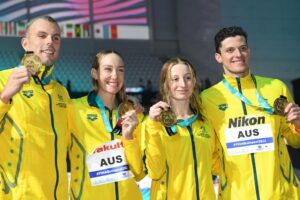 The South Australian Sports Institute honors Head Coach Peter Bishop and swimmers Kyle Chalmers, Madi Wilson, and Meg Harris for their 2022 achievements.

The total amount of prize money handed out at this year's Short Course World Championships will see a significant decrease compared to last year.

Australia's new prime minister pulled out of a federal pledge to split the cost of 2032 Olympic and Paralympic spending with Queensland last week.
More Australia

Swimming Australia awards Life Memberships to Olympic Coach Michael Bohl, FINA Second Vice President Matthew Dunn, and sports commentator Nicole Livingstone.

1
Taylor McKeown checked one last item off her bucket list this weekend before officially calling it quits from competitive swimming.

7
Cody Simpson cruised to the top of the podium in the men's 100m butterfly event while competing at the Queensland LC Preparation Meet.

7
Cody Simpson stood atop the men's 100m freestyle podium today in Queensland while competing at the Long Course Preparation Meet.

9
Swimming Australia announced the election of Dr. Michelle Gallen as its new President, axing Tracy Stockwell after just nine months.

6
Several big Aussie stars, including Olympic champion Kaylee McKeown, are headed to the Queensland Long Course Preparation Meet #2.

8
Miller was convicted and sentenced to five years and six months in jail after pleading guilty to running a drug operation.

3
World Championships medalist Holly Barratt announced her retirement from the sport following the completion of the 2022 World Cup.
Widget
Copy and paste the code below into your web editor to embed this category's top swimming stories into your website.
Here's how the widget will display on your site:
Australia Swimming News by SwimSwam