Titmus is over six months older than Katie Ledecky was the last time she set a world record, which came in the 1500 free back in 2018.

Our Summer Preview magazine ships soon. This issue is fat, detailing who and why to watch at World Champs, Commonwealth Games and European Champs.

16-year-old standout Flynn Southam headlines a roster of 32 Junior Dolphins who will represent Australia at the Junior Pan Pacific Championships in August.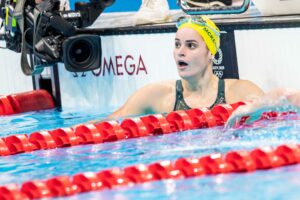 Find out what event lineup Aussie superstar Kaylee McKeown has in mind for the World Championships and Commonwealth Games.
More Australia

18
Australian 16-year-old Flynn Southam will be heading to Hawaii and Birmingham but not Budapest for this summer's big international meets.

36
Kate Douglass took almost the same number of strokes for every lap of her 200 breast race at U.S. trials as Zac Stubblety-Cook did in his world record swim.

45
Upon seeing the news of his first senior Australian team berth, Cody Simpson clasped his hand over his mouth and couldn't stop smiling.

34
Ariarne Titmus' coach Dean Boxall went viral last summer because of his celebration of Ariarne Titmus' 400 free gold medal. See what he did when she broke the World Record.

2019 World University Games champion William Yang made some major noise last night down under, taking the men's 100m freestyle gold medal.

79
In post-race interviews following her world record, Titmus discussed Aussie women's freestyle depth, pressure, and her respect for Katie Ledecky.

8
Lani Pallister has already swum 3 lifetime bests at Australian Championships, months after undergoing heart surgery and suffering from an eating disorder.

5
18-year-old Olympian Isaac Cooper shows no signs of slowing down, notching a new Aussie Age Record in the men's 100m backstroke.
Widget
Copy and paste the code below into your web editor to embed this category's top swimming stories into your website.
Here's how the widget will display on your site:
Australia Swimming News by SwimSwam