Caine now faces a total of 27 charges relating to the sexual abuse of six girls and one woman from the 1970s until 1990s.

30-year-old Cate Campbell got back in the pool for just the 4th time since Tokyo on Thursday, donning a Wonder Woman suit at the Colmslie Aquatic Centre.

Check out the latest edition of Beyond the Lane Lines, featuring the University of Kansas, Daiya Seto and South Australia.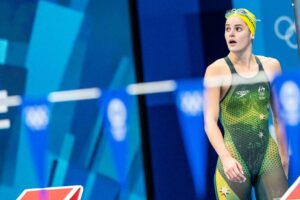 Australia will send 36 swimmers to the 2022 World Short Course Championships, which will occur on home soil in December 2022.
More Australia

4
SwimSwam spoke with Australian swimmer Lani Pallister, who reflected upon her season, her training, and her goals for the future of her career.

3
Swimming Australia and featured swimmers like Katja Dedekind and Rowan Crothers share captured moments at the 2022 Swimming Australia Awards via Instagram.

4
Michael delivers the embed experience. He pulls in local news, Aussie fans, even the Aussie vs U.S. history going back to the 2000 Olympics.

24
After 50 years Mark Spitz's retelling of his iconic performance at the 1972 Munich Olympics is wise and vulnerably threadbare.

24
2022 represented a remarkable rise for Mollie O'Callaghan including winning 13 medals across the FINA World Championships and Birmingham Commonwealth Games.

5 legends become the first to be celebrated in the new Swimming Australia Hall of Fame, with the inductees unveiled at…

9
Australian 17-year-old Flynn Southam won the boys 50 free tonight at the 2022 Junior Pan Pacs in Honolulu, swimming a 22.36.

7
While competing on the final night of the Aussie Short Course Championships, Lani Pallister produced a new national record in the women's 800m freestyle.
Widget
Copy and paste the code below into your web editor to embed this category's top swimming stories into your website.
Here's how the widget will display on your site:
Australia Swimming News by SwimSwam