Despite being primarily known as a mid-distance freestyler, Maurer's swims from this meet indicate that he can be proficient in backstroke and IM races.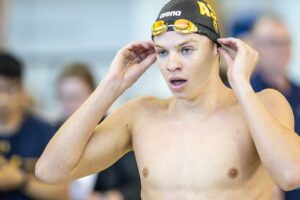 Marchand continues to show his versatility, having nation-leading times in all four strokes, as well as in both IM events.

After swimming the top time in the 100 back for the 2022-23 season, it is official that Leon Marchand does not have a single "bad" stroke.

As a parent, you can't do much to impact your swimmer's training or taper. But there are still ways to support your athlete and make sure that their championship season is the best one yet – win or lose.
More National

5
Lucinda McRoberts was listed as a Sports Business Journal Game Changer in 2019 as well as one of the Leaders in Sport Under 40 last year.

48
Douglass said that 2023 NCAAs would be her last college meet, meaning she will not being using her fifth year of eligibility for the 2023-24 NCAA season.

Sam Kendricks, the voice of American swimming for years, will be honored posthumously with a Lifetime Achievement Award.

Sticklen became the 11th woman under 50 seconds in the 100-yard fly while also taking over the top spot in the nation in the 200 fly against NC State.

1
Capitanii led Texas to four dual meet victories in January over highly-ranked opponents and was also named the head women's coach for the World Championships.

13
Conway, a 2021 NCAA qualifier, will only be doing a fifth year if he gets accepted to the UVA Data Science grad school with an academic fellowship.

2
Capitani feels a big part of her role is listening so that she "can take the most in" and make informed decisions based on that.

21
We discuss the Texas/NC State dual meet, Russia and Belarus swimming in the 2023 Asian Games, and SwimSwam's wild 2024 Olympic Trials predictions
Widget
Copy and paste the code below into your web editor to embed this category's top swimming stories into your website.
Here's how the widget will display on your site:
National Swimming News by SwimSwam