24-year-old Yuya Hinomoto fired off the fastest 100 breaststroke of his career, hitting 55.77 as the #5 performer all-time in the event.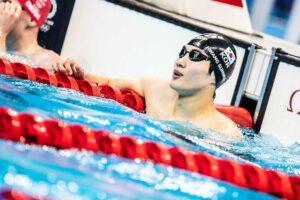 We have a week until the next FINA World Cup stop happening in Doha but we're already looking at the intense battles which lay ahead.

There are just over 1,000 days until the Paris 2024 Olympic Games but we're already examining the men's sprint freestyle talent that awaits.

Former 200 breaststroke WR holder Ippei Watanabe has been quiet since missing out on the Olympic squad but he's set to race in his native Japan this weekend.
Widget
Copy and paste the code below into your web editor to embed this category's top swimming stories into your website.
Here's how the widget will display on your site:
Asia Swimming News by SwimSwam