The US is in pretty good shape in most stroke 50s for having two qualifiers – though there are a few opportunities for that to go wrong.

World Record breakers at 16-or-younger is becoming less-and-less common, but where does Summer McIntosh's swim from Wednesday rank?

North Baltimore Aquatic Club head coach Paul Yetter, coach of one of the best 400 IMers in history, runs the math on his rule of thumb for event potential.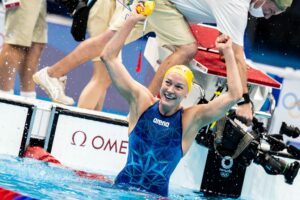 No world record stands above the rest quite like Sarah Sjostrom's mark of 24.43 in the women's 50 butterfly.
More SwimmingStats

14
Sarah Sjostrom has ranked inside the world's top 10 at the end of the year 14 consecutive times in both the women's 50 fly and 100 fly.

1
We have witnessed eight world records in long course meters in 2022 — slightly fewer than in 2021, when 10 world records were set.

25
At 42, Brazilian Nicholas Santos won gold in the men's 50 butterfly at the 2022 Short Course World Championships.

2
In 2022, several swimmers became the first of their countries to win medals at major competitions, etching their name into the history books.

50
Caeleb Dressel's own three records in short course yards that will be incredibly difficult for anyone to match in the near future.

32
During the 2022 World Aquatics Championships in Budapest, Brazilian superstar veteran Bruno Fratus set the 100th 21-point 50 freestyle of his career.

27
Regan Smith is the fifth-fastest U.S. National team member in the 200 IM, with 75% of her splits being gold-medal caliber. But then there's breaststroke…

14
After Canadian teen Summer McIntosh won a head-to-head battle with Katie Ledecky a few weeks ago at a World Cup meet; Ledecky fought back on Thursday in Greensboro.
Widget
Copy and paste the code below into your web editor to embed this category's top swimming stories into your website.
Here's how the widget will display on your site:
SwimmingStats Swimming News by SwimSwam