Italy's Federica Pellegrini is among the biggest mainstream sports stars swimming has to offer, and her social media following backs that up.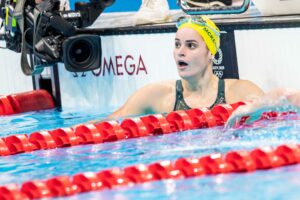 FINA's system scores the top 16 finishers per individual event and the top 8 in relays, bettering recognizing a nation's depth than the medal table.

By winning seven medals in Tokyo, McKeon became the first woman since Soviet gymnast Larisa Latynina to lead an Olympic Games in medal count.

This is an ad-free, one-off, 170-page editorial Olympic Guide produced for media outlet's coverage as well as for swimming nerds around the world.
Widget
Copy and paste the code below into your web editor to embed this category's top swimming stories into your website.
Here's how the widget will display on your site:
SwimmingStats Swimming News by SwimSwam