Each athlete gives perspective on what they took away from their experience and what they would tell others that are still going through college recruitment.

After getting sick just weeks before US Trials, she placed 7th in the 200 free final, just missing out on her first senior international team.

Liendo discusses why this was the right decision for him and what he's excited about moving forward as a Gator.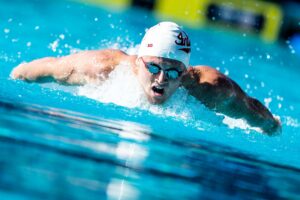 We get into topics such as winning an NCAA title, his 200 fly/200 back double at Big Tens last year, and how to make your underwater elite.
More Podcasts

94
We discussed Caeleb Dressel breaking his silence since leaving the world champs, US selection procedures, and the legitimacy of practice swims

3
In this episode of the SwimSwam podcast, we get into how athletes have changed. How recruiting has changed. How the Louisville program has changed.

10
Lea Maurer joins the SwimSwam podcast a couple weeks into her first year as the "Peter Daland Endowed Swimming Coach Chair," aka Head Coach, at USC.

18
Daniel Diehl joined the SwimSwam podcast after a four day break from swimming, following his performances at the Junior Pan Pacific Championships

2
In this SwimSwam Podcast, we have 2000 Olympic Games gold medalist BJ Bedford Miller.  BJ's an old friend and a swimming insider.

98
Popovici isn't entering the meet with any expectations but did go best times in workout the other day, signaling that the Romanian may be in top form

83
Cielo reveals what he see's in Popovici's technique, starts, and kick that can make him even more of a lethal threat on the international stage.

After sustaining an injury in the fall, Pieroni had time to reflect on whether or not he really wanted to continue competing at the highest level of swimming
Widget
Copy and paste the code below into your web editor to embed this category's top swimming stories into your website.
Here's how the widget will display on your site:
Podcasts Swimming News by SwimSwam