Rushton and Siobhan Haughey will work in Netanya, Israel for a six-week period to run workouts and offer guidance to the federation's coaches.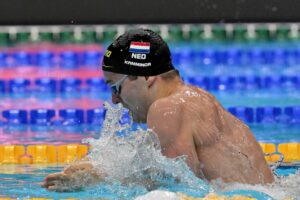 Two-time Olympic silver medalist Arno Kamminga was among the strong Dutch contingent which found success at the 2023 Flanders Swimming Cup.

The 56th Geneva Challenge wrapped up from Centre Sportif des Vernets yesterday with Roman Mityukov topping the podium once again.

During his NCAA debut this weekend, Hubert Kos offered Arizona State a glimpse of the scoring potential the 19-year-old Hungarian could bring to NCAAs. 
More Europe

1
Italy's Gabriele Detti was back in the water on day two of the 2023 Geneva Challenge, taking on the two events of the men's 400m free and 1500m free.

52
Marchand swam his second-fastest 200 breast ever, as well as his third-fastest 200 IM at the ASU-Stanford dual meet on Friday.

28-year-old Italian Olympic medalist Gabriele Detti was the big star of the show on night one of the 56th Geneva Challenge.

2
Yasianovich has found a full-time position with United Swim Club, which is owned and operated by three-time Belarusian Olympians Pavel and Sveta Sankovich.

2
Multi-Olympic medalist Gabriele Detti is among the entrants headed to the 56th Geneva Challenge which begins on Friday, January 20th.

The 2023 Flanders Swimming Cup is set to take place this weekend, with action kicking off on Saturday from the Olympic Aquatic Centre in Antwerp, Belgium.

1
Read up on the latest edition of Beyond the Lane Lines featuring French standout Leon Marchand and Cypriot dynamo Kalia Antoniou.

30
Milak discussed topics ranging from his career to subjects like Russia-Ukraine, trans athletes, and the act of kneeling before a national anthem.
Widget
Copy and paste the code below into your web editor to embed this category's top swimming stories into your website.
Here's how the widget will display on your site:
Europe Swimming News by SwimSwam