Rachel discusses how the recent influx of pros including Simone Manuel, Regan Smith, Chase Kalisz, and Jay Litherland affects the coaches and college team.

Quicksilver Swimming's Matthew Elliott, who specializes in sprint free and fly, has verbally committed to Cal for 2024-25.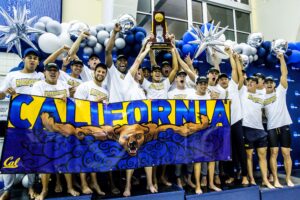 Cal had a tremendous 2021-2022 season, winning the NCAA title by a healthy margin over the defending champion Texas Longhorns.

Gabriel Jett will be one of many key players for the Cal men this season as they seek a national title defense. For now, we're picking them to do so.
More Pac-12

3
Does saying "verbal commitment to the college class of 2028" sound foreign to you? Does it seem too early? Well, think again.

11
Bolles School Sharks 16-year-old Carter Lancaster has handed his verbal commitment to Cal's recruiting class of 2024.


4
It should come as no surprise—the Virginia women rank #1 in our pre-season NCAA power rankings.

2
Stanford Athletics celebrated Title IX's 50th anniversary by inducting its first all-female Hall of Fame class, including 2008 Olympic swimmer Elaine Breeden.

12
Sancov, a 2021 NCAA 'A' finalist in the 200 free, spent his last four seasons with USC and graduated from the school in May 2022.

23
Claire Curzan is one of the top NCAA prospects of all-time, and she leads a recruiting class that includes four of our top ten recruits nationally.

23
Isabel Gormley is still listed on Stanford's roster following a one-year suspension by USADA, but she will not compete for the Cardinal this season.

6
One Big Ten program already features the reigning NCAA mile champion… and just recruited the best distance swimmer in the class of 2022.
Widget
Copy and paste the code below into your web editor to embed this category's top swimming stories into your website.
Here's how the widget will display on your site:
Pac-12 Swimming News by SwimSwam