Highlighted by Olympic champs Maggie MacNeil and Brooks Curry, this session includes drill work and specified exercises used to hone in on pure speed

Kennedy Gilbertson was one of the top performers of the meet, winning two individual events on top of her two relay victories.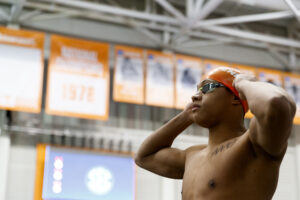 Jordan Crooks won a combined seven races last week to help lead the Vols to a pair of wins over No. 11 Georgia and Carson-Newman.

It was a chaotic week in the NCAA. Among the highlights we break down Marchand's swims, other NCAA leading times, and check in on the midseason transfers.
More SEC
Breaststroke specialist Audrey Cohen has announced her verbal commitment to the University of Alabama, beginning in the fall of 2024.

5
As dual meets finish and prep for conferences start, we thought it would be a good time to check in on the swimmers still undefeated in individual events.

Arkansas Swimming and Diving finished their final home meet of the season with 14 event wins on Saturday afternoon to top visiting Kansas 181-112.

21
Crooks went a sub-20 split earlier this month on the fly leg of the 200 medley relay. He also picked up two individual wins against Georgia.

Florida's divers won all six events in their two-day meet with FSU, including Anton Svirsky (pictured) winning the men's platform on Saturday.
Florida freshman Zoe Dixon (above) swam two season bests and won three events against rival Florida State on Friday.
Maggie MacNeil helped LSU's 400 free relay team clock a 3:13.93, breaking the school record of 3:15.56 that had stood since 2009.

3
David Nolan was one of the best high school swimmers in history at Hershey High School in Hershey, Pennsylvania.
Widget
Copy and paste the code below into your web editor to embed this category's top swimming stories into your website.
Here's how the widget will display on your site:
SEC Swimming News by SwimSwam