Katie Ledecky in the most dominant distance swimmer in history. She is a 3-time Olympian, 7-time Olympic champion and 16-time world champion.
Two world records, four world championships, one Olympic gold. All before she passed her driver's license test. Born in Washington, D.C. in 1997, Kathleen Ledecky (Katie, for short) did not waste much time before beginning her already-legendary swimming career.  She started swimming at age 6, following in her older brother Michael's footsteps.
Personal
Ledecky grew up in Bethesda, Maryland and attended Stone Ridge School of the Sacred Heart. She trained with Nation's Capital Swim Club, where she was first coached by Yuri Suguiyama, followed by Bruce Gemmel after Yuri's departure to Cal.
International Competition
2012 U.S. Olympic Trials
Ledecky exploded onto the U.S. swimming scene in 2012 at the Olympic Trials, where she was the youngest swimmer at the meet. She quickly claimed her spot in the future of American swimming by winning the 800 freestyle and finishing third in the 400 and ninth in the 200.
2012 Olympic Games 
A few weeks later, she surprised her country and the world with a gold medal finish in the 800 freestyle at the 2012 Olympic Games in London. Her time of 8:14.63 was incredibly close to the World Record and broke Janet Evans' long-standing American Record of 8:16.22.
2013 FINA World Championships
Ledecky returned to school and continued to train at NCAP with coach Bruce Gemmell. After
countless splits and times that danced around world record paces, Ledecky made her move at the 2013 FINA World Championships in Barcelona. She set world records in both the 800 and 1500 freestyles and an American record in the 400.
In the 1500, she shaved nearly six seconds off of Kate Ziegler's previous world record in a hard-fought battle against Denmark's Lotte Friis. Ledecky also made her international relay debut in Barcelona and won gold in the 4×200 freestyle relay with teammates Shannon Vreeland, Karlee Bispo and Missy Franklin. The 2013 FINA Female Swimmer of the Meet has certainly proven herself as a crucial part of the future of American swimming.
World Record 1500 Meter Freestyle – Race Video
2014 Pan Pacific Championships
At U.S. summer nationals, Ledecky broke the world record in the 400 freestyle in addition to winning the 200 freestyle and 800 freestyle. At the 2014 Pan Pacific Championships, she won five golds (200 freestyle, 400 freestyle, 800 freestyle, 1500 freestyle, 800 freestyle relay) and became the first female to win four individuals.
World Record 400 Meter Freestyle – 2014 Pan Pacific Championships
2015 World Championships
At the 2015 World Championships in Kazan Ledecky faced a lot of pressure going off of her recent successes. Her first swim of the meet was in the 400 free, and as the reigning world record holder, it was hard to imagine anyone but Katie taking the gold. She took out the race hard, swimming he first 200 split in under 1:58, and she held on for the win. Although she didn't break her World Record mark, she set the tone for the meet.
Her next event came in the 1500 free, when she set her first World Record of the meet in the prelim of

the 1500 free. The following day in the final, Ledecky dropped her World Record by another two seconds and finished ahead of the runner-up, Lauren Boyle, by 15 seconds and finished when much of the field was turning for their last 50.
She also picked up another gold medal in the 200 free, an event she isn't as widely known for, but probably her event with the most improvement. Ledecky was placed on the U.S. 800m free relay, which she swam the anchor leg. Along with her American teammates, Missy Franklin, Leah Smith and Katie McLaughlin, Ledecky pulled ahead of record-pace Sweden, and eventually touched for a gold medal.
Ledecky returned for the final of her fourth individual event — the 800 free. This time around Ledecky crushed her 800 World Record mark she set in 2014, reducing the record by nearly four seconds. She finished 10 seconds ahead of the second finisher in the field. Her split at the 400-meter mark was good for a second place finish, behind only herself, in the 400 event.
2016
Katie Ledecky starts the Olympic year off with a bang! Coming down from altitude training for the 2016 Pro Swim Series at Austin, broke the World Record in the women's 800 meter freestyle on Sunday swimming an 8:06.68.
World Record 800 meter Freestyle Race Video – 2016 Austin Pro Swim Series
2016 US Olympic Trials
Ledecky made her second Olympic Team by winning the 400M Freestyle with a time of 3:58.98. She made her near record swim look easy beating second place finisher, Leah Smith by just 1.67 seconds, a slim margin compared to most of her races.
It is no surprise that Ledecky made the Olympic Team in a second event, the surprise is that she won the 200M Free. Before this year, that may not have been a reality, but Ledecky added the event to her repertoire seamlessly.
Ledecky won her third event, the 800m Free, with a time of 8:10.32, outdistancing second place finisher Leah Smith by almost 10 full seconds.
2016 Rio Olympics
Ledecky was named to the US 4x100M Freestyle Relay for the preliminary heats and turned in the
fastest split for the US Women, therefore giving her a spot on team swimming at finals. The US Women finished behind the favored Australians to win the silver medal, with Ledecky anchoring the foursome.
However, not surprisingly, Ledecky won the 400M freestyle. Her blazing fast time of 3:56.46 shattered the previous world record, and was almost five full seconds ahead of second place finisher, Jazmin Carlin.
In the 200m freestyle, Ledecky went out from the start, took the lead around the 60 Meter mark and never relinquished it. She finished three tenths of a second in front of silver medalist, Sarah Sjostrom, 1:53.73 to 1:54.08.
She followed that performance up with an anchor leg in the 4x200m free relay. 600 meters in, the USA was behind Australia by over 1 second, and then Ledecky hit the water. Splitting a field best 1:53.74, she led USA to victory in a final time of 7:43.03.
Ledecky has said that she treats every race as if it is a sprint, and during the 800m Free that was never
more evident. Her time of 8:04.79 not only broke the World Record by almost two seconds, but was also over 11 seconds ahead of second place finisher, Jazmin Carlin of Great Britain. By the time Ledecky was finishing, she was a full 25 Meters ahead of some other swimmers in her heat, all of whom swam to a spot in the finals and are considered amongst the best in the world.
2017 US World Team Trials
Ledecky added a sprint race to her repertoire, finishing 6th in the 100m free, giving her a chance for a spot on the 4X100m Free Relay.  Ledecky then went on to win the 800m Free on the same night, finishing almost 9 seconds ahead of the second place finisher. On Day 2, Ledecky added another win in the 200m free finishing in 1:54.84, well ahead of silver medalist, Leah Smith (1:56.68). Ledecky started Day 4 by winning the 400m Free setting a new US Open Record and Long Course National Meet Record of 3:58.44.  Ledecky did not swim the 1500m free but earned a spot in Budapest when she won the 800m Free.
2017 FINA World Championships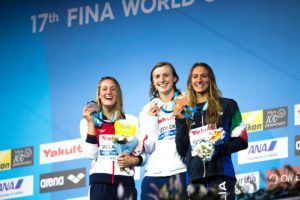 Day one of the 2017 FINA World Championships, Ledecky won the 400m freestyle in 3:58.34.  It was the second-fastest time in history, behind her own world record. USA had the 1-2 sweep in the event with Leah Smith grabbing silver at 4:01.54.  Ledecky followed up with a gold on the women's 4×100 freestyle relay, helping Team USA to a new American record time, 3:31.72.
Day three Ledecky dominated the 1500m freestyle, winning her third Worlds gold in 15:31.82, which stands as the 4th-fastest swim in history. With her third consecutive 1500 free title, Ledecky passed Missy Franklin for the most gold medals in long course World Championships history, holding a dozen world titles in as many appearances.
Day four in a thrilling 200 freestyle battle, Ledecky and Emma McKeon tied for silver–Ledecky's first silver in a major international championships. Both women were faster the previous night in the semis, 1:54.99 for McKeon and 1:54.69 for Ledecky, but each wound up touching in 1:55.18 for the tie in the finals. Italian swim star Federica Pellegrini won in 1:54.73.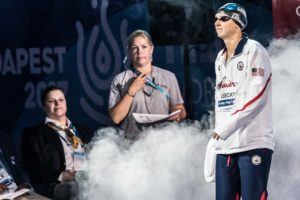 Day five of competition in the women's final of the 4x200m freestyle relay, Leah Smith led off for the Americans in a personal best 1:55.97.  Mallory Comerford (1:56.92) and Melanie Margalis (1:56.48) took over the middle legs of the relay as they battled down the stretch with China and Russia. It was a very tight race with China going into the final leg, but Ledecky took off with a 1:54.02 split to help the Americans strike gold again. The 4x200m relay was Ledecky's 5th medal of the competition, and her 4th gold.
Day seven Ledecky won gold in the women's 800m freestyle. It wasn't the most dominant performance of her career, but she got the job done in the 800m freestyle in a time of 8:12.68. That gives Ledecky three straight World titles in the event, giving her three three-peats along with the 400 and 1500 freestyle.
College
2016 College Preview SwimSwam Magazine Cover
In the fall of 2016, as Katie was just starting her freshman season as a cardinal, she was featured on the cover of SwimSwam Magazine's college preview. Giving swimming fans a sneak peak into what they could expect in the coming NCAA season, Ledecky was an automatic highlight, coming into the scene with best times that would lay waste to the NCAA record books. And soon enough, she did just that. The cover shot was captured by Mike Lewis.
Stanford University 
The top high school recruit in 2014, Ledecky committed to the Cardinal; however, she chose to defer her enrollment until 2016 to train for the Rio Olympics with her home club of Nation's Capitol.
Stanford University 2016-2017 Freshman Year
If there was any doubt that Ledecky would continue her dominance, look no further than Stanford vs Texas. Ledecky smashed the 1000 yard freestyle pool record, beating the rest of her heat by 35 seconds. Her 9:10.49 is also a Stanford school record, annihilating the previous record held by Janet Evans (9:30.69).
2017 Pac 12 Championships
After winning the 4×200 free relay with her Stanford teammates, Ledecky won the 500 free with a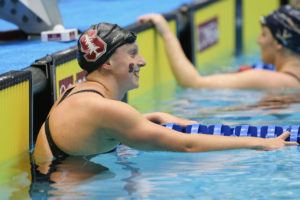 time of 4:25.15, lowering her previous NCAA Record by more than a second. She then followed that up by winning the 400IM, finishing 3 seconds ahead of the rest of the competition. Then just two events later she finished just behind Stanford teammate, Simone Manuel, in the 200 Free.
2017 NCAA Championships
Ledecky started her individual campaign by winning the 500 Free and rewriting the record books with a time of 4:24.06, more than four seconds ahead of second place finisher, Leah Smith. The 200 Free brought another gold, but this time Ledecky shared the top of the podium with Louisville's Mallory Comerford, both touching the wall at 1:40.36. Ledecky set another Meet and Pool Record in the 1650 Free with a time of 15:07.70. Ledecky and her Stanford teammates capped the meet of by capturing the team title, beating runner up Cal by over 100 points.
2018 Pac-12 Championships
Stanford's Katie Ledecky made history on Friday night at the 2018 Pac-12 Championships in Federal Way, Washington. Ledecky went up against American Record holder and teammate Ella Eastin in the 400 IM, reclaiming the American Record from Eastin and taking down Katinka Hosszu's NCAA Record as she won the race in 3:56.53. Eastin was also under the former American Record, taking silver in 3:57.32.
Ledecky's Splits:
100 Fly Split- 54.75
100 Back Split- 59.29
100 Breast Split- 1:09.43
100 Free Split- 53.06
Final Time- 3:56.53
2018 NCAA Championships
Although she didn't go any best times in her individual performances, Katie Ledecky had a stellar meet which included 2 individual titles. She started the meet by anchoring Stanford's 800 free relay in 1:39.87 to victory. On night 2, she added 2 seconds from her time last year in the 500, going 4:26.57. Ledecky still bested the field by over 8 seconds, and seemed more excited that her teammate, Katie Drabot, came in 2nd with a personal best of 4:34.86 than her own individual title or performance. On night 3, Ledecky battle with Stanford teammate Ella Eastin in the 400 IM, ultimately finishing 2nd behind Eastin in 3:58.29. On the last night of competition, Katie swam the 1650, lapping every other contender in the final heat and finishing in 15:07.57, nearly 30 seconds ahead of 2nd place.
Going Pro
On March 26, just days after the 2018 NCAA Championships, Katie announced she would forgo her final 2 years of NCAA eligibility and turn professional. Ledecky made the announcement while speaking at the National Press Club in an interview that was broadcast live on C-SPAN 2. She said she will continue to take classes at Stanford and train with her Cardinal teammates but that her collegiate swimming career was over.
The Bethesda, Maryland native tore up the NCAA during her two years on The Farm, winning 8 national titles and leaving behind NCAA records in the 500 free, 1000 free, 1650 free, 400 free relay, and 800 free relay.  As a collegian, she broke American records 11 times, NCAA records 15 times and NCAA meet records six times.
"I've had two really great years of college swimming, have been on an incredible team that's won back-to-back national championships" she said in an interview with The Washington Post. "I feel like now is the right time for me to be making this transition and starting this next chapter."
On April 2nd, Ledecky took the first step in her professional career by signing with agent Dan Levy, Wasserman Senior Vice President of Olympic and Women's Sports.
2018 Pro Swim Series – Indianapolis – WORLD RECORD
In the very first race of Katie Ledecky's professional career, she has broken her own world record in the 1500 free. Taking a full five seconds off of her old mark and racing at the 2018 Pro Swim Series in Indy, Ledecky charged to a 15:20.48, finishing almost fifty seconds ahead of 2nd place's Erica Sullivan (16:09.88). This is the first best time in long course in this event for Ledecky in three years– her previous best, which also stood as the previous world record, was a 15:25.48 from the 2015 World Championships in Kazan, Russia. That's a clean five full seconds off of the old mark.
TOP PERFORMANCES OF ALL TIME – WOMEN'S 1500 FREE
KATIE LEDECKY'S WORD RECORD 1500m FREE (May 16th, 2018, Pro Swim Series – Indy)
2018 TYR Pro Swim Swim Series – Santa Clara – Signs with TYR
Katie Ledecky, arguably the most marketable swimmer to turn pro since Michael Phelps, has signed a sponsorship deal with swimwear brand TYR, announcing the partnership at the TYR-branded Pro Swim Series stop in Santa Clara, California.
"I am excited to partner with TYR as I take this important step in my career," said Ledecky. "We share a vision of growing the sport for current and future generations of swimmers, and we will build towards that goal together. I appreciate TYR's investment in me, and their commitment to technology that is critical to my ongoing quest to swim faster."
Cover of National Geographic
Just days after announcing a partnership with major swimwear brand TYR at the Pro Swim in Santa Clara, Ledecky announced via social media that she would be gracing the cover of the July issue of National Geographic, which hit newsstands June 26th. This was the first time that an Olympic swimmer has ever been on the cover of National Geographic. This also marks the first time a female Olympian has graced the cover. Katie shared the cover image via her Twitter on June 18.
July 2018 @NatGeo cover story, on newsstands June 26! https://t.co/9Z8byOnaNd pic.twitter.com/fD7fZmjiEo

— Katie Ledecky (@katieledecky) June 18, 2018
2018 U.S. National Championships
Ledecky won the 800 freestyle (8:11.98) at the Phillips 66 National Championships, despite being more than seven second off her world record pace (8:04.79 from the Rio Olympics). She also took the 200 freestyle (1:54.60) and 400 freestyle (3:59.09) titles and finished ninth in the 100 freestyle (54.46). At the conclusion of the meet, she was announced as the TYR Pro Swim Series overall female champion for the 2nd year in a row.
2018 Pan Pacific Championships
On the first day of the Pan Pac Champs, Ledecky pulled the 800/200 free double. She swam prelims of the 200 free and went into the final as the top seed (1:55.16). At night, she dominated the timed finals of the 800 free in 8:09.13, breaking her own Pan Pac record from 4 years ago. Coming back in less than an hour to race the 200, she equaled her time from prelims but was beaten by youngsters Taylor Ruck and Rikako Ikee, settling for 3rd. On day 2, Ledecky anchored the women's 4×200 free relay in a monster time of 1:53.84, nearly pulling even with Australia but ultimately touching in 2nd, earning a silver for team USA. On day 3, Ledecky defended her title as pan pac champion in the 400 free, touching first in a time of 3:58.50, just .13 off of her own meet record. She finished off her pan pacs performance with a gold in the women's 1500, winning in a time of 15:38.97.
2018 World Female Swimmer of the Year
Ending the year with 3 #1 world rankings as well as a hefty medal haul from Pan Pacs, Katie Ledecky was SwimSwam's 2018 US Female Swimmer of the Year as well as the World Female Swimmer of the Year.
International Swimming League
On June 11, 2019, 4 of the 8 ISL team rosters were announced. This included the DC Trident, headed by General Manager Kaitlin Sandeno, who announced Katie Ledecky as a member of her roster. Ledecky, for her part, is from the DC area.
2019 FINA World Championships
Ledecky started her World Champs with the 400 free, which she took out strong and was leading through the 300 mark, but was passed on the last 50 by Ariarne Titmus of Australia, marking her first loss in this event since 2012. Ledecky touched in silver with a time of 3:59.97, behind Titmus' 3:58.76. After that 400, Ledecky pulled out of both the 200 free and 1500 finals, citing illness as the reason.
Ledecky finally got back into the pool for the 4×200 free relay, where she split 1:54.61 on the 2nd leg to help USA break an American record and earn a silver medal behind Australia. Ledecky stayed in the 800 free as well, and went into the race as the 2nd seed behind fellow American Leah Smith. In the final, Ledecky went up against 1,500 champ Simona Quadarella, taking it out fast but then getting passed by Quadarella around the 400. With 50 left, Ledecky pulled up with Qaudarella and passed her, taking the lead by over a body length over the last 50. Ledecky touched for her 4th gold in a row in the 800 free at the world champs in 8:13.58.
2021 Olympic Trials
On night 2 in Omaha, Ledecky won the 400m free in a time of 4:01.27, qualifying for her 3rd Olympic team. On night 4, she took on the 200/1500 free double. In the 200, she won handily, touching in 1:55.11, over 1.5 seconds ahead of 2nd place. Later in the session she came back to win the 1,500 handily as well, touching first in 15:40.50, 11 seconds ahead of 2nd.
Ledecky completed her meet in the 800 free, where she won handily by over 5 seconds, touching at 8:14.62.
2020 Olympic Games
Ledecky started her 3rd Games on Day 2, swimming a controlled 400 free in prelims to move through to finals as first seed. In the final, Ledecky went out strong, leading through the 350. Ariarne Titmus made a big push the final 100 and passed Ledecky on the final 50, netting Ledecky a 2nd place finish and silver medal in her 2nd best performance ever, 3:57.36.
Next up in Ledecky's lineup was the 200/1500 free double, which Ledecky was the only athlete to take on. She moved into the final heat of both events, which occurred just an hour apart on Day 4. In the 200 free final, Ledecky placed 5th overall at 1:55.21, her first individual event she had swam and not medaled in at an international competition. However, Ledecky bounced back 60 minutes later, taking control of the 1500 and taking the win in the first Olympic iteration of the event by over 4 seconds at 15:37.34.
Ledecky was back in the final of the 4×200 free relay, anchoring USA with an incredible 1:53.76 split to pass Australia and nearly pass China, ultimately touching for 2nd to earn silver and break an American record, also dipping under the previous world record set by Australia.
Ledecky kept this momentum rolling into the 800 free final, where she was the top seed. Ledecky maintained seed, swimming out front and constantly distancing herself from Ariarne Titmus the entire race, eventually touching for 1st in 8:12.79, just over a second ahead of her Australian competitor. This was her 3rd-straight title in this event, making her the 3rd woman to ever 3-peat in an individual event at the Olympics. This was also her 6th gold medal, making her the most decorated female swimmer in Olympic history (most gold medals).
2022 World Championships
Ledecky started her meet in Budapest off strong, dominating the women's 400 free to reclaim her world title in the event, only the 10th woman in history to reclaim a world title. She won in a championship record of 3:58.15.
Ledecky was back on night 3 in the 1500, reclaiming another one of her world titles with a time of 15:30.15. Her USA teammate, Katie Grimes, finished 2nd behind Ledecky, making it a 1-2 USA sweep.
On night 5, Ledecky swam the 3rd leg of the 800 free relay, splitting 1:53.67 (the fastest of her career and 3rd fastest all-time) to help USA win gold. With that medal, Ledecky became the most decorated female in world championship history with 21 medals.
On night 7, Ledecky won the 800 free handily in 8:08.04. This marked her 5th win in a row at the World Champs in this event, making her the first swimmer in history to 5-peat at this meet.
2023 U.S. International Team Trials (Indianapolis, Indiana)
In her first race of the meet, Ledecky put on a master class in distance free.  She destroyed the field by 13.21 seconds with a stunning 8:07.07. The time is the third fastest in history and nearly a U.S. Open Record. It also pushes Ariarne Titmus, the next fastest in this event, to the 30th-fastest performance. She was out quickly with a 4:01.73 at the 400-meter mark but was still able to close in 29.34 on the last 50.
In the 200 free prelims, she posted the top time with a 1:55.49. In the final, she swam a methodical race to take 2nd behind Claire Weinstein by just .02. Her time of 1:55.28 is a strong swim for Ledecky though off her season best of 1:54.96. She ended up dropping the 200 free, presumably to avoid the 1500/200 free double, giving Bella Sims another race in Japan. Ledecky will presumably still swim the 800 free relay. 
If anyone doubted Ledecky after her 200 free finish, she left no doubt she is still the best 400 freestyler in America. She is one of perhaps 3 swimmers who could cruise a 4:01.88 in prelims. The prelims swim was in fact slower than what she went out in her 800.  In the final, it was Bella Sims who lead through the 100 but Ledecky took over after that and posted a solid 4:00.45. Sims was able to hang on to 2nd through the end but fell 2.8 seconds back from Ledecky with a 4:03.25. 
In the 1500, Ledecky posted a time of 15:29.64 to win her heat by 29 seconds. Her time is the sixth-fastest performance of all time in the event, as well as the first time that she has been under the 15:30 barrier since March 2020. In addition, she was also faster than the 15:30.15 she swam at the 2022 World Championships to win gold.
2023 World Aquatics Championsips (Fukuoka, Japan)
Ledecky led the 400 free prelims with a 4:00.80. Ledecky laid off the gas over the front half of her race but her 30-point-low splits across the race moved her through the field to 2nd at the 300, a position she maintained to the finish. Her time was 4:58.73, 3.35 seconds back from Ariarne Titmus's WR.
Taking on the 1500, Ledeckey cruised to a 15:41.22 to lead prelims. It was still faster than all but three women ever.  In the finals of the women's 1500 free, Ledecky clocked a time of 15:26.27, which was the third-fastest performance of all-time in the event and her fastest performance since she broke the World Record in 2018. Now, she owns the 16 fastest performances ever in the event. Ledecky won her Worlds race by a full 17.04 seconds.
With her win, Ledecky also broke a myriad of swimming records. Her 1500 free gold was her 15th individual World Championships gold medal, and she is now tied with Michael Phelps as the swimmer with the most individual World Championships gold medals in history. In addition, she also won her 20th overall Worlds gold, making her the first female swimmer to win 20 Worlds golds.  She is the first swimmer to ever have five World titles in multiple events (800: 2013, 2015, 2017, 2019, 2022 and 1500: 2013, 2015, 2017, 2022, 2023)
In the 4×200 free relay, Ledecky split  1:54.39, the 4th fastest split in the field. The Americans claimed silver. 
In a classic Ledecky fashion, there was no doubt that Ledecky would win her 800 free, as she led from start to finish. Her final time was 8:08.87, 4.44 seconds ahead of everyone else, and the seventh-fastest performance of all-time. She now holds the 29 fastest times in the history of the event and briefly held the top 30 times until Li Bingjie touched 2nd in 8:13.31, the new #30 time. The swim made her the first swimmer to win 6 straight world titles and that win pushed her ahead of Michael Phelps' individual World Championship golds record. Phelps won 15 over his entire career. Ledecky now has 16 individual World Championship gold medals in long course meters, and she's hinting at racing until the 2028 Olympic Games in Los Angeles.