Results of the second WISCA Poll of the 2018-19 girls' season have shown Middleton remains in the top spot in Division 1 while Madison Edgewood has fallen to second behind Whitnall in Division 2.
Division 1 
Middleton, the defending Division 1 champions, are still leading by almost 200 points in the polls. Waukesha South-Mukwonago and Madison West entered the polls this week after remaining absent from last week's poll. Waukesha South-Mukwonago is now ranked second overall with 487 points, and Madison West is ranked fourth with 481 points. Sandwiched between them is Verona Area-Mount Horeb, last week's third ranked team. Sun Prairie, last week's second ranked team, fell to fifth overall.
New to the Division 1 top 10 list this week includes second-ranked Waukesha South-Mukwonago, fourth-ranked Madison West, eighth-ranked Homestead, and ninth-ranked Neenah.
This leaves former fifth-ranked team Waukesha South-Catholic Memorial out of the top 10.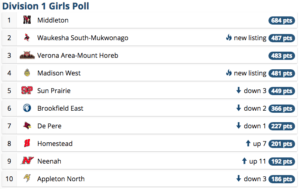 Division 2
Whitnall stole the lead from Madison Edgewood this week, moving up three places with 621 points. Madison Edgewood is sitting in a comfortable second place position just 20 points behind Whitnall. The two schools both have over 600 points while third place Tomahawk has 441 points in third and is sizably ahead of fourth-place Sauk Prairie by 91 points.
There were two very big moves in Division 2 which included Tomahawk moving up 19 places to rank third this weak. Sauk Prairie moved up six placings in order to rank fourth.
There are just two new teams to the Division 2 top 10 rankings this week: Tomahawk and Ashwaubenon.