Following the results from both the Division 1 and Division 2 Wisconsin High School State Championships the the final WISCA poll of the season showed Sun Prairie on top of D1 and Madison Edgewood on top of D2.
While the State Championships results had a major impact on the polls, they don't directly reflect their outcome. Check the bottom of the article for a detailed description on how the poll results are created.
Division 1 (Large Schools) 
The State Championships had a huge effect on the results of the Division 1 polls.
Despite leading for the majority of the 2018 season and winning the 2018 State Championships, Middleton was bumped to second place by Sun Prairie in the November 12th poll.
A huge contributor to Sun Prairie's point total on the poll was sophomore Sophie Fiske. Fiske swept the 50 and 100 freestyles and had a stellar come-back performance on the final relay of the meet to give Sun Prairie the win over Cedarburg and Brookfield East.
Middleton's Hannah Aegerter scored 37-points individually with a win in the 500 and a silver in the 200. Sophomore Ally Silverstri earned 32-points for the team with a fourth place in the 200 IM and a silver in the 200 breast. Makenna Licking earned 30 points with a fifth place finish in the 200 free, and a bronze in the 500.
Waukesha South-Mukwonago fell from second to fourth in the polls, Brookfield East from fourth to fifth, Cedarburg from fifth to seventh, Madison West from seventh to eighth, Stevens Point from eighth to ninth, and Verona Area-Mount Horeb from ninth to 10th.
Two major moves were made in by both Sun Prairie and Madison Memorial. Sun Prairie jumped up from sixth to first overall and Maidson Memorial moved from 12th all the way to sixth.
Germantown was the only team that was previously ranked in the top 10 that dropped out of the top 10 rankings.
2018 State Championships Results
Middleton 249.5
Cedarburg 188
Sun Prairie 170
Verona Area/Mt Horeb 169
Brookfield East 150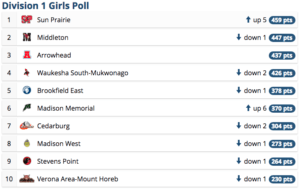 Division 2 
Unlike Division 1 the results from the State Championships left the top 10 rankings largely unchanged. There were only two changes in the final standings. Tomahawk and Greendale traded places with Tomahawk now ranked fourth and Greendale dropping to fifth.
Madison Edgewood stayed as the top ranked team for the 2018 season after taking home their fourth consecutive State Championships title.
2018 State Championships Results
Madison Edgewood 328.5
McFarland 209
Tomahawk 164
Greendale 143.5
Baraboo 134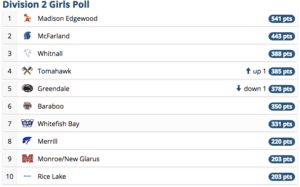 RANKINGS METHODOLOGY
The weekly WISCA polls are computer generated and based on the WISCA Top Times database.
The polls are generated at midnight each Sunday. Individuals are scored in their top two scoring events only.
Points are awarded as follows:
Individuals: 1st Place – 30 points – 30th Place – 1 point (1 point increments)
Relays: 1st Place – 60 points – 30th Place – 2 points (2 point increments)