Courtesy: Zoe Gregorace
We all know that sugar is problematic. Eating a diet high in refined sugars can contribute to weight gain and chronic disease, more specifically cardiovascular disease and diabetes. Sugar is also highly addictive and mimics a similar neurological response to cocaine. This means that the more sugar you consume, the more your body will crave it.
With the growing popularity of low-calorie and low-sugar versions of our favorite sweet treats, many products on the shelf are laden with highly processed sugar substitutes. The lower calorie content of these food products seems enticing however, the long list of difficult to pronounce ingredients found on the nutrition label may deter you. Products that use low calorie sweetener as opposed to the real stuff may seem like the healthy option but who wants to put those chemicals in their body?
Trust me, I love to indulge on occasion however, I am a huge advocate for eating whole foods. In my opinion, completely cutting out sugar is not the answer. Not only because many of the food products we eat on a daily basis contain some form of sugar but also because moderation is a key aspect of eating a nutritionally balanced diet. Whole foods contain natural forms of sugar, making them a less processed option as compared to refined sugar that we find in cookies, cakes and candy. That being said, I want to share with you some of my tips and tricks for smart and innovative ways to satisfy your sweet tooth!
High Protein Yogurt Dessert Bowl

Ingredients
1 5.3 oz single-serve container plain, fat- free Greek yogurt (I like Chobani or Fage)
Sprinkle of cinnamon
1 tsp. vanilla extract
Handful of frozen berries
1 tbsp creamy almond butter
Sprinkle of your favorite granola
Some of your favorite chocolate (optional)
Here I used Justin's Dark Chocolate Mini Peanut Butter Cups
This dessert bowl is definitely my go-to! It's easy, quick to make and gives you that sweet, deliciousness without loading on the refined sugar you'd typically get if you went out to a frozen yogurt shop and served yourself! Greek yogurt is an excellent source of protein and probiotics. I recommend staying away from the flavored yogurts or yogurts with fruit on the bottom, if possible, because these yogurts can contain up to 15 g. of sugar for one single serve container. Plain greek yogurt, such as Chobani, contains 4 g of sugar, which comes from the milk in the yogurt itself. What I love about plain Greek yogurt is its versatility! There are so many possible flavor combinations. While I used vanilla extract and cinnamon to flavor my bowl, some other delicious combinations include cacao powder, almond extract, maca powder and even matcha powder. Adding berries to your bowl is also a great way to get some natural sweetness. Raspberries and blueberries are some of my favorites but strawberries, peaches and mango are also amazing alternatives. Toss in some of your favorite granola and drizzle on some nut butter. I like the brand Purely Elizabeth because their granola is flavorful, free of refined sugar and contains only 6g of sugar per serving for the Original flavor (most of this sugar is coming from coconut sugar, which has a lower glycemic index than traditional cane sugar). While adding some chocolate to your bowl is optional, it is a great way to exercise moderation. I typically go for dark chocolate because it contains antioxidants and lower sugar on average compared to milk chocolate. Choose a dark chocolate with a 70% cocoa content or higher for a higher antioxidant and nutrient content.
—
These next few recipes are healthy versions of some of your favorite sweet treats. They're easy to prepare and are fun to bake (and share) with friends. If you're feeling something decadent, these recipes will certainly hit the spot!
Chickpea Cookie Dough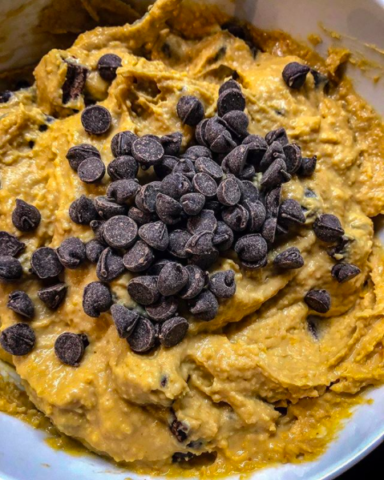 Ingredients
1 can chickpeas
¼ cup maple syrup
½ cup peanut butter
1 tsp vanilla
2 tsp almond milk
pinch of salt
2 tbsp chocolate chips (or a handful)
I know, it sounds strange but trust me, this stuff is seriously good. Chickpeas contain plant-based protein and fiber and when blended, have an incredibly smooth texture. These legumes are also a great source of fiber. The fiber supports good digestion and also contributes to the food's low glycemic index, meaning that their consumption will not spike your blood sugar levels, unlike foods containing refined sugars. While granulated sugar is most commonly used in baking, maple syrup is a good sweet alternative because it is less processed. For this recipe, add drained and rinsed chickpeas, maple syrup, peanut butter, vanilla, almond milk and salt to a food processor. Pulse until smooth and creamy. Empty into a bowl and fold in the chocolate chips. I love using Enjoy Life dark chocolate chips because 2 tbsp only contains 10g of sugar. Once combined, chill in the fridge for 15 minutes and dig in!
Black Bean Brownies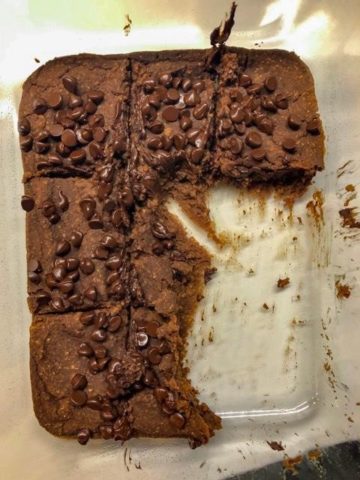 Ingredients
1 can black beans
½ cup maple syrup
¼ cup coconut oil
2 tbsp cacao powder
½ cup rolled oats
½ tsp baking powder
½ cup chocolate chips
These brownies are gooey, chocolatey and so delicious. Similar to chickpeas, black beans are a great source of plant based-protein, fiber and will keep you satiated for a long period of time. To start, grease a 6×6 baking pan and set your oven to 350 degrees F. Add drained and rinsed beans, maple syrup, coconut oil, cacao powder, and baking powder to a blender or food processor. Slowly add in the rolled oats and continue to blend until the batter is smooth. Pour into baking pan and sprinkle chocolate chips on top. Bake for 18-20 minutes and let cool before cutting into squares. Again, I used Enjoy Life dark chocolate chips but another brand that I love is Hu. Hu chocolate is vegan and their chocolate is sweetened with unrefined coconut sugar. You can experiment by using their Almond & Sea Salt hunks, which contain 6 g of sugar per serving or their Dark Chocolate gems, which contain 4 g of sugar per serving!
Check out my page for more recipe inspiration and be sure to share the smart and innovative ways you satisfy your sweet tooth with me @whatzoeeeats.
About Zoe Gregorace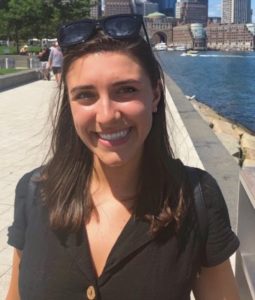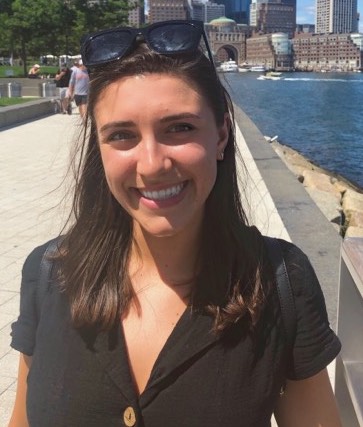 Zoe Gregorace is currently studying Nutrition Policy at the Tufts Friedman School of Nutrition Science and recently graduated from Tufts University, where she earned a Bachelor of Arts degree in Sociology and was a proud member of the Tufts Swimming and Diving team (Go Jumbos!). During her 16 year career as a competitive swimmer, she developed a passion for sports nutrition. She enjoys writing on the topic of nutrition, health and wellness and posts her meal creations on her Instagram page @whatzoeeeats. As a former college swimmer, she strives to share recipes and nutrition tips to promote balanced eating and optimize sports performance.