On Saturday, November 11th, we're jumping in the lake at sunset and swimming for a great cause. Join the Lucky's Lake Frogman Team and be part of our one-of-a-kind challenge as we enter the food chain at Lucky's Lake. In its' third year, the Lucky's Lake Frogman Swim is a now a WOWSA sanctioned event being conducted as a virtual swim associated with the Tampa Bay Frogman Swim as a fundraiser for the Navy Seal Foundation. This year, the event features a commemorative finisher's medal/bottle-opener to go with our all new 2016 commemorative t-shirt. After the swim, the comradery continues at our, sure to be memorable, after party.
Lucky's Lake is actually Lake Cane in Orlando. The address is 6645 Lake Cane Drive, Orlando, FL.  The swim starts at Lucky's dock. The lake is a one kilometer roundtrip swim over and back from Lucky's dock to a dock on the far side. The 5K swim will consist of 5 over and back roundtrips.  You don't have to swim the full 5K but you must swim some increment of full crossings (1, 2, 3, 4 or 5K).  The sun will be setting so you will ha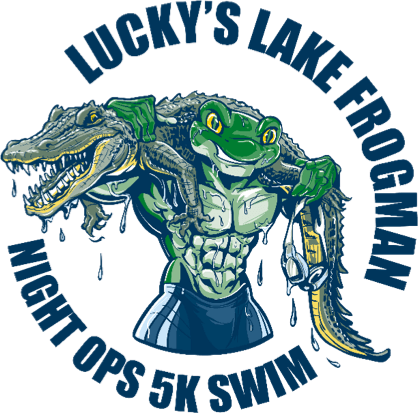 ve daylight for the first 1K or so depending on how fast you swim. Lucky's dock and the dock at the far side will have a light that can be seen as a reference. Glow sticks will be placed in a ring around each of the 4 buoys in the water that mark the course.  Swimmers will keep the buoy line to their right at all times.
As a night swim, all swimmers are required to have some sort of floatation. The preferred floatation is a Lucky's Lake safe swimmer buoy with an LED flashlight placed inside the waterproof chamber of the buoy.  The flashlight will illuminate the plastic from the inside and make it easy to see swimmers in the water even if it is a very dark night. Other acceptable floatation will be a wetsuit or other pull-behind flotation device.  Safe swimmer buoys will be made available for use.  Please bring your own small flashlight – the brighter the better!
Relay teams of any size from 2 to 5 swimmers are fine so long as the swimming is broken up into complete 1K crossings.  Forming your relay team is your responsibility and each swimmer must register independently. Please consider joining us or donating to support our cause. Or perhaps even just purchase an event t-shirt or bottle-opener medal on our website – proceeds go towards our fundraising effort. Use the link below to find out more: www.swimguzzlers.com.
AB