For the first time this season Middleton is no longer ranked as the number one team in Division 1 while Madison Edgewood retained their lead in Division 2.
Division 1 
Waukesha South-Mukwonago is now the top ranked team in the Division 1 after six weeks of polls ranked Middleton as the number one school. Waukesha moved up from second place to score 523 points in this weeks poll.
They weren't the only team to move past Middleton. Arrowhead moved from third to second as Middleton dropped to third overall. Arrowhead is just 14 points behind Waukesha and 26 points ahead of Middleton.
Cederburg and Germantown also improved their rankings this week. They moved from sixth to fifth and from ninth to eighth respectively.
Middleton, Madison West, and Verona Area-Mount Horeb were the only three teams to move down anywhere in the rankings. Middleton dropped from first to third, Madison West dropped from fifth to sixth and Verona Area-Mount Horeb dropped from eighth to ninth.
Sun Prairie remains in fourth, Brookfield East in seventh, and Menomonee Falls-Hamilton in 10th.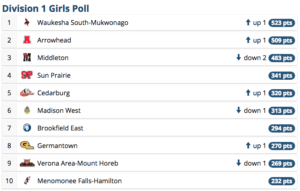 Division 2 
While Madison Edgewood stayed put in their number one ranking, their was plenty of movement around division 2 this week. Besides Madison Edgewood, Whitnall was the only team that didn't move up or down in the rankings, staying in the seventh place spot.
McFarland made a big jump from fifth to second scoring only 20 points behind Madison Edgewood. McFarland is now over 100 points ahead of third place Baraboo. Shorewood made the biggest jump of the week, moving in from 29th place to sixth this week.
Baraboo dropped from second to third and is now over 100 points behind second place McFarland. Whitefish Bay dropped from third to fourth, Tomahawk dropped from fourth to fifth, Sauk Prairie fell from sixth to eighth, Ashwaubenon moved down one ranking to ninth, and Merrill managed to stay in the top 10 after falling from ninth to 10th.
With Shorewood making their way into the top 10, Monona Grove was pushed out of the top 10 rankings.