Hate kick sets? Loathe the fact your legs feel like they've caught on fire during fast freestyle?  You're not alone in thinking that the act of kicking may not be all it's cracked up to be. By recently studying athletes in a flume (resistance pool) swimming freestyle at different levels and speeds, researchers at University of Tsukuba and the Tokyo Institute of Technology scientifically determined that kicking may bring no benefit when trying to swim freestyle faster.
Published in the Journal of Biomechanics this summer, the Japanese study found that kicking water indeed provided a propulsive force when swimming at a relatively low speed of 1.1m per second, or 1:30.91/100m. However, when the swimming speed increased to 1.3m per second, or 1:06.92/100m, the leg movements 'hampered water flow and produced resistance equivalent to the cube of the speed ratio.'
As such, they determined that while kicking is the primary action that enables swimmers to keep a horizontal body position in freestyle, leg movements can generate significant resistance when swimming speed exceeds a certain level. Per the Journal, 'although upper and lower limb movements increase resistance compared to the passive condition, the effect of leg kick on drag may depend on swimming velocity.'
Below is one table from the full report, displaying how the drag coefficient increases in whole stroke freestyle as the speed of the these particular subjects increased.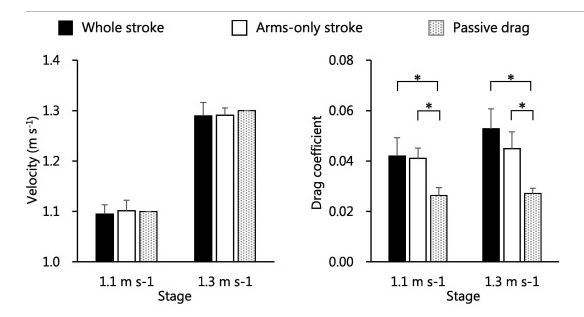 Graphic courtesy of Science Direct.
Hideki Takagi, a sports engineering professor at the University of Tsukuba, said, "Kicking water flexibly, not swinging the legs widely, and improving skills to manipulate the upper half of the body to better catch water will lead to time improvement."
You can read the study from the Journal of Biomechanics in its entirety here.