by Claire Forrest
The Paralympic Games are finally getting some television coverage here in the United States! While it's tempting to roll our eyes and say it's been too long in the making, the most important thing is to support this step forward by watching the events and spreading the word about Paralympic movement.
Portions of the fifteenth Summer Paralympic Games in Rio de Janeiro will air on the NBC Sports Network from September 7-18. It was also recently announced that Dailymotion will stream 72 hours of sport across 15 channels, including on the IPC's website.
Unless you are or know a Paralympic swimmer, it's reasonable to expect that the 2016 Paralympics might be your first big exposure to the world's top level of competition for disabled swimming. While swimming is always swimming no matter who you are, there are a few key differences that might be striking to a rookie viewer. Here are a few tips to make the experience as enjoyable and educational as possible.
1: Let's get one thing out of the way first: it's called the Paralympics, not the "ParaOlympics."
This is crucial because the 'Para' in Paralympics does not reference physical disability like many assume. The 'Para' stands for parallel to the Olympics, and has since the first Games in 1960 in Rome, held to give an opportunity for war veterans to compete.
It also should be stated at although both are wonderful events, the Paralympics are not synonymous with the Special Olympics or the Deaflympics. All three are separate events taking place at different times. The Paralympics are for athletes with physical disabilities, Special Olympics are for athletes with intellectual disabilities, and Deaflympics are for athletes who belong to the d/Deaf community. In recent years, the classification 14 has been adopted by some countries into the Paralympics for athletes who have both a physical and intellectual disability.
2. And that brings us to classification.
Because there are so many types and degrees of impairment within even one type of physical disability, all athletes are assigned a classification. In swimming, each athlete completes a bench test of various dryland-like exercises and a water test, where swimmers are asked to swim all four strokes, float, and kick. Each component is scored, and the scores translate to a classification. Swimming classifications have the letter 'S' in front of a number 1-14. Numbers 1-10 are for physical disability, 1 being the highest level of impairment, 10 being the least. Classes 11-13 are for visual impairment, 11 being completely blind, 13 being the highest level of sight while still being legally blind. As discussed, 14 is for intellectual and physical disability. Swimmers receive a 'S' classification for freestyle and backstroke, a 'SB' classification for breaststroke, and a 'SM' classification for I.M.
The classification system is far from perfect, and it can change throughout a swimmer's career (mine changed three times throughout, for example.)
3. That being said, the selection process for making the Paralympic swimming team is different.
Since you have so many different classes, the Olympic format of a first or second place finish at Trials punching your ticket to Rio would result in a very large team. Instead, any Paralympic swimmer ranked top three in the world in their classification in their best-ranked event will make the team. To fill the remaining spots, swimmers are evaluated by an equation resulting in the swimmers that are the closest percentage to the top three in the world in their classification being named to the team.
4. There is no single class for a single disability.
Classifications are based on ability level, not type of impairment (with the expectation of the visual impaired classes). Not all swimmers with cerebral palsy are in the same class, just like all swimmers who are missing limbs might not be in the same class.
5. There are different events for each classification.
The freestyle distance event for classification S5 is the 200-meter, but for S6 and up, it is the 400-meter, for example.
6. There are also unique events you won't see outside of Paralympic swimming.
The 150-meter I.M. for example, omits the butterfly and gives swimmers of a lower classification a fairer chance at competing in the medley.
7. A few smaller differences?
The Paralympic logo is not the set of rings, but the three agitos: red, blue, and green, in a circular motion on a white plain. Agito is "I move" in Latin.
Also, Paralympic medals have Braille on them, which is a major difference from Olympic medals.
There is a lot to say about Paralympic swimming, but the best way to learn is by experiencing it. The bottom line? Paralympic swimmers have worked incredibly hard to represent their country, just the same as Olympic a
thletes, and deserve the same amount of respect and recognition.
So get your cheering voice warmed up again and tune in! Go USA!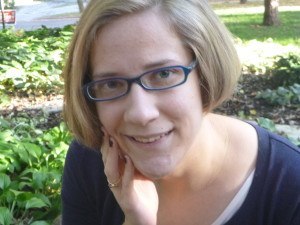 Claire Forrest is a recent graduate of Grinnell College with a degree in English. She is currently based in Minneapolis, Minnesota as a freelance writer. The only competitive swimmer in her family, Claire went to her first swim meet at the age of eleven on a whim without even knowing what a swim cap was. She fell in love with the sport and never looked back. A S6 classified disabled swimmer for US Paralympics, Claire specialized in mid-distance freestyle and backstroke and made national and world rankings throughout her career. She was a 2008 and 2012 Paralympic Trials participant. Claire is passionate about integrating disability swimming into the larger swim community, having swam for able-bodied club teams and her college's DIII team. She enjoyed both Paralympic and prominent integrated able-bodied meets equally for the many commonalities they share. Over 13 years after her first meet, she's happy to report she now owns more swim caps than she can count.