2016 Australian Open Water Championships
Saturday, February 13th-Sunday, February 14th, 2016
Mooloolaba, Sunshine Coast, QLD
Saturday, February 13th

Men's 10 km – 8:00 am local (5 pm EST/2 pm PST)
Women's 10 km – 11:30 am local (8:30 pm EST/5:30 pm PST)

Sunday, February 14th

Men's 5 km – 8:00 am local (5 pm EST/2 pm PST)
Women's 5 km – 10:00 am local (7 pm EST/4 pm PST)
Race Course: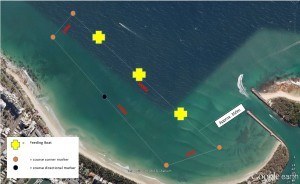 Men's Olympic qualifiers from 2015 World Championships
 Jordan Wilimovsky (USA)

 Ferry Weertman (NED)

 Spyridon Gianniotis (GRE)

 Sean Ryan (USA)

 Jack Burnell (GBR)

 Marc-Antoine Olivier (FRA)

 Simone Ruffini (ITA)

 Richard Weinberger (CAN)

 Allan do Carmo (BRA)

 Federico Vanelli (ITA)
Women's Olympic qualifiers from 2015 World Championships
 Aurélie Muller (FRA)

 Sharon van Rouwendaal (NED)

 Ana Marcela Cunha (BRA)

 Rachele Bruni (ITA)

 Anastasia Krapyvina (RUS)

 Poliana Okimoto (BRA)

 Isabelle Härle (GER)

 Kalliopi Araouzou (GRE)

 Haley Anderson (USA)

 Éva Risztov (HUN)
Some of the best open water swimmers in the world will compete at the 2016 Australian Open Water Championships in Mooloolaba, Sunshine Coast, QLD this weekend.
On the men's side three of the 32 men entered in the open 10 km competition have already qualified to swim the event in Rio based off of their placings at the 2015 World Championships in Kazan. World champion Jordan Wilimovsky of the United States, Jack Burnell of Great Britain, who finished fifth at the World Championships and Canadian Richard Weinberger, who finished eighth at the World Championships and won the Olympic bronze medal in the event in 2012 will all be competing this weekend.
Both Weinberger and Burnell will also be racing the 5 km event.
For the Australians this will be their opportunity to qualify for the final chance to earn a spot on the Australian Olympic team at an open water event in Setubal, Portugal on June 11th. In October Swimming Australia announced an Australian Open Water Shadow team, which is made of Olympic prospects Simon Huitenga, Chelsea Gubecka, George O'Brien, Kareena Lee, Jarrod Poort, Mel Gorman, Sam Sheppard, Jess Walker and Rhys Mainstone.
Both Huitenga and Gubecka have been chosen to attend the competition in Portugal based on their performances in Kazan.
Huitenga will not compete this weekend, but O'Brien, Poort, Mainstone and Sheppard will all race in both the 5 km and 10 km events.
Surprisingly Gubecka and Lee are the only two from the shadow team that are entered in the women's events.