Two days ago, I posted an article about the struggles that the Aussies were facing at this worlds. I'm happy to say that the article did not age very well.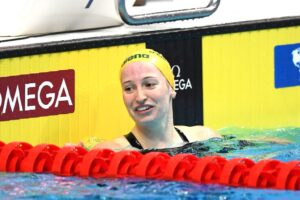 O'Callaghan becomes the fifth Australian to win the women's 100 free, making the country the most-decorated in the event alongside East Germany.

Despite having COVID-19 before the meet started, Lewis Clareburt still managed to finish fourth in the 400 IM and make the 200 IM final.

America's Caeleb Dressel did his thing in the men's 50m fly, wreaking further havoc on the overall swimming medal table through two days of competition.
More New Zealand and Oceania

65
McKeown dropped the 100 back to avoid a finals session double and focus on the 200 IM finals, where she ended up taking silver in a time of 2:08.57.

4
Take a look at how the points are stacking up so far for the SwimSwam 2022 World Championships Fantasy Draft after 2 days of racing.

768
Check in here to follow along with all the action in Budapest as we get into the second night of racing at the 2022 World Championships.

3
After failing to medal at the Olympics despite having the top time in the world, Elijah Winnington roared back this year to take Oceania's first Worlds medal.

7
American Torri Huske was the top qualifier out of prelims in the women's 100 meter butterfly on Saturday morning. While top end times were fast, the session lacked depth.

20
Hunter Armstrong and Ryan Murphy are on the verge of another 51-second performance in the 100 backstroke, but it's the rising star versus the veteran.

9
Turks & Caicos is one of three FINA member federations that did not participate in the 2019 World Championships but will in 2022.

87
Australian Kyle Chalmers has revealed new abilities in the butterfly races this year, but he'll drop one of his two individual events at Worlds.