The Gators will host Nova Southeastern and Arkansas at the Ann Marie Rogers Swimming and Diving Pool at the Stephen C. O'Connell Center at 10 a.m.

Several of Japan's 2020 Olympic team, including Daiya Seto, Rikako Ikee and Ryosuke Irie, put up some solid times while racing at a domestic meet.

The 2022 National Arena Junior Swimming League final took place on Sunday, September 18th, with the team of Guildford City Swim Club taking the top prize.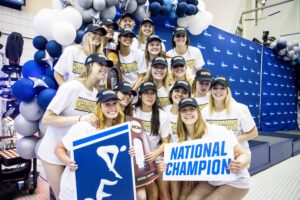 The Cavaliers are the massive favorites to three-peat as NCAA champions in 2023, bringing back the majority of their top scorers from last season.
More Previews & Recaps

2
The Arkansas women topped the field with 674 points to lead Little Rock (502), while the Henderson State men scored 605.5 to edge Ouachita Baptist (582.5).

1
The U.S and Hungary earned gold in the mixed 4×1500 relays on the final day of the 2022 FINA World Junior Open Water Championships.

The fifth and final day of the 2022 Jose Finkel Trophy in Recife saw yet another South American Record fall, this time at the hands of Guilherme Costa.

6
Hungary performed exceptionally in the 10k this morning, seeing Bettina Fabian and David Betlehem win the girls and boys races respectively.

2
Staying true to the first three days of the meet, day four of the 2022 Jose Finkel Trophy in Recife saw a South American Record go down.

9
Katie Grimes won the girls 7.5k at the 2022 World Junior Open Water Championships by well over two minutes.

1
Gomes joins Leonardo Santos and Caio Pumputis, who have also qualified for the World Champs roster.

Brazilian breaststrokers stole the show on the third day of the 2022 Jose Finkel Trophy in Recife.
Widget
Copy and paste the code below into your web editor to embed this category's top swimming stories into your website.
Here's how the widget will display on your site:
Previews & Recaps Swimming News by SwimSwam