The Rio Olympics provided plenty of fodder for our weekly Blueseventy Swim of the Week. So to take advantage, we're technically counting down 7 swims of the week: ranking each of the world records set in Rio.
As a reminder: ranking different events against each other is, naturally, a subjective exercise. Disagreements are expected – and if you would rank the swims in a different order, feel free to respectfully give us your thoughts in the comments section.
7. Australian Women – 4×100 free relay
Old record: 3:30.98 (Australia, 2014)
New record: 3:30.65
The key: Cate Campbell's 51.9 anchor split
It's hard to knock a world record, especially in relays, where only 2 of 6 world records have been broken in the post-supersuit era.
But this is an interesting world record in that it could be argued that the Australians didn't even swim their best in taking three tenths off it.
It wasn't a season-best for Emma McKeon on the leadoff – she was 53.47 but had been 52.80 back in April.
Brittany Elmslie swam pretty well, with a 53.12 split compared to a 53.54 in-season from a flat start, and Bronte Campbell was about the same (52.15 after going 52.58 earlier in the year from a flat start). Those are both solid times right about the level they were expected to swim at, but aren't the type of world-beating drops we usually associate with world records.
And even though Cate Campbell's 51.97 anchor split is an insane time from a worldwide perspective, it's also a tenth slower than her own prelims split (51.80) and is less impressive (relatively speaking) than her flat-start world record 52.06 from just a month before the Olympics.
If there's a silver lining for the Australians in this ranking, it's this: the Australian quartet, despite holding the world record and winning Olympic gold by a longshot, could potentially be much faster in the future.
Old record: 51.94 (Aaron Peirsol, 2009)
New record: 51.85
The key: Murphy improved his race over 4 total swims, throwing fatigue to the wind
Ranking these records is a tough task – there's not a "bad" swim in the bunch. Murphy's record doesn't quite match the top few, though, if only because it's somewhat closer to the rest of the world.
Murphy took 3 shots at the record in Rio, and admirably got faster with each effort. That culminated in a 51.85 leading off the American 4×100 medley relay to break a record that had survived multiple scares since being set in 2009.
Breaking a super-suited Aaron Peirsol record can't be understated. The record seemed almost untouchable, despite so many swimmers rattling it over the past seven years. Murphy becomes the first to finally land a punch, knocking out the record in dramatic fashion.
Murphy gains points for the clutch nature of the swim, coming on a medley relay where the Americans had never in Olympic history lost, but were facing tough pre-meet threats from Australia and Great Britain, among others.
Old record: 55.64 (Sarah Sjostrom, 2015)
New record: 55.48
The key: Sjostrom pushed her legendary short speed to absurd lengths in the front half
Sarah Sjostrom's Olympic triumph was one of the great stories of the first few days in Rio. The world's most dominant butterflyer, Sjostrom took aim at the Olympic medal monkey on her back, ending her status as one of the world's "best swimmers without an Olympic medal" in dramatic fashion.
Sjostrom gets high billing on this list for just how dominant she was in this race. Beating the best in the world by almost a full second, Sjostrom managed to take a good two tenths off a world record that was already legendary.
She did it by pushing her front-half speed to absurd lengths. Sjostrom was 26.01 on her opening 50, almost two tenths faster than she was in setting the record last summer. And even with that great opening effort, Sjostrom managed to come home in the exact same closing split as her previous world record.
Also adding to the legend of this swim for Sjostrom is that she now owns all but one of the top 10 swims in history in the event. And with the Olympic silver medalist still almost a half-second out from cracking that list, Sjostrom has a chance to own the entire top 10 with just a handful more 55-second swims.
Old record: 8:06.68 (Katie Ledecky, 2016)
New record: 8:04.79
The key: A ferocious middle 400 to outpace the world record line
Katie Ledecky's 800 free has the dominance over the field of Sjostrom's 100 fly, plus an even greater ownership over history. When Ledecky went 8:04.79 in Rio to take gold, she took over the top 13 swims in history in the event.
Ledecky didn't necessarily have as much to prove in this race as Sjostrom (who was competing for her first Olympic medal), but the win also completed an elusive distance freestyle sweep – Ledecky became the first woman to win the 200, 400 and 800 free in the same Olympics since 1968.
Ledecky was crazy fast at every split. She was 1:59.42 to the 200 after just missing the two-minute barrier in opening her previous world record earlier this year. She was 4:01.98 at the 400-mark, which would have been almost good enough to medal in the individual 400.
She beat the field by 11 seconds and is now almost 10 seconds faster than anyone in history.
If there's any nit to pick with this record, it's that Ledecky only broke it by 1.89 seconds (Seriously, c'mon Katie) and the previous mark was a mid-season swim from the Austin Pro Swim Series back in January. And coming from the person writing it, that's a pretty weak criticism.
Old record: 3:58.37 (Katie Ledecky, 2014)
New record: 3:56.46
The key: A crazy closing burst and a 58.8 final split
Where Ledecky's 800 was the culmination of a giant Olympic meet for her, the 400 was the kickstarter.
Swimming on day 1, Ledecky proved that these Olympics would be hers, smashing the world record by almost two seconds in the 400 free.
And the way she did it carried major ramifications for her next two individual races. Her split at the 200 (1:57.11) suggested she'd be right in the hunt for gold, and her off-the-wall closing burst (58.84 on the final 100) implied her endurance would be plenty to challenge the world record in the 800 as well.
All in all, it added up to a 3:56.46. Ledecky actually skipped the 3:57s entirely, dropping the world record from 3:58 – at the most elite level, almost no one skips entire seconds when lowering the fastest time ever swum.
It's also big that Ledecky had somewhat plateaued off in this race prior to Rio. She hadn't broken this record since 2014, and though that's another major nitpick, two years is a long time for Katie Ledecky to wait to break a record, especially with her ability to show up and break records on almost any day of the year.
2. Adam Peaty, Great Britain – 100 Breast
Old record: 57.92 (Adam Peaty, 2015)
New record: 57.13
The key: Peaty finally saved his best swim for the biggest stage
Breaststroke is often the forgotten stroke, but Peaty is putting it on the map. Last year, he was the only male swimmer on the planet to break a long course world record, and in Rio, he didn't just break it again – he smashed it.
Cutting eight tenths off a world record in a 100 is a massive accomplishment. Peaty went from being the only man ever under 58 to almost becoming the first man under 57, all before anyone in the world has even caught up to his old record.
Peaty won by a second and a half and very nearly broke his own 50 breast world record in his intermediate split at the turn – Peaty was 26.61, which actually would have broken the record as recently as last August, before Peaty himself lowered it to 26.42 at Worlds.
Maybe most important, though, was that Peaty finally overcame his trend of launching massive times in prelims and semifinals only to regress in the final. His 50 breast world record came in semis at Worlds. His previous 100 breast world record came at British Nationals, and by Worlds, he'd added time.
But Peaty really broke through in Rio, breaking the world record in heats, very nearly breaking it again in semis and then coming up with a whole other half second to drop in his finals swim. Suddenly, Peaty's biggest weakness – that a lackluster finals swim could leave him open to a medal upset – appears solved.
Old record: 4:28.43 (Ye Shiwen, 2012)
New record: 4:26.36
The key: Great early speed to build a cushion against the record's off-the-charts closing split
Katinka Hosszu's world record 400 IM has it all. She smashed the world record by more than two seconds, showing dominance over history like Peaty, Ledecky and Sjostrom. She crushed the field in the same way, too, winning by almost 5 seconds. Like Sjostrom, Hosszu's record coincided with her first Olympic medal. Like Ledecky, it showed signs of a dominant week to come.
But the record Hosszu broke was maybe the most revered in terms of its difficulty. Set in 2012 by China's Ye Shiwen, the record of 4:28.43 was considered so fast that it actually triggered widespread allegations of doping despite Ye never testing positive for any banned substances.
Specifically, Ye's time was considered almost impossible to match because of her absurd closing speed – a 58.6 final 100 that is slightly faster than how Ledecky closed her 400 free. Even Ye had yet to even come close to her previous record, a swim that suddenly looked like a historical outlier that might take decades to reach.
But Hosszu obliterated it, outsplitting Ye on the first three legs by a combined 5.2 seconds to build a cushion big enough that even Ye's closing split couldn't propel the world record line past her.
That's a gutsy way to swim a 400 IM, and Hosszu – who was in the field when Ye set the record, and ultimately missed the medal podium in what had to be one of the most disappointing moments of her career – used that brave race plan to come up with a hard-fought redemption from 2012 miscues, and to bag her first-ever Olympic gold. All things considered, that 400 IM is our Swim of the most loaded swimming Week in a long, long time.
Aptly named to suggest 70% of the earth is covered in water, blueseventy is the world leader in the pool, triathlon and open water wetsuits and swimskins. Since 1993, we design, test, refine and craft products using superior materials and revolutionary details that equate to comfort, freedom from restriction and ultimately a competitive advantage in the water. blueseventy products have instilled confidence in beginners as well as carried world-class athletes to countless Olympic and World victories.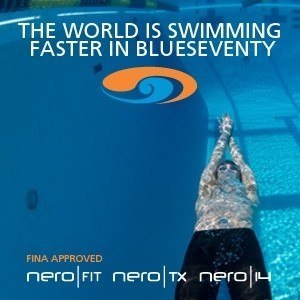 For the latest news and blogs from blueseventy visit www.blueseventy.com.
Twitter: @blueseventy 
Facebook: facebook.com/blueseventy
 Blueseventy is a SwimSwam partner.