Sarah Sjöström
Born Aug. 17, 1993 in Sweden, Sarah Sjöström is a sprinter and multiple World Record Holder. Sjöström is versatile swimmer, specializing in butterfly, backstroke and freestyle, but she's primarily known for her butterfly races. She's very tall, standing 6'1″, and by just 21 years old, Sjöström was a five-time World Champion and two-time Olympic swimmer. She's currently training to make her third Olympic Team in Rio 2016.
Fun facts
Since she started swimming in 2003, Sjöström has been training with the club team, Södertörns Simsällskap. Arena is her professional swimming sponsor, and she incorporates both strength and cross training into her training schedule. She's earned numerous honors including the Newcomer of the Year at the Sports Gala 2008, the 2009 Year's Performance at the Sports Gala, and the Best Female Swimmer in 2008, 2012, 2013, and 2014.
International breakout
At the 2008 European Championships Sjöström won her first international gold medal in the 100m butterfly when she was just 14 years old. Sjöström broke the Swedish National Record in the 100m butterfly with the same swim.
2008 Beijing Olympics
At her first Olympic Games Sjöström finished 27th in the 100m butterfly.
2009 World Championships
One year after the Olympics Sarah swam at the 2009 World Championships, winning a gold medal in the 100m butterfly and setting a new world record.
2010 European Championships
Two years after her first gold-medal win, Sjöström defended her 2008 title at the 2010 European Championships. She also helped Sweden's relays to silver (400 medley) and bronze (400 free).
2012 London Olympics
In 2012 Sjöström qualified for her second Olympic Games, where she swam the 100m butterfly – she just missed the medal podium when she picked up a fourth-place finish.
2013 European Champs (SC) & World Championships
At the 2013 European Short Course Championships Sjostrom brought home a whopping 6 medals, including wins in the 50 and 100 fly, runner up finishes in the 50 and 100 free, and adding 2 silvers in the 4×50 medley and free relays.
At the Barcelona World Championships she won gold in the 100m butterfly and silver in the 100m freestyle.
2014 Worlds Records & Short Course World Championships
In 2014 Sjöström really began to develop her 200m freestyle, and she quickly broke the short course world record and won the World Championship title. At the same meet she also picked up wins in the 50m butterfly and 100m butterfly.
On July 5, 2014, at the Swedish Nationals, Sjostrom unleashed a 24.43 50 fly to completely shatter the standing world record of 25.07
2015 World Championships
In Kazan at the 2015 World Championships, Sjöström didn't wait long to shock. In the semi-finals of the 100-meter fly, she broke Dana Vollmer's World Record. Then that night in finals, Sjöström set a new standard, and took the gold medal. This is Sjostrom's third world title in the 100m fly following her 2009 and 2013 victories.
Following her new World Record in the 100 distance, Sjöström returned for the 50 fly, winning gold in the process. Although she was just a half-second off of her World Record, she did lower the Meet Record, which she also previously broke in the prelim. Sjöström beat out the second-place finisher, Denmark's Jeanette Ottesen, by nearly a half-second.
In her non-butterfly event, the 50 free, Sjöström had a strong prelim and semi-final performance. Going into the event third, Sjöström swam her identical semi–final time and picked up a bronze medal behind Bronte Campbell of Australia and Denmark's Ranomi Kromowidojojo.
2016 Rio Olympics

Sjostrom won her heat in the 100M Butterfly and is seeded first going into the semifinals just ahead of Dana Vollmer and Penny Oleksiak.
Sjostrom broke the Olympic Record previously held by Dana Vollmer in the 100M Fly semifinals. Her time of 55.84 was almost a full second ahead of second place seed, Emma McKeon of Australia who swam a 56.81.
Winning gold and breaking the World Record, Sjostrom swam a 55.48 in the 100M Butterfly. Not only will she kiss the gold on the podium, but she promised a salsa dance if she did it as well. She becomes the first woman from Sweden to win a gold medal.
Sjostrom swam an impressive 1:54.08 in the 200M Free which was good enough for the silver medal. Losing only to superstar Katie Ledecky of the US.
Sjostrom finished third in the 100M Free finishing behind the two gold medal winners, Simone Manuel of the US and Penny Oleksiak of Canada who both finished in 52.70. Sjostrom clocked 52.99 for the bronze.
2017 FINA World Championships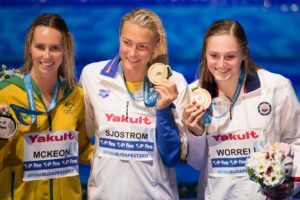 The women's 4×100 freestyle relay did not disappoint in Budapest.  Sjöström set fire to the world record with a 51.71 leading off for Sweden.  Weaker on the back half, the Swedes fell to 5th as the U.S. won gold in a new American Record time of 3:31.72.
On day two the Swedish sensation was well under world record pace in the 100 butterfly final, ultimately just missing the mark in a time of 55.53. The record stands at 55.48 from the Olympic Games last August.
100m Freestyle Final – Day Six:  After setting the world record leading off the 4×100 freestyle relay on day one, Sweden's Sjostrom was considered a slam dunk to win 100 freestyle gold. Manuel was one of the front-runners for silver, but she did the unthinkable in the final.  Sjostrom was out fast, under world record pace in 24.75, but Manuel began making up ground on the last 25. She closed with every stroke, and at the touch she edged Sjostrom (silver) by four one-hundredths of a second, 52.27 to 52.31.

50m Butterfly Final – Day Seven: Sjostrom accelerated away from the field to win gold by nearly eight tenths of a second in 24.60, breaking her championship record of 24.96 set in 2015.
Also on day seven in the semi-final of the women's 50m freestyle, Sjostrom swam a 23.67 which took Britta Steffen's 23.73 — supe- suited — World Record from 2009. Steffen's swim was also the old European Record that Sjostrom broke. Sjostrom's previous best of 23.83 came in April this year at the Swim Open Stockholm.
Day eight in the final of the 50m freestyle, Sjostrom got down to business swimming nearly the same time she did when she broke the world record in semifinals. Her time of 23.69 earned her her third individual gold of the meet.
2017 SCM European Championships
Sjöström faced some difficulties on day two as she failed to make the final of the 50 butterfly. The next day, she finished second in the 100 IM behind Katinka Hosszu and 100 freestyle behind Ranomi Kromowidjojo. On the last day, she came out swinging and won three events. She took the title in the 100 butterfly in a dominating fashion as she beat France's Marie Wattel by 0.97 seconds. Her next win came in the 50 freestyle where she beat the World Record holder Kromowidjojo by the smallest possible margin; 0.01 seconds. To finish off the day, she helped Sweden win the 4×50 medley relay in 1:44.43.
2018 European Championships
Sjostrom followed up her massive 2017 with another impressive summer performance in 2018. Citing not being in the best of shape, Sjostrom still earned gold medals in the 50 free (23.74), 100 free (52.93), 50 fly, and 100 fly (56.23), setting a championship record in the 50 free.
2018 European Female Swimmer of the Year
After adding 4 more European championships and another world cup series championship to her resume, Sjostrom was SwimSwam's 2018 European Female Swimmer of the Year.
2019 FINA World Championships
Sjostrom started her meet looking to defend her 2013-15-17 titles in the 100 fly. Sjostrom was 1st at the 50, however Canadian Maggie MacNeil had a monster turn and 2nd 50, passing Sjostrom and taking gold in 55.83, relegating Sjostrom to silver with a time of 56.22. On Day 4, Sjostrom continued her medal streak in the 200 free, where she touched for bronze in a time of 1:54.78.
On Day 6, Sjostrom was back for the 100 free final, winning her 3rd medal of the championships, this time a bronze behind Simone Manuel and Cate Campbell with a time of 52.46. Sjostrom finally won her 1st gold medal of the championships on Day 7 in the 50 fly, touching 1st in a time of 25.04 and making it 3 titles in a row in this event for the Swede. Sjostrom capped her individual performance in the 50 free on Day 8, touching for silver in a time of 24.07.
2020 Olympic Games
After swimming in multiple finals but missing a medal after coming off of a broken elbow just months prior, Sjostrom got her hand on the wall in the top 3 in her last individual event, the 50 free. After moving through prelims and semis, Sjostrom finished 2nd in the final at 24.07, earning a silver behind Australia's Emma McKeon.