Thanks to Steve Krojniewski for contributing this piece. 
Yoga has become a way for swimmers to maintain a healthy mind and body during their long season.  It benefits swimmers by increasing core strength, improved posture, and increasing the lung capacity to allow more oxygen into the body. Another major benefit that yoga will add to a swimmers training cycle is the strengthening and stability provided to the Supraspinatous, Infraspinatous, Teres Minor, and the Subscapularis (otherwise known as the rotator cuff muscles). The rotator cuff muscles are one of the most important muscle groups in the sport because of their constant usage in all of the strokes during practice and at a meet. So these muscles must be strong and stable to not only last a whole meet, but a whole season.  Finally, yoga will aid them by being more flexible with faster reaction times while on the blocks, to make cleaner turns at the walls, and will keep their bodies and minds fresh for their peak (championship) season.
This sequence, which is one that I use with the Notre Dame Swimming program, will help all of these aspects explained above.
Warm-up: – Shoulder strap series with a block between the quads- Lateral dips, shoulder protraction, behind the back pectoral stretch.
Flow: Eagle Arm Warrior, Wide-Legged Yoga Mudra, Side Angle with arm circles, Reverse Warrior, Bound Side Angle or Bird of Paradise. Change sides and repeat…
You can actively do the workout along with Steve Krojo, former Notre Dame swimmer Christen McDonough, and former All American swimmer Kelly Ryan by clicking on the link provided below:
https://www.youtube.com/watch?v=9mzOXBGuiq4
or head to Steve's website home and scroll down to the Shoulder strengthener and opener [email protected]
http://mytruebalanceyoga.com/videos/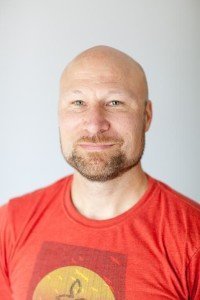 Steve Krojniewski, a life-long South Bend, Indiana resident and founder of True Balance Yoga, has introduced yoga to many of the athletic teams at the University of Notre Dame. During his time at Notre Dame, Steve has demonstrated that yoga is a valuable tool for college athletes to better their performance on and off the field.
As a longtime fan and friend of Notre Dame, and an athlete himself, Steve saw the endless possibility his training and skill could provide to college players. He approached Notre Dame Basketball coach, Mike Brey to discuss adding yoga to the players' off-season conditioning regime. Coach Brey was enthusiastic about the idea and an incredible training relationship soon developed.
Word quickly spread through the Notre Dame Athletic Department about Steve's incredible yoga instruction. He is currently working extensively with the Women's Swimming team, and has been included on road trips with the team to prepare them for meets. He has also helped to train Emma Reaney, who is the American record holder in the 200 Breaststroke and the only National Champion in Notre Dame Swimming history.
He also has worked with the Women's Golf, Women's Lacrosse, Women's Soccer, Men's Lacrosse, Men's Baseball, Softball, Cheerleading squad, and members of the football, cross country/track, tennis, and volleyball teams.
Steve began practicing yoga in 1999. Over the past seventeen years it has remained a vital and important part of his daily routine. In 2004, Steve became a certified Kripalu Yoga instructor, is certified in Yoga for Athletes from the Sage Rountree school, and a certified Core Vinyasa Flow instructor with Sadie Nardini. He also is a certified massage therapist from the Holistic Wellness Academy and he is a member of the Yoga Alliance. Steve is a prAna Ambassador and has teamed with prAna to teach clinics for athletes nationally and internationally. Some of his published work can be viewed on Inside Lacrosse, Swim Swam, Swimming World, Softball Magazine, College Sports Business News, MEC Blog to name a few. He has also been a registered yoga teacher for over 11 years and has over 10,000 hours teaching experience.