Courtesy of Edward Short 
Over a year ago the Roosevelt Island Marlins Swim Team, a small non-profit community-based organization run by parent volunteers, was confronted with a series of adversities that would have daunted even the most stout-hearted of competitors. Their training pool, Sportspark closed for renovations in August 2016, leaving the team essentially homeless. They had difficulty securing pool rental space in either Queens or Manhattan on a regular basis. Their future looked decidedly grim.
Yet rather than give way to defeatism, the Marlin family rallied. Renting out space in various pools around the city required enterprising parents to carpool swimmers to and from training sessions, sometimes even very late at night since those were the only pool rental hours available. Practice hours had to be cut to almost half of the regular training schedule. In addition, some of the pools were not equipped for competitive lap swimming. The pools also had maintenance issues, which led to additional unexpected practice cancellations. Often, during mid-winter in near freezing weather, the Marlins had no alternative but to substitute swim practice with outdoor dryland practice. Not surprisingly, in these straits, keeping up morale was never easy. But that wasn't all. The Marlins had another challenge to overcome.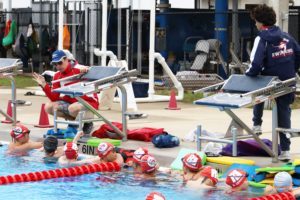 Their coach of seven years, who had done such a fine job transforming the Marlins into a strong, cohesive, competitive unit, decided to pursue other coaching opportunities. In response to this setback, the team hired a new head coach, the inspirational Roman Sloudnov in December of 2016. For any coach to join a team that had neither a pool nor steady practice hours would have been highly unusual, but Roman is not a usual coach. Refusing to be discouraged, he threw himself into his new role with gusto and stuck with the team through Sportspark's reopening in May 2017.
Slowly but surely, the team's fortunes revived. Thanks to head coach's leadership, the team's swimmers trained with newfound zest. Parents and Board members rededicated themselves to the core values that had impelled them to form the team in the first place. Assistant coaches followed suit by helping their swimmers set and achieve ambitious goals. The Marlins' competitive edge had never been keener. Personal bests abounded. Club records were broken. As a result of shared perseverance and fortitude, the team was poised to post its best numbers ever. Their 2017-18 season proved a stunning testimony not only to their talent but their grit.
The small team of 38 competitive swimmers fought to get cuts in prestigious championships, and their fighting paid off. This year 21 Marlin swimmers participated in Junior Olympics and Age Group Championship – a more than 100% increase compared to any previous season in club history.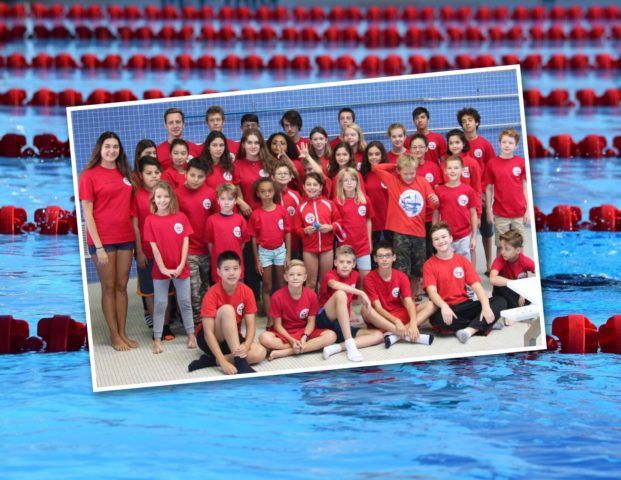 Marlin team swimmers seized an impressive array of gold, silver and bronze medals across the spectrum. They collected 14 medals from Junior Olympics, 7 medals from Eastern Zone SCC, and their youngest swimmers won 10 medals at 8 and under Metro Championship.
One of Marlins' outstanding swimmers, Denys Mialkovsky broke 4 Junior Olympics and 4 Metro records. With these astonishing results, our 10-year-old Denys is ranked 2nd in 50 yards fly, 4th in 50 yards back and 100 yards fly, and 5th in 100 yards back on the National level in his age group. Denys' very high standard of accomplishments was supported by his teammates. Emir Emre brought home 7 medals from Junior Olympics, 4 of which are gold in the 11-12 age groups. Sophia Seliger has made a significant contribution to the overall scoring with winning Eastern Zone SCC and bringing home 2 silver medals, 1 from Junior Olympics and 1 from Eastern Zone SCC in the 13-14 age groups. Adriel Soto won a gold medal in 100 breaststrokes at the same meet. The Marlins' amazing teamwork yielded outstanding results. The team ranked amongst the top 10 in the Metro Area and placed 17th among 190 teams participating at Eastern Zone SCC in the Boys' Division.
To understand the true value of these achievements, we have to appreciate that this Marlin team of 38 swimmers had to fight extraordinarily hard for every last point at these competitions – where they were often pitted against teams that were 10 times their size.
Credit for this remarkable turnaround needs to be given to all of the different members of the Marlin family, starting with the head coach.
Coach Roman knows how to prepare young swimmers for future success because he achieved it himself — repeatedly. Representing Russia in four Olympic Games, he came away time and time again with impressive victories. He was Olympic Bronze Champion, World Champion, 2001 European Swimmer of the Year, and the first person ever to swim the 100m breaststroke in under 1 minute.
A 'can do,' methodical, dedicated spirit animates everything Coach Roman does and it has rubbed off on the age-group coaches – Andrea Gasic, Cristina Ferrer Lebron, and Krzysztof Szkoda – the instructors, and, most spectacularly, the swimmers. If he has a vision, it is one of hard work and perseverance under duress. Above all else, he understands that the character required for success in competitive swimming is only acquired through facing and overcoming difficulty.
Now that their short course season is over, the Marlins can look back and see that their time of trial gave birth to a whole new spirit in them – a spirit of resilience, a spirit of renewed confidence. Like never before, and under the most trying of conditions, the team came together to show their true mettle. Every swimmer contributed to the team's success. Every coach showed that he could turn adversity into an opportunity for professional growth and team advancement. The numbers speak for themselves. Compared to last year, the Marlins had double the amount of Junior Olympics participants. Double.
Coaches, swimmers and parents can now take a bow. The valiant Marlins Swim Team deserves a hearty round of applause. Their 2017-2018 season was one for the record books and a joy to behold!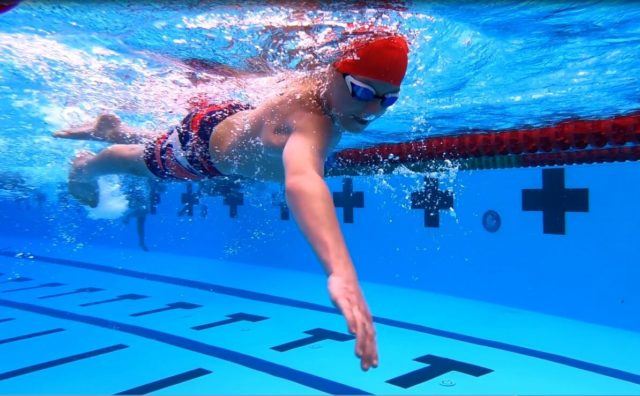 Swimming news is courtesy of Roosevelt Island Swimming, a SwimSwam partner.