So far we knew what Team USA athletes would be wearing at the 2016 Olympic Games Closing Ceremony, as well as on the podium, but this morning the final piece of the stars n' stripes Olympic fashion puzzle is complete.
Just 7 days out from the start of the 2016 Olympic Games in Rio, Ralph Lauren Corporation and the United States Olympic Committee (USOC) jointly revealed the Team USA attire for the Opening Ceremony slated for August 5th in Maracanã stadium.
Polo Ralph Lauren describes the parade uniform as 'fresh and sporty, with classic elements, and features an all-American palette of red, white and blue.' The outfit design includes a deep navy blazer adorned with gold buttons and repp-stripe trim while also bearing the company's signature Polo Pony embroidered on the front.
Underneath the jacket, athletes will wear a classic striped T-shirt paired with white jeans, topped off with classic boat shoes.
The outfits were modeled by The Today Show hosts this morning and received rave reviews.
As for the Team USA flag bearer for both the Olympic and Paralympic Games, the designated athlete will wear an exclusive jacket representing the 'ultimate integration of innovation, fashion and technology.' Embedded in the jacket are electroluminescent panels, which brightly illuminate individual elements of the fashion piece.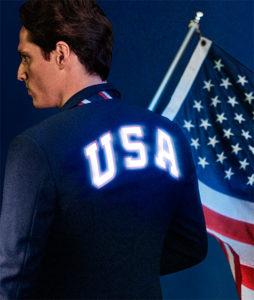 "The Flag Bearer Jacket will literally light the way for Team USA as they represent our country in the Opening Ceremony of the Olympic Games. This groundbreaking jacket exemplifies Ralph Lauren's continued exploration of the intersection of fashion and technology. For an athlete, being chosen as the flag bearer for Team USA is an extraordinary honor, and we wanted to pay tribute to that position." says David Lauren, Executive Vice President, Global Advertising, Marketing & Communications. "Ralph Lauren is incredibly proud to dress America's best and brightest athletes at the world's premier sporting event."
As a refresher, the flag bearer is ultimately selected by his/her fellow Team USA teammates through a voting process. The USOC is expected to announce the designated individual by August 4th.