US National Teamer, World Champion, and former Yale standout Eva Fabian has joined Fike Swim's growing team of professional athletes. The open water swimmer brings a long list of accomplishments including:
2015 10K Gold Medalist at Pan American Games
2015 25K Bronze Medalist at World Championships
2011 10K Gold Medalist at US Nationals
2010 5K Gold Medalist at World Championships
2010 and 2014 10K Silver Medalist at Pan Pacific Championships
2008 5K Gold Medalist at US Nationals
"I'm really excited to be working with Fike Swim because I'm always interested in innovation in swimming. Swimming is such a beautiful sport in that we are always evolving as athletes, and there is always technical work to do. I can't wait to challenge myself with new products and new training techniques, and to share ideas with other swimmers aspiring to improve!" said Fabian.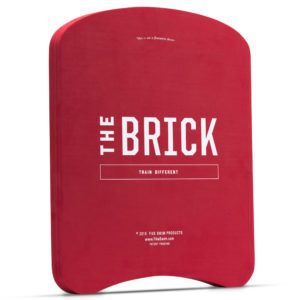 Sidelined with an injury for much of the 2016 season, Eva will be entering the 2017 season with a new team, having recently moved to train with her father, Jack Fabian, at Asphalt Green Unified Aquatics in New York, and with the support of Fike Swim- "The swimming community couldn't ask for a better representative of who we are and what we stand for, and neither could Fike Swim. Our goal is to help swimmers at every level. With our amateur athletes we try to offer the best products, period. With our professionals we want a partnership- they promote us, yes, but we support them to grow their brand so they can achieve success in and out of the pool." said Fike Swim founder James Fike.
Eva was originally drawn to Fike Swim after she tried out The Brick, one of the most innovative tools and the company's flagship product.
"Body position is essential to swimming, and especially important to open water swimming. The 10k is a two-hour race, and it is easy to let body position decline throughout the duration of the 10K. The Brick helps me focus on developing my core muscles and the muscle memory necessary to hold body position throughout my race, and to finish fast!" says Fabian.
Going forward, Fike Swim is looking to add to its team of professional athletes as it expands its product offering around the world. You can get the latest news, product updates, and videos by liking Fike Swim on Facebook and subscribing to their YouTube channel. And you can get a candid look at Fike Swim's journey to help swimmers SWIM DIFFERENT by following them on Instagram.
About Eva Fabian
Here's a short Q&A with Eva. A longer Q&A with post-workout meals, season and practice goals, the number of times she's read the Harry Potter series and more can be found by visiting Fike Swim's ambassador profile page.
Q: What is your favorite event?
A: "10K!! And if the 5K pull was an event, that would be my favorite."
Q: How many yards per week do you train?
A: "Anywhere from 70,000-85,000."
Q: Favorite set in practice?
A: "My favorite is 4x(300-200-150-100) all pull with 20 seconds rest in between. Go with how you feel. So some days it turns into an all-out race set and some days it's a nice chill pull."
Q: How did you get into open water swimming?
A: "I got into it through ocean races in Atlantic City when I was an age group swimmer! I used to spend time in the summers at my grandparent's house and would spend all day in the water. I did a pier-to-pier race when I was 11 and fell in love with ocean racing."
Q: Tell us about coffee.
A: "I view coffee as a lifestyle, not merely as a beverage."
About Fike Swim
"We design products exclusively for the most difficult sport in the world.  We unapologetically place swimmers on a pedestal.  The rigors they embrace on a daily basis can only be understood by another swimmer and they deserve a company focused 100% on helping them succeed.  Whether you're just starting out or training for Rio, we stand behind you."
– James Fike, Founder
Fike Swim Products was born when founder James Fike put a brick on top of a kickboard and transformed just another legs-only kick set into a total body workout felt into the next day. Since then it's been our mission to create unique swim equipment with the single-minded goal of making you faster. We don't sell toys. We create tools to help you reach your potential.
About the Founder
James Fike has always had a passion for swimming. He started swimming competitively at age 5, ultimately training under Eddie Reese at The University of Texas from 1999-2003 where he had the privilege of swimming alongside some of the greatest swimmers in the history of the sport. James has continued swimming through all the phases of his life- from working as an investment banker, to getting his MBA back at UT, and back to working in corporate America. Finally, his passion for the sport led him to opening The Fort Worth Swim School, which teaches students of all ages and abilities and works to foster his same lifelong love for the sport.
Now, what started with a brick on a kickboard and a drive for always finding new ways to grow in the pool has become Fike Swim Products, a company dedicated to helping you Swim Different!
FIKE SWIM – DAY 1 MATTERS 
Swim News / Swim Gear featured release is courtesy of Fike Swim, a SwimSwam partner.