Courtesy of Big Blue Swim School, a SwimSwam partner.
Big Blue Swim School, one of the nation's fastest-growing swim school franchises, is expanding in Utah and coming to two new states across the Mountain West region — Arizona and Nevada — through an agreement for 21 pools with Austin C. Smith, of Salt Lake City. Smith is an experienced investor most recently tied to the Savory Restaurant Fund, a value-add management company that focuses on delivering outsized returns through strategic growth and a unique value-add strategy. Now, he's ready to dive into a new investment as a franchise partner with Big Blue Swim School.
"Between these three markets, we feel like there's immense opportunity, especially with 21 locations identified as tier-one sites," Smith said. "And within those geographies, we see a lack of competition from other national, established swim schools. In Nevada, we don't have any national competitors currently, and in Utah and Arizona, we have few. So Big Blue has a real opportunity to come in and be the market leader in these geographies fairly quickly and capitalize on the existing whitespace."
Smith plans to open his first Big Blue Swim School in Utah by summer 2022, with goals to complete all 21 openings over the next seven years. Smith said he signed on as a franchise partner after learning about the high-quality investment opportunity and best-in-class consumer offerings provided by Big Blue.
"About a year ago, I first learned about the opportunity with Big Blue, and from the very initial conversations I had with them, it was apparent that they were focused on the right things and that they understood the market and what it takes to scale a concept successfully," Smith said. "As an investor, that's something that I'm always looking for: the right team. At the end of the day, the concept can be great, but if you don't have the right people involved, it doesn't matter how good the concept actually is."
Since opening in 2009, Big Blue has changed the way swim lessons are taught. One of the ways the brand stands out is by training its swim associates to become expert instructors, helping provide consistency for a child to build trust with them and differentiating them from most kids' concepts.
"What makes Big Blue so special is that we are teaching children a vital life skill and we're helping them build confidence along the way. Our mission is to show kids that they can do anything by unlocking their full potential in the water," Big Blue's founder and president Chris DeJong said. "With Austin's passion for the Utah community and his expertise in the Mountain West region as a whole, we know he will dive in and make a significant difference in the lives of thousands of children."
Smith's pools will also make life easier for parents by offering Big Blue's ultimate flexibility in scheduling with its proprietary LessonBuddy™ app and advanced pool configurations.
"All of our pools have room for progress move-ups immediately when kids are ready, and families can schedule multiple kids of various levels and ages to swim all at the same time," DeJong said. "Our online software eliminates the challenges families can have when scheduling lessons for their family. And rescheduling lessons, when necessary, is always easy."
For franchise partners, LessonBuddy also allows them to manage the business remotely, maintaining efficiencies at the store. Additional top-tier franchisor support includes data-driven site selection, construction, technology, and marketing led by a team of experts.
With an aggressive growth plan in place, Big Blue has already signed 201 units in 22 states across the country. With a goal of reaching 240 units by the end of 2022, the brand is uniquely positioned to be the leader in the $3 billion learn-to-swim industry.
"The swim school industry as a whole is set to grow tremendously over the next five to 10 years, and I think we're right on the cusp of that," Smith said. "There's so much opportunity out there, and there are so many kids that need to have access to swimming lessons."
The total investment to start a new Big Blue Swim School is $2,334,223 to $3,641,998. To learn more about Big Blue Swim School franchise opportunities, visit https://bigblueswimschool.com/franchising/. 
ABOUT BIG BLUE SWIM SCHOOL
Big Blue Swim School was founded in 2009 by competitive swimmer Chris DeJong. The first location opened in Wilmette, Illinois, followed by four additional Chicagoland schools. In 2017, Level 5 Capital Partners acquired a stake in the brand. Through that investment, Big Blue plans to grow through franchising to 150 pools by 2021. Big Blue Swim School's real estate expertise, strong brand, proprietary technology, and leadership support, coupled with its best-in-class consumer offerings, position its franchise partners for long-term success. To learn more about franchise opportunities with Big Blue Swim School, visit http://YourBigMomentStartsHere.com.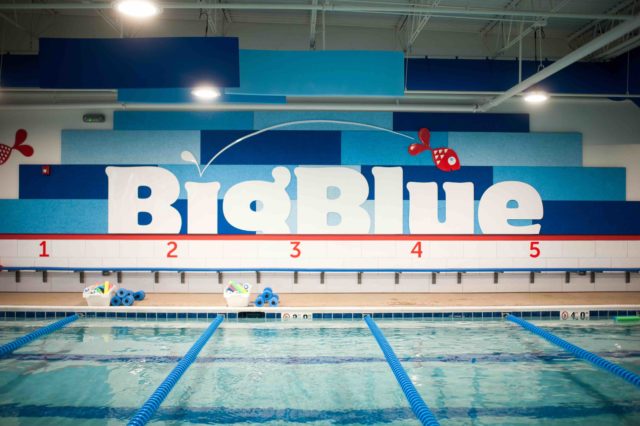 Big Blue Swim School is a SwimSwam Partner.