Courtesy of Bob Steele
During the hard Holiday Training Sessions try these practices from the book GAMES-GIMMICKS-CHALLENGES for Swimming Coaches. The book is a GREAT GIFT FOR YOUR COACHES from swimmmers that want to have fun.
Equipment: foam alphabet letters and a plastic bucket. Makeup a holiday phrase with the alphabet.  Make it HARD!   For instance for Christmas your phrase could be "Deck the Halls".  Place the foam letters in the buckets at the end of the pool (one bucket for each lane).  Each swimmer swims down and picks one letter, then swims back. The last swimmer puts the bucket on their head and swim back to the start indicating they're done.  The first team to figure out the phrase is the winner.
Bonnie Burmaster
Have all swimmers buy a $3 grab bag gift at Goodwill, Salvation Army, or a thrift store. At the team Christmas party have all squads sit together in a circle on the deck. Swimmers exchange gifts and go around the circle opening their gifts. Once all gifts are opened have the swimmers go around the circle three times taking turns rolling 2 dice.  If a swimmer rolls a pair , 7 or 11 they get to give their gift to someone else in the circle and take that person's gift. At the end of the game swimmers may trade with anyone.                   
Divide the squad into even relay teams. Within each team one person serves as Santa. All others are either elves or reindeer. Assemble all the equipment and throw it in the water; pull buoys, goggles, snorkels, fins, kickboards, rubber bands, tubes, everything you can find. These are used as toys to be collected and placed in each team's mesh bag. On "GO" each elf swims out to get a "toy", then brings it back to the bag. Every elf retrieves a "toy" and becomes reindeer, then pulls Santa and the sack for a 50. First team in wins candy canes.                                                                                                                                                                                     Dave Hedden
Handicap racing using 100 free slowest vs. fastest.  For example, if a 1:20 nine year old swimmer races a teenager that goes 47.0, the teenager g0es 33 seconds behind the 9 year old.   Use all 8 lanes and have 4 races going on at one time.   Create a winner's bracket and loser's bracket. The winner of each group gets a very large power squirt gun.                                                                                                                                                                                                                             Tim Hill
Sets associated with Christmas songs are placed in a Christmas stocking and drawn out one at a time. Silent Night equals 10×25 underwater. Scrooge Strikes Again equals 10 x 100 (fly/free by 25). Sleigh Ride equals 10×25 (partner pulling by 25).
Mary Roberts 
Use an electronic dartboard with safe plastic tips ($20) and use a Sharpie to modify it if you need to.  Each lane picks their set by throwing 3 darts. One person throws all 3 darts and the set has to be done by the whole lane.  After the set, the next person throws 3 darts…until everyone has had a chance to throw. All lanes are on their own throughout the workout doing the sets they get from the dartboard.
Dart #1 – Decides the Amount of Repeats (1-20) – using the numbers on the board.
Dart #2 – Decides the Length of Each Swim – use the Sharpie to write on the various panels. Every other panel is 25's and cannot be written on as they were black.  On the remaining 10 panels write the following amounts:– 5 Panels=  50's, 3-Panels = 75's, 2-Panels = 100's, To allow for more sets try to keep the amounts small.  Of course if someone gets unlucky they can hit 20×100's. For the most part it looks more like 10×25's, 8×50's etc.  The more times the lanes get to throw, the more fun they have.
Dart #3 – Use the Sharpie to write different strokes.  Every other panel (all the black panels) is Freestyle.  The rest of the 10 panels write –  Pull, Kick, Breast, Back, Fly, Fins, Fun, Choice, IM, and Drill.  Fun is corkscrew, relay, or something else you can make-up on the spot.
For the most part the sets are small so they can get through several of them.  Some are easier than others. Modify as needed to make sure the sets are not too cruel. For example, if someone accidentally throws a super hard one (i.e. 20×100 Fly) you can choose to give them 1 dart to throw over for a different repeat, length, stroke.   Kids choose which one.                                               
Dan Peck
2015 lengths 107.5 x 50 @ 45 w/holiday season questions during rest every 5 swims.  NOTE: Get  your questions from Google or Wikipedia.
Below is a bonus set courtesy of Orinda Aquatics: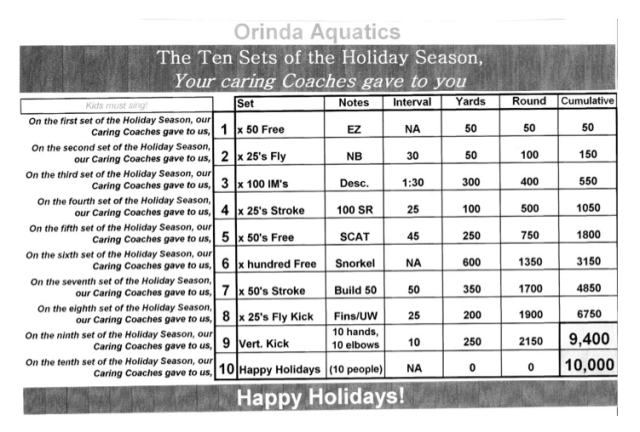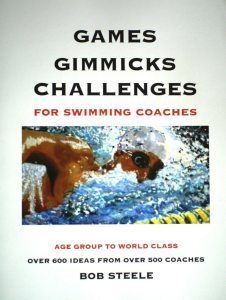 Bob Steele – a member of the USA-Swimming Master Coach/Consultant Program. He has coached at all levels with 19 swimmers world ranked in 41 events, two American Record Holders, five NCAA ll Team Championships, seven NCAA II Record Holders and six National Independent Championship teams.   Retired after 46 years of coaching, he has conducted USA-S Team Excellence Camps for 173 teams having a world ranked underclass swimmer with a fine coaching staff and team, teaching and challenging swimmers to realize what it takes to "Be the Best They Can Be", and helping parents understand their supporting role and coaches to try new things. His book GAMES-GIMMICKS-CHALLENGES for Swimming Coaches is a swimmer and coach favorite in 32 countries.
Go to www.gamesgimmickschallenges.com