The Michigan Swim Camp is designed to provide each competitive swimmer with the opportunity to improve their pursuit of excellence both in and out of the pool. It is open to any and all participants limited only by age (8 – 18) and specified number of campers. During registration, campers will select from one of two tracts depending upon their needs.
2017 Summer Camp Dates
Technique Tract
The Technique Tract is designed for individual and group instruction in fundamental and advanced stroke skills, and start and turn techniques. A daily optional training workout is available. The use of a front mount snorkel is strongly recommended. The Technique Tract is a skill acquisition curriculum, which begins with basic body balance and progresses to swimming with maximum efficiency (i.e. fewest number of strokes per length). This is the foundation of all fast swimming. Starts, turns, Gambetta dryland training, pacing, nutrition, team building, True Colors, Mindset, and mental training are part of this comprehensive curriculum. Swimmers are filmed daily and their HD video is viewed and critiqued in written form every day. Yardage in this workout varies from 3,000-4,000 yards depending upon the ability level of the swimmer. This tract is designed for: the younger swimmer (12 and under) who has a need to form excellent skill foundations; the older swimmer who is relatively new to the sport and needs to gain a higher efficiency level (yes, we have a lot of high school swimmers in this tract); and the skilled swimmer who needs a week of fine tuning without the added stress of an intense training.
Intensive Training Tract
The Intensive Training Tract is designed for for swimmers 13 and over who are already in shape. This option includes 2 water training workouts and 1 dryland workout per day. Enrollment is subject to the swimmer's ability to train. The Intensive Tract is designed for swimmers 13 years and older who are already in shape and training at full capacity (e.g. ~50,000 yds./week). It is not a "get in shape" tract. Learning to adapt to systematic, cycled aerobic and anaerobic training is the primary goal of this tract. The morning and afternoon sessions are in-water training sessions. Threshold, VO2max, lactate tolerance, and maximal speed training are part of the training program. The evening session is a dryland training session with an emphasis on core strength and overall fitness. Daily yardage averages around 12,000. Swimmers are videoed and each swimmer receives a written stroke critique. This tract is designed for the swimmer with good foundational skills who is in active training and can handle the workload. It is important not to "push" younger children into this tract in an effort to maintain training volume.
COST
COMMUTER CAMPERS
WITH NO MEALS – $640
COMMUTER CAMPERS
WITH LUNCH ONLY – $670
COMMUTER CAMPERS
WITH LUNCH AND DINNER – $710
OVERNIGHT CAMPERS – $795
(CHILDREN MUST BE AT LEAST 10 YEARS OLD TO STAY IN THE DORMS OVERNIGHT.)
See detailed camp information here.
CAMP STAFF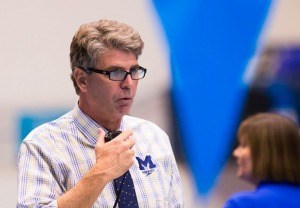 Mike Bottom  is in his ninth year at the University of Michigan, overseeing both the men's and women's swimming and diving programs since the 2012-13 season. Prior to the program's combining, Bottom served as head coach for the men's swimming and diving team (2008-12).  In his eight years with the men, Bottom is 70-3-1 in dual meets (43-1 in the Big Ten), with one national championship (2013), seven Big Ten championships (2009, 2011-16) and seven top-10 finishes at the NCAA Championships, including four consecutive top-five finishes from 2012-15. He is a five-time Big Ten Men's Swimming Coach of the Year (2011-15) and was named CSCAA Swimming Coach of the Year in 2013. During his tenure, Bottom has coached the men's swimmers to a total of eight national titles (seven individual, one relay), and has produced 88 Big Ten individual or relay titles and 35 NCAA All-Americans. Under Bottom's guidance, a Michigan swimmer has been named Big Ten Swimmer of the Year in six of Bottom's eight years: Tyler Clary (2009-10), Dan Madwed (2012), Connor Jaeger (2013-14) and Dylan Bosch (2015).
Jim Richardson was the head coach of the University of Michigan women's swimming and diving team for 27 years. He announced his retirement on May 16, 2012. During his tenure at Michigan, the Wolverines have had unparalleled success in the Big Ten Conference, while also achieving several firsts on the national level. His teams won 12 consecutive league titles from 1987-98 — a precedent among Big Ten women's athletic teams — before adding the team's 13th in 2001 and 14th in 2004, a league high for a women's sport.
Rick Bishop wrapped up his fourth season on the Michigan swimming coaching staff, mainly serving as the associate head coach for the women's swimming and diving team. In his tenure, Bishop has been instrumental in helping rebuild the women's program, culminating in a Big Ten title and top-10 national finish in 2016. With Bishop's guidance, the women's program jumped 26 spots at the NCAA Championships in three seasons, going from 36th in 2013 to 10th in 2016. In 2015-16, Bishop's swimmers won seven Big Ten individual or relay titles, set 12 short course program records and claimed seven NCAA All-America honors (five individual, two relay). The Wolverines scored more points in four days (150) than in the last five NCAA Championships combined (108).
Dr. Josh White is in his ninth season on the Michigan coaching staff, serving the last four years as associate head coach for the men's program. The previous four years (2009-12), White was the assistant head coach for the men's team.


Swim Camp news is courtesy of Michigan Wolverines, a SwimSwam partner.