FROM DR. ANDREW CHADEAYNE, INVENTOR OF SWIMSPRAY:
This is a video that our summer associates made showing what swimmers have to say about chlorine.  Also, we asked some of these people to try SwimSpray and report on how it helped with eliminating chlorine.  I think they did a really nice job collecting and compiling this footage.
There is an interesting backstory to these testimonials. . . .  You might notice that the first clip features Ricky Berens on NBC.  In the clip, Ricky notes that he uses SwimSpray to deal with his chlorine problems.  You may also note that he is laughing while he reveals this answer because he was not expecting questions about chlorine.  I mean, seriously, wouldn't you expect the questions to center around winning gold medals at the London Olympics!?!  The questions for Ricky came from Twitter, where users could "Ask Ricky Berens" whatever they wanted.  Some of our astute friends Tweeted Ricky the questions about chlorine, asking how he deal with all of the chlorine.  Ricky was a great sport and gave SwimSpray a shout out, which was super nice.  Thanks again Ricky!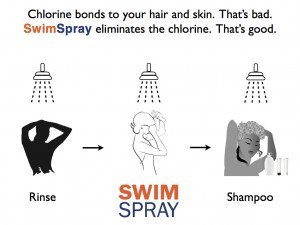 Dr. Andrew Chadeayne is a Ph.D in Chemistry, Master Swimming National Champion, and the inventor of SwimSpray. Follow him on Twitter @swimspray and fan him Facebook.