Courtesy of Big Blue Swim School, a SwimSwam partner.
Big Blue Swim School, the fast-growing swim school franchise, is a mission-driven business focused on showing kids they can do anything by unlocking their full potential in the water and out.
The brand's semi-absentee business model supports franchise partners with proprietary technology, top-tier franchisor support, and strong unit economics. With this proven business model, Big Blue Swim School is positioned to be the market leader in an underserved and fragmented industry valued at $3 billion annually.
Here are five reasons why Big Blue Swim School is a uniquely lucrative franchise opportunity.
1. Big Blue is a mission-driven business model.
"Everything we do is focused on showing children they can do anything through the magic of weekly swim lessons," said founder and president Chris DeJong. "This mission drives every operation at Big Blue."
Swim lessons fill a critical need for families because drowning is the number one cause of accidental death among children ages 1 to 4 years old, according to the CDC. A Big Blue franchise is an investment in a model providing an essential life skill that reduces the risk of drowning by 88%.
Big Blue not only provides a critical consumer need that can only be provided locally, but the work being done directly impacts the lives and wellness of the families in a franchise partner's community.
2. Learn-to-swim is a recession-resistant industry.
Swim lessons are a $3 billion per year industry, and Big Blue is uniquely positioned to be the leader in this underserved category.
"Parents are willing to invest in their child's safety, and as a result, the learn-to-swim  industry is booming," CEO Scott Sanders said. "Swim lessons fill a vital need for safety and cannot be outsourced or automated. This means that Big Blue's experiential services are Amazon-proof — they can't be replaced by an online offering, unlike many other franchises."
According to USA Swimming, participation in swimming is growing, with a 47% increase in year-round swim memberships from 2000 to 2019. Other swim school brands have created awareness, but it remains a fragmented industry without a strong, national player. In fact, the largest player has less than 3% of the addressable market share.
"The best business ideas are the ones hiding in plain sight," DeJong said. "We've applied a better interface to something that has existed for decades. What we deliver is an improved
and entirely positive experience. Regardless of what is going on in the global economy, parents understand that this is an essential life skill that can not be put on the backburner."
3. Franchise partners receive unparalleled leadership support.
Big Blue's private-equity-backed leadership team is well capitalized and experienced in optimizing the unit model to ensure they maximize returns for franchise partners with support for site selection, construction, technology, and marketing. This sets their location up for long-term success and allows franchise partners to focus entirely on creating a positive and memorable customer experience.
And a big part of that equation for success comes down to real estate. Big Blue has a tested, proactive, data-driven strategy designed to place a location in an area that is part of a family's existing routine so they won't have to alter their current patterns. Then, the in-house construction management team builds pools on time and within budget, with modern, comfortable, and family-friendly facilities that set Big Blue apart from dated competition. In addition, Big Blue pools are bigger than average facilities, resulting in optimized capacity planning and higher ROI for franchise partners.
But the Big Blue team understands that an ideal location and facility is just step one — franchise partners also need to be able to successfully get the word out and ensure their community is aware of the new swim school. "We invest local marketing dollars for the franchise partner in programs we know work," Sanders said. "Our franchisor-operated marketing program has refined customer acquisition and retention to ensure long-term success."
In combination with the marketing strategy, Big Blue has also refined an aggressive new pool opening program, executed for the franchise partner, that allows for a fast ramp-up.
"We have an established and proven weekly process in place that ensures each location will execute our operational plans seamlessly from the beginning," Sanders said. "As part of this process, we handle all of the inbound and outbound phone calls through our U.S.-based member services center, alleviating front desk staff of roughly 25,000 calls annually. This outsourcing saves on labor and allows onsite staff to focus on providing the best customer experience possible."
4. Big Blue's proprietary technology benefits franchise partners and customers.
Big Blue's proprietary enterprise system, LessonBuddy™, is technologically superior to the competition in every way. The brand's cloud-based platform is designed so franchise partners can operate successful pools without requiring a daily presence.
"LessonBuddy puts the franchise partner's entire management platform in the cloud so they can manage their business through dashboards and KPIs all the way down to the shift level," Sanders said. "They can track costs and efficiencies so they have total transparency in terms of ROI and health of the business."
On the consumer-facing side, LessonBuddy also allows families to schedule and reschedule lessons easily through a mobile app. Big Blue offers total convenience for the family through a breadth of schedule options for busy calendars (2,000–3,000 lessons offered per week), and has room for progress move-ups immediately when children are ready. This means that multi-child families can all swim in the same 30- to 45-minute window.
5. There is a strategic growth plan in place.
In 2017, Level 5 Capital Partners acquired a stake in the Big Blue brand and is rolling out an aggressive franchising growth strategy with a goal of awarding 240 pools by the end of 2022. The swim school brand currently has 10 units open with 201 units awarded to date.
"Despite the pandemic, we continue to see demand from parents who want to enroll their children in swim lessons and prospective franchise partners who want to invest in Big Blue," Sanders said. "We are incredibly excited for the future, as we have seen a huge need for our services from families returning to their normal activities and planning vacations. As we look ahead, we know that we will be able to make a positive impact on thousands of children across the country, and that's extremely rewarding for the entire Big Blue family."
Multi-unit franchise opportunities are available for qualified candidates looking for their next big opportunity, and veterans can receive a 10% discount on the $80,000 franchise fee. The total investment necessary to begin operation of a new Big Blue Swim School is $2,334,223 to $3,641,998 (refer to item 7 in FDD) To learn more or inquire about Big Blue Swim School, visit https://www.bigblueswimschool.com/franchising/.
ABOUT BIG BLUE SWIM SCHOOL
Big Blue Swim School was founded in 2009 by competitive swimmer Chris DeJong. The first location opened in Wilmette, Illinois, followed by four additional Chicagoland schools. In 2017, Level 5 Capital Partners acquired a stake in the brand. Through that investment, Big Blue plans to grow through franchising to 150 pools by 2021. Big Blue Swim School's real estate expertise, strong brand, proprietary technology, and leadership support, coupled with its best-in-class consumer offerings, position its franchise partners for long-term success. To learn more about franchise opportunities with Big Blue Swim School, visit http://YourBigMomentStartsHere.com.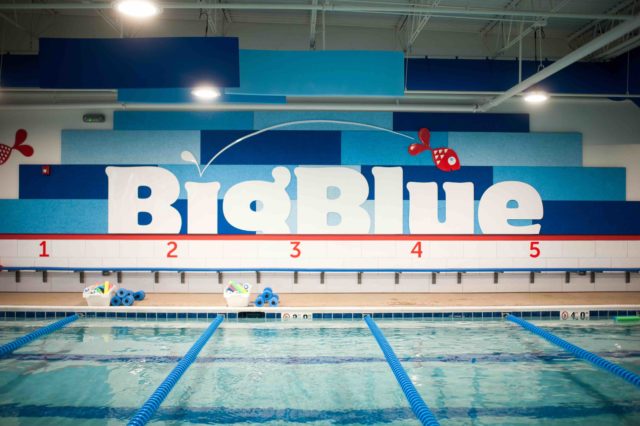 Big Blue Swim School is a SwimSwam Partner.