UPDATE: The dates and locations for the 2019 Futures Championships have been updated. See that update here.
Original article, now with outdated information, is below.
With the United States Aquatic Sports Convention beginning this week at the HYATT Regency Riverfront Hotel in Jacksonville, Florida, the early part of the week includes various board meetings where votes are being held on a number of topics.
Among them is the USA Swimming Board of Directors' approvals of sites for meets coming up in the 2019 and 2020 calendars, including the 2019 Future Championships.
The meets, which will all be held simultaneously from August 8th-11th, will be located in 4 regional sites around the country.
Woollett Aquatic Center – Irvine, California
Spire Institute – Geneva, Ohio
Wellmark YMCA – Des Moines, Iowa
University of Tennessee – Knoxville, Tennessee*
* – Pending final approval from host.
The country is divided into 4 geographic regions, with each hosting a site of the meet. One region encompasses all states from Montana, Idaho, Utah, and Arizona west; the next is effectively the border of the Mississippi River until the western zone is hit; then Michigan, Indiana, Kentucky, Tennessee, and the Carolinas south (and east of the Mississippi) are a region, while the remaining Northeastern states are grouped.
2019 Futures Map below: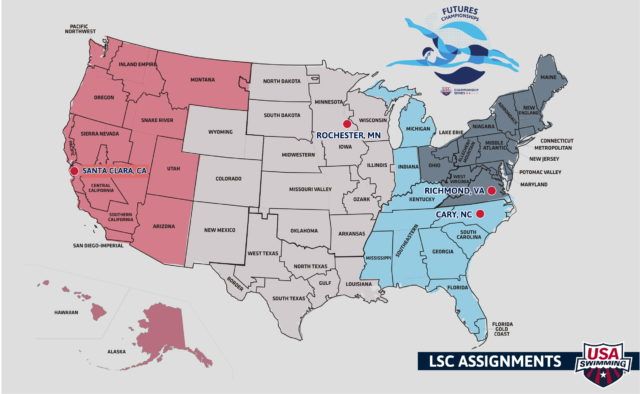 No time standards for the meets have yet been released.
The Futures series was launched in 2015, and in 2016 was expanded from 3 to 4 regions. The event was designed to add another stepping stone to the developmental pathway between Sectional Championships (which fall roughly along LSC boundaries) and Junior National Championships.