Among the 17 killed in the shooting at Marjory Stoneman Douglas High School in Parkland, Florida on Wednesday was a member of the school's swim team, and last week celebrated his commitment to continue swimming at the University of Indianapolis in a signing ceremony.
Nick Dworet, a senior, was killed when a former student opened fire at the school on Wednesday, his coach at TS Aquatics confirmed to IndyStar. Tweets went out on social media late Wednesday evening that he was still missing well after the incident at the school had concluded and the shooter had been apprehended. Early Thursday morning, reports began to circulate among family and friends that confirmed that he did not survive.
"I'm telling you from the bottom of my heart, he just took his life in his hands and he chiseled and molded his life," said Andre Bailey, coach of TS Aquatics. "This kid went from being listless and going through the motions to planning ahead and organizing his life."
"This is a kid who went from middle of the pack last year to to being just lights out," Bailey said. "He helped put our program on the map."
Dworet was a team captain, and placed 5th at the Florida 4A State Championship meet in November in the 100 free.
One family friend, who gave permission to use his words but asked not to be named, posted on Facebook that "Nick was a great Kid. A long term teammate of our children and an all around great kid from a great family…Our son always looked up to Nick at Coral Springs Swim Club and also TS Aquatics Swim Club."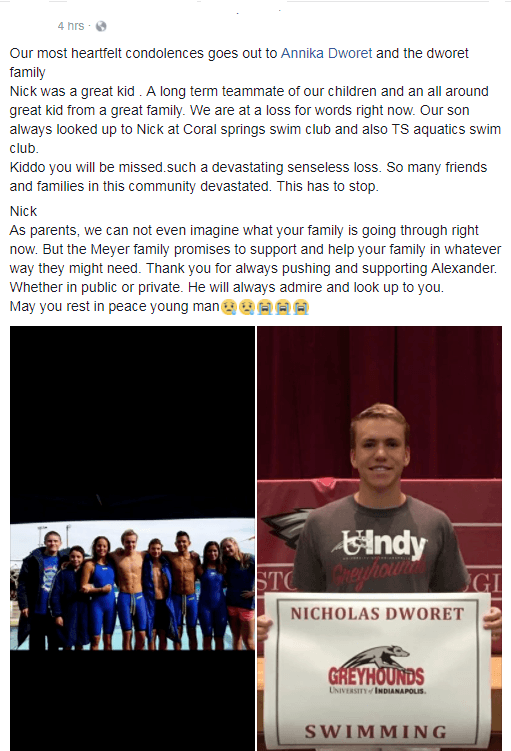 For further developments about the shooting and more details about the investigation, please refer to CNN's live-updated report here.