An award for Italy's Coach of the Year has spurred a major social media firefight among Italy's top swimmers, with emotions running so hot that Italy has opened a federal investigation.
SwimSwam's Giusy Cisale has been following this evolving story on our Italian sister site so far this week, for those looking for coverage in its original language. As much of the controversy revolves around statements posted on social media in Italian, we'll lean heavily on her previous reporting for context and connotations.
Last month, Italy announced three finalists for its Alberto Castagnetti Trophy, given as the federation's "Coach of the Year" award each year. The three finalists were Stefano Morini (the trainer of distance stars Gregorio Paltrinieri, Gabriele Detti and the original coach of Federica Pellegrini until 2011), Matteo Giunta (current coach of Pellegrini, who upset Katie Ledecky this summer for World Championships gold) and Christian Minotti (coach of Simona Quadarella, among others).
This week, the federation gave the award to Morini for the fourth-consecutive year. The award was decided by a jury of coaches, journalists, swimming officials and Olympic champs. You can see the full jury listing here.
Immediately after, Pellegrini took to social media to thank Giunta, her coach, and express her belief that Giunta should have won the award, based in part on Pellegrini's gold medals in the 200 free at both long course and short course World Championships in the 2016-2017 season. A rough translation of Pellegrini's post:
"I will forgive those who are interested, but this is not what I am thinking of, but only for meritocracy. I won the only gold that I missed in the 200 free at the Short Course World Cup (I do not compare to the others but know how Windsor went) and I won my third gold in the 200 free at the World Championships in Budapest after 6 years at 29 years old !! 2 World Gold Medals in the same year with the same athlete I'm sorry but this year no one has done it !! I'm sorry a lot that this prize does not go to you Matteo that you have succeeded in this business and besides, you did improve Luca Pizzini a second and a half. Now we have the assurance of how these ratings work! It's okay there! But for me and your group YOU ARE THE TRAINER OF THE YEAR !! COMPLIMENTI MATTE! "
But her post elicited strong emotions from Paltrinieri, who released a statement defending his own coach and criticizing Pellegrini's words. Here's a rough translation of Paltrinieri's statement:
"When a few hours ago I read Federica's venture I did not want to believe it. I found some unresponsive words about Moro and who won with him. This is a federal prize, not the Oscar. I understand the desire to uphold the undisputed merits of its technician, but it should not be done by denying the work of others. It is clear that Federica is good, She is strong, but I repeat, this is a prize, it is nothing he should not have to take on the staff, on these things should fly high. The skill of a technician does not go against the skill of the other, this does not mean that Giunta is poor. And then we are national companions, we are people who are struggling to reach important goals, we all swim in the same direction and this kind of punctuation should not exist. Even less, it is necessary to question the correctness of the vote. Moro this year with its athletes has won four world medals. Point. But what are we talking about? "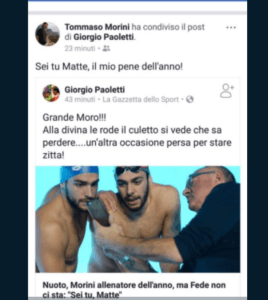 Still relatively civil to this point, the disagreement turned suddenly dark when Coach of the Year Morini's son Tommaso Morini got involved on Facebook. The younger Morini shared a link to a media story on the disagreement with a crude joke mocking Pellegrini's support of her coach by rephrasing her words in a sexual context.
"You're Matte, my [male genetalia] of the year," Morini's post read in a rough translation of the Italian. His comment appeared above the post he shared, which also reference male genitalia and called the incident "another lost opportunity [for Pellegrini] to be silent."
That set off Pellegrini, who took to her Twitter profile to threaten a lawsuit:
Certo quando vieni stipendiato di brutto da qualcuno sei obbligato a dire certe cose… #madicosastiamoparlando

— Federica Pellegrini (@mafaldina88) October 9, 2017
Rough translation: "Of course when you're salaried bad by someone you're forced to say such things"
Mancare di rispetto vuol dire insultare …e qualcuno verrà querelato per questo..io non l'ho mai fatto ma ho una mente pensante e LIBERA!!

— Federica Pellegrini (@mafaldina88) October 9, 2017
Rough translation: "Disrespect means insulting … and someone will be sued for this. I have never done it, but I have a thinking mind and am free!!"
Many onlookers originally believed Pellegrini was addressing Paltrinieri with those tweets, until Pellegrini retweeted a screenshot of Tommaso Morini's Facebook post. This morning, Pellegrini tweeted thanks to her supporters, and again calling out the sexism in Morini's post:
Grazie ragazzi del sostegno…raramente ho ricevuto offese sessiste e mai da persone così "vicine"…per una donna è veramente brutale! ??

— Federica Pellegrini (@mafaldina88) October 10, 2017
Rough translation: "Thanks guys for support … I have rarely received sexist slights and never from people so "close" … for a woman is really brutal! ??"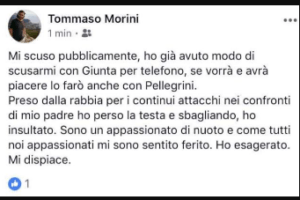 Tommaso Morini later apologized via Facebook for his post, saying that he reacted in anger to what he perceived as "constant attacks" on his father and that he already apologized directly to Giunta via phone. He offered to do the same with Pellegrini:
Rough translation: "I publicly apologize, I've already had to excuse myself with Junta by phone, if she wants and will like to do it with Pellegrini. Taken out of anger for the constant attacks on my father I lost my head and wrong, I insulted. I am passionate about swimming and as all of us passionate, I felt hurt. I exaggerated. I'm sorry"
Italian Swimming Federation President Paolo Barelli also weighed in, announcing that the federal prosecutor's office had opened an investigation into the situation. Here is his full statement:
"The Federal Prosecutor's Office opened an investigation by acquiring all the available evidence to assess any liability for membership of a particular affair that causes the image of swimming, its athletes, its managers, and its technicians.
I regret that the origin of this incredible story is a prize, promoted by the Italian Swimming Federation, which for years has been awarded on the basis of votes cast by an independent jury, in which a vast majority of journalists from the most important national titles are represented.
President Paolo Barelli invites all members to refrain from any further intervention in this matter, especially when of a clear offensive nature that has already generated an escalation of uncontrolled vulgarities. In this regard, President Barelli recalls the commitment of all, and especially those champions who excite us with their victories and constitute, they should never forget it, models for many girls and boys"