3x Olympian, 2016 Olympic Gold Medalist, and 12x NCAA Division I Champion, Joseph Schooling has shipped off to join Singapore's National Service (NS). Schooling received a deferment from 2014 to 2021.
Schooling is most known for his Olympic victory in the 100 butterfly at the 2016 Rio Games. He swam to a time of 50.39 which set an Olympic record. Schooling also beat well-known butterfliers Michael Phelps, Laszlo Cseh, and Chad le Clos who all tied for the silver medal (51.14). This swim earned Singapore their first gold medal and Schooling was awarded $753,000 for his victory. 
At the 2020 Tokyo Olympics, he did not make the semifinal in either of the 100 butterfly or 100 freestyle. 
Yesterday, Schooling posted a "before" and "after" picture on his Instagram story of his hair getting shaved to get ready to serve his country. In his "after" picture, he also tagged the Ministry of Defence, Singapore.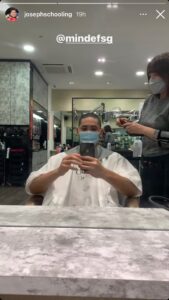 His mother also posted a picture of him with two thumbs up with the caption, "Bags packed, hair shaved, always ready to serve his country! 🇸🇬 proud Mummy here ❤"
According to the country's Central Manpower Base (CMPB) website, the country requires all male residents and citizens to serve in the NS full-time for two years once they turn 18. After the two years of full-time service, they are considered to be an Operationally Ready National Serviceman until they are 40 or 50 (depending on if they are an Officer or have special skills). There are three options to fulfill NS, through the Singapore Armed Forces (SAF), the Singapore Civil Defense Force (SCDF), and the Singapore Police Force (SPF). 
Schooling received a deferment from the military for seven years from 2014 up until September in 2021. Singapore grants these deferments in special cases in which athletes are seen to potentially be a medal winner or as an athlete who can bring national pride. The CMPB website shows the country also grants disruptions from the requirement for those seeking further studies. 
The 26 year old would be 29 years old for the 2024 Paris Olympics. His two years, full-time in the NS will be up right as the 2024 calendar year begins.