Joseph Schooling
Joseph Schooling is a multi-time All-American and World Championships bronze medalist at the University of Texas. At the 2016 Rio Olympics, he beat out Michael Phelps in the 100 butterfly to become the Olympic Champion. His gold in Rio was the first ever Olympic gold for Singapore.
Personal Life
Born June 16, 1995 to May and Colin Schooling in Singapore, Schooling has represented Singapore on the international level, but he attended high school and swam at Bolles School in Jacksonville, Fla. where he broke the National Independent and overall high school record in the 100 fly. The six-foot standout is versatile, and can swim both sprint and IM events at an elite level.
University of Texas
2014-2015
Schooling was named the Big 12 Conference Newcomer of the Year and advanced to the NCAA Championships as a freshman where he won three gold and a bronze medal.
He became an NCAA individual title when he took the 100-yard butterfly in 44.51. He just beat out his teammate, Jack Conger, by 0.4 seconds in a Texas dominated final. In the event, Longhorns finished 1-2-3-4, 6 and 8, making it the most individuals any team has ever put into an A final at the NCAA Championships. He completed the butterfly double, picking up the gold in the 200 fly as well. Up against Conger again, the pair were side-by-side for the first half, but a stunning third 50 saw Joe pull away to take the title in 1:39.62.
His other gold came as a member of the 400-yard medley relay. He teamed up with Kip Darmody, Will Licon and Jack Conger to break the NCAA and U.S Open records. In the 200-yard medley relay, he was a member of the Texas team that finished third. Schooling also swam in the 200-yard medley consolation final (finishing first) and the 400-yard freestyle relay where Texas finished fourth.
2015-2016
At his second NCAA Championships, Schooling pulled in a handful of golds. He successfully defended his butterfly titles, setting an NCAA, Championship, and Pool record with a time of 44.01 in the 100. In the 200 butterfly, Schooling set NCAA and Championship records, lowering the previous record by almost two seconds, and lowering the pool record by over two seconds. His time of 1:37.97 just touched out Conger again, by a mere .09 seconds.
Schooling also won golds as a member of the 200 and 800 yard freestyle relays and the 400 yard medley relay. His silver came in the 400 yard freestyle relay and bronze in the 200 yard medley relay.
Schooling was named co-swimmer of the meet, sharing the title with his former age group teammates and Bolles Swimming alumni, Caelab Dressel and Ryan Murphy.
2016-2017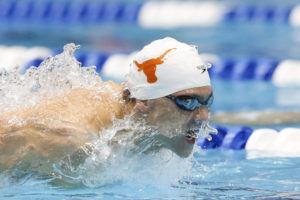 Although Schooling didn't enjoy the same success as the previous two years at the NCAA Championships, he still managed to pick up four golds, a silver and a bronze medal. His gold medals all came in relays. The 200 and 400 medley relays and the 200 and 400 freestyle relays. Texas set new NCAA and U.S. records in all of the relays Schooling was on other than the 200 yard medley relay.
Schooling started off his individual campaign with a bronze in the 50 freestyle in 18.77 behind Caeleb Dressel and Ryan Held. He was unable to defend his butterfly titles, finishing behind Dressel in the 100 in 43.75. In the 200 yard butterfly, he failed to make the finals, finishing 37th overall.
In an interview, Schooling said that he suffered from a stomach virus that came on a day into the competition. He also said in the interview it wasn't an excuse for his performances at he meet.
International Competition
2012 Olympic Games
By swimming under the Olympic "A" standard, Schooling earned his way to London to compete in the 2012 London Olympics, where he placed 35th in the 100m butterfly (53.61) and 26th in the 200m butterfly (1:59.18).
2013 World Championships
In Barcelona, Schooling built on his experience from London. In the 100m butterfly, he placed 17th (52.56), just missing out on a second swim. In the 200m fly, Schooling managed 14th place in prelims, garnering his first major international semis swim. In semis, he wound up 10th with a 1:56.27.
2014 Asian Games/Commonwealth Games
At the 2014 Commonwealth Games, Joe won a silver medal in the 100m fly with a time of 51.69, losing only to Chad le Clos. When Schooling medaled in the 2014 Commonwealth Games, he was the first Singaporean to medal in swimming at the Commonwealth Games. Later that year, Schooling represented Team Singapore at the 2014 Asian Games where he picked up a gold in the 100m butterfly, silver in the 50m butterfly and bronze in the 200m butterfly.
2015 World Championships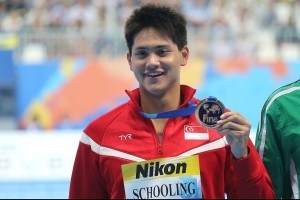 At the 2015 World Championships in Kazan Schooling was prepared for his specialty butterfly events. Schooling swam all three butterfly distances including the 50-meter, 100-meter and 200-meter fly. In the 50-meter fly Schooling advanced to the championship final, and finished 7th in an extremely tight race. Although he finished 7th Schooling was only 0.28 seconds behind the winner, Florent Manaudou. Schooling's swim was a new Asian record.
In the 200-meter fly, an event that Schooling had just won at the NCAA Championships, Schooling advanced from preliminaries to the semi-finals in the 13th spot. He dropped time off of his prelims swim, but it wasn't enough to advance him to the championship final.
Schooling also tackled the 100-meter fly, where he advanced to the championship final. At the 50-meter mark, Schooling led the heat, but Chad le Clos' back-half was stunning. Schooling touched in a historic 3rd place behind le Clos and Laszlo Cseh. He set a new national and Asian record, and his finish marked Singapore's first ever podium finish at a World Championships.
2016 Rio Olympics
Schooling pulled off the upset in Rio, beating out Michael Phelps and denying him of his 23rd gold Olympic medal. And he did it in style. His 50.39 was a new Olympic Record and he was streaks ahead of the three-way tie that finished second.
He lead from start to finish, turning first in 23.64. As the race unfolded down the final 50, his lead only grew and made a Phelpsian comeback impossible. He finished 0.79 seconds ahead of Phelps, Laszlo Cesh and Chad le Clos who all touched in 51.14 to take second. Schooling's gold medal was the first ever for Singapore in the Olympics.
2017 World Championships
The 50 meter butterfly was Schooling's first event at the World Championships. He managed to improve on his placing from two years earlier touching 22.95 for 5th place. The day before, he had set a new best time in the semi-final in 22.93.
Day seven in the 100m butterfly final, Schooling tied for the bronze with Britain's James Guy in 50.83.  Schooling's old high school teammate and rival, Caeleb Dressel (who clipped Schooling in the NCAA Championships 100 yard butterfly final earlier in the spring) won the event in 49.86, a mere .04 off Michael Phelps' world record (Rome 2009 World Championships, performed in the now illegal tech suits).
Schooling Turns Pro, Signs With Speedo (May 25, 2018)
Schooling said: "I'm very excited to begin my professional career as a Speedo athlete and evolve not only as a swimmer but also as a person. Growing up, the best swimmers in the world wore Speedo and I feel honoured to join Team Speedo and work with such an iconic brand. I look forward to taking my swimming to the next level with Speedo by my side to become both faster and stronger."
Rob Hicking, Brand Director at Speedo International Limited commented: "Speedo's goal is to inspire people to swim and we believe that Joseph Schooling will do just that. He has already achieved a fantastic college career and had a sensational win in Rio. We are thrilled to welcome Joseph to Team Speedo and we look forward to supporting him in his exciting future."
2018 Asian Games
After his senior season at Texas, Schooling traveled to Singapore for the summer to train in his home country and prepare for the Asian Games, foregoing the Commonwealth Games to do so. In Jakarta, Schooling individually won a pair of gold medals in the 50 (23.61) and 100 (51.04) butterfly. He also aided Singapore to 2 bronze medals in the 4×100 and 4×200 free relays.