Alyssa Marsh and the girls of Pine Lake Prep brought home their school's first state title in any sport by winning the North Carolina 1A/2A state title over the weekend. The boys of Washington High also took home a team title in a great show of depth.
Girls Meet
The Pine Lake Prep girls broke three state records en route to their first-ever team title. That charge was led by senior Alyssa Marsh, who broke two overall state records individually and helped the 200 free relay break a class 1A/2A record.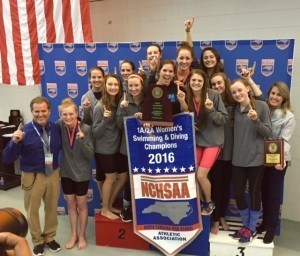 Marsh broke her first record in prelims of the 50 free, going 22.75. She would miss that mark in the final by a tenth, but still won in 22.83, the only swimmer under 24, much less 23.
Marsh also broke the state 100 fly record with a 53.23, again crushing the field by a wide margin.
In the 200 free relay, Marsh teamed up with Allyson Accordino, Rose Auten and KK Rasbornik to go 1:36.84 and break the 10-year-old 1A/2A state record of 1:37.53.
Accordino, Marsh and Rasbornik returned to win the 400 free relay as well, blowing out the field by almost four seconds. Marsh led off, with the sophomore Rasbornik second,  junior Allison Lindsey third and the freshman Accordino holding down the anchor leg. Though Marsh will be sorely missed, that showing of youth in the relays was a positive sign for Pine Lake Prep's future.
Two more class 1A/2A state records fell on the girls side. Lincoln Charter's Christina Lappin broke one in a two-win day that pushed her team to a top-5 finish. Lappin won the 200 free in 1:49.95, just missing the class record she set back in 2014. But the senior saved her best swimming for later in the meet, winning the 100 free in 50.64 and breaking the 1A/2A record by just a tenth of a second.
The other class record also went to a senior, with Parkwood's Lexi Souther winning the 100 back in 54.64. Salisbury sophomore Kathryn Morrison was also under the old record, pushing Souther with a 54.83.
Lake Norman Charter won the night's opening relay, going 1:50.39 in the 200 medley. That team was made up of Carole Fish, Riggan Ayscue, Ariel Hopper and Andrea Gartner. Ayscue would go on to win the 100 breaststroke in 1:06.28.
Other event winners:
Lincoln Charter's Alexandria Baker took the 200 IM in 2:05.75.
NC Science & Math junior Lindsey Ruderman scored 405.45 to win the diving event.
Sophomore Sydney Willis went 5:06.99 to win the 500 free for Raleigh Charter.
Top 5 Teams:
Pine Lake Prep – 326
Carrboro – 239
Raleigh Charter – 219
Lake Norman Charter – 215
Lincoln Charter – 158
Boys Meet
The boys of Washington earned an all-around team win, taking just one event but outlasting the field to claim the team trophy.
Junior Kevin Andrews was the lone event winner, going 51.76 to win the 100 back. Andrews crushed the field by almost two seconds there.
Individually, Carrboro senior Will MacMillan broke the only overall state record with a 1:36.99 in the 200 free. MacMillan also broke a 1A/2A state record in his second event, the 100 fly. MacMillan was 48.26 there, taking 1.6 seconds off his own class record and coming within a second of a state record owned by Olympian Ricky Berens.
MacMillan also swam the leadoff leg of the winning 200 medley relay for Carrboro, joining Simon Deshusses, Myles Miller and Jack Dozier on an all-senior relay that went 1:37.63.
MacMillan, Dozier and Deshusses returned along with junior Caleb Bollenbacher to win the 400 free relay at the end of the night, going 3:12.49 to break the 1A/2A state record they set last year.
Mount Pleasant senior Danny Dilks broke a pair of class records himself. Dilks was 1:52.27 in the 200 IM (touching out Lincoln Charter's Taylor Powell by six tenths) and 56.51 to win the 100 breast (once again topping Powell, who was close to the 1A/2A record with a 58.09).
The other swimmer to double up on wins was West Davidson senior Alex van der Linden. He took the 50 free in 21.17 and the 100 free in 47.07.
Other event winners:
Pine Lake prep sophomore Nick Garberina scored 456.25 points on the diving board to blow out the field and crack the 1A/2A state record.
First Flight junior Hunter Crook broke a state 1A/2A record of his own while winning the 500 free in 4:36.37.
The 200 free relay went to Bishop McGuinness, with the team of Alex Strasser, Sean Farley, Thomas Hamlet and Jeffrey Davidson going 1:29.98.
Top 5 Teams:
Washington – 236.5
Lincoln Charter – 217.5
Carrboro – 210
Bishop McGuinness – 202
Pine Lake Prep – 160