Liberty University picked up two verbal commitments this week from Payton Keiner of Cincinnati, Ohio and and Emily Manly of Sunnyvale, Texas. This comes on top of the verbal they had already received from Kiah Francis.
Payton Keiner
Keiner, a senior at Cincinnati Christian High School in Fairfield, Ohio, is the reigning Ohio State High School Division 2 champion in the 100 back, which she won with 54.59 last November. She was also runner-up in the 200 IM (2:06.44).
Keiner swims for Powel Crosley, Jr. YMCA in Cincinnati. She had three B-final finishes at the 2016 YMCA Short Course Nationals: 100 free (15th), 100 back (13th), and 200 back (10th). Her top SCY times are:
50y back – 26.37
100y back – 54.59
200y back – 1:58.58
200y IM – 2:04.24
50 free – 23.74
100 free – 51.20
200 free – 1:52.66
"I chose Liberty because it is the perfect fit for me to grow as a Christian, student, and athlete. It has a special and one of a kind combination of fast swimming, outstanding academics, and a loving, wholesome atmosphere. I'm ecstatic to be joining the Liberty Women's Swimming and Diving family!"
Emily Manly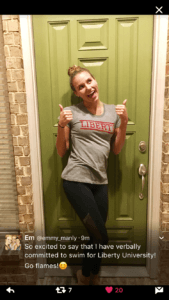 Manly is a versatile back/free/IM specialist who attends Sunnyvale High School in Sunnyvale, Texas. She was third in the 100 back (57.22) and fourth in the 200 IM (2:05.74) at the 2016 Texas High School 5A State Meet.
Manly swims year-round with Rockwall Aquatic Center of Excellence. She had strong showings during her junior year season, dropping time in total of 18 events. Her best SCY events are:
100 back – 57.22
200y back – 2:03.03
200 IM – 2:05.74
400 IM – 4:27.75
200 fly – 2:05.82
200 free – 1:52.51
500 free – 5:04.91
1000 free – 10:19.58
"I am pleased to announce my commitment to swim at Liberty University. I am so impressed with how far their swimming and diving program has come in such a short time. Coach Jake and Coach Jessica are passionate about this team, and their ongoing vision for it. I knew I had to be a part of what is going on there. After visiting Liberty, walking the campus, and spending time with the team, I knew this was home."
Where They Fit In
Liberty University competes in the Coastal Collegiate Swimming Association (CCSA), where the women finished second behind Florida Gulf Coast at last year's conference championships. Keiner would have been fourth in the 200 back and fifth in the 100 back last February, while Manly would have been 8th and a B finalist in the same two events. Keiner would have been on the A/B-final bubble for the 100 and 200 freestyles, while Manly would have been an A finalist in the 400 IM and a B finalist in the 200 IM.
If you have a commitment to report, please send an email to [email protected].