If you want a swimming clinic with Olympic Champion Mel Stewart plus a Practice + Pancakes episode for your swim team, please participate in this auction to support the USA Swimming Foundation's mission of Saving Lives and Building Champions.
Golden Goggles, USA Swimming's annual Award show commemorating the year's biggest and best swims and swimmers, is Monday, November 19th in New York City. This also mean's the USA Swimming Foundation's silent auction is taking place. The mission of the USA Swimming Foundation is 2-fold: Saving Lives, and Building Champions. By the 2020 Olympics, the USA Swimming Foundation will provide over $1,000,000 in support to fund the U.S. National Team.
The USA Swimming Foundation is auctioning:
plus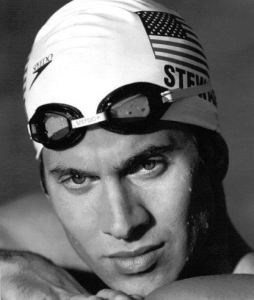 ONE: "Gold Medal Mel" Stewart is a 3-time olympic medalist from 1988 and 1992 Olympics, the ladder of which he won his namesake gold medal at in the 200 fly. Stewart was ahead of his time, using tremendous underwater dolphin kicks to his advantage to crush his competition and break numerous American and world records. He still has the most American national titles in a single event, 14,  in the 200 fly. Mel wants to share his knowledge of elite swimming with you!
TWO: Practice + Pancakes is a regularly published web series of SwimSwam's creation, documenting the best swim teams and the fastest practices across the country. Our head of production Coleman Hodges travels to your pool and films the entire practice, capturing authentic shots and sizzling swims all in your home environment. Then, Coleman heads to the local hot spot to feast on some pancakes and walk the audience through the highlights of the workout on camera. It's time for you to join the fun!
Follow the link below to make a bid:
2018 USA Swimming Foundation Golden Goggle Silent Auction
Note: Auction ends Monday, November 19th at 8;45pm EST.
See the latest Practice + Pancakes below:
Practice + Pancakes: Texas Women Throwdown Before Duals with Stanford, Cal