FINIS, a leader in technical swimming equipment, has teamed up with The Factory Agency and Hans Rosenwinkel, highly acclaimed Director to launch an awe-inspiring "Redefine Limitations" campaign featuring 2012 Paralympic Champion, Mallory Weggemann. The digital and print campaign captures a small glimpse into Weggemann's daily life, as she sets her sights on the Rio 2016 Paralympic Games.
Weggemann's swimming career has been storied with unexpected twists and turns, and 2014 has been no different, as she has been recovering from a severe arm injury throughout most of the year. Even with large and small setbacks, Weggemann has continued to "Redefine Limitations" and push forward to overcome seemingly impossible obstacles. Highlighted by gold and bronze medals at the 2012 Paralympic Games, Weggemann has high hopes and expectations for the Rio 2016 Paralympic Games.
FINIS has been a proud sponsor of Weggemann over the past year, and has been truly inspired by her ability to continue redefining her own limitations. Weggemann's story is an incredible one, but everyday individuals around the world experience small and large setbacks of their own. By capturing and sharing a piece of Weggemann's story, as she works to make her comeback in the pool, FINIS hopes that others can be inspired to "Redefine Limitations" and achieve their own goals by overcoming seemingly impossible obstacles.
"Each day, we have the ability to be brave, to be courageous, to rise above and to continue to redefine our limitations. Where I believe bravery steps in, is when we decide that regardless of what our disability may be, we aren't going to let it stop us from living, from aspiring to achieve our goals and from continuing to push ourselves one step further. In fact, that is the most courageous act of bravery there is, not allowing circumstance to define us and not allowing fear to hold us back," said Weggemann.
Next up for Weggemann, is the Minneapolis Grand Prix November 20th – 22nd, where for the sixth year in a row, Weggemann will further the Paralympic movement by raising awareness to Para-Swimming within the USA Swimming community.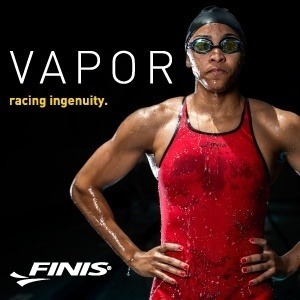 Founded in 1993 in Northern California, FINIS was started by John Mix and Olympic Gold Medal Swimmer Pablo Morales. The Monofin and the Swimmer's Snorkel were the first products they developed for the US market; afterwards, they continued to focus on creating training tools for swimmers and coaches worldwide. FINIS products are currently available in over 65 countries and are used by US and International Olympic teams, elite triathletes, and fitness swimmers.
Innovative research and design is FINIS' highest priority. This dedication has resulted in truly unique products such as: the Swimmer's Snorkel, which is recognized as the paramount tool to improve a swimmer's technique, the Neptune MP3 that uses bone conduction technology to transmit music to the inner ear instead of using ear buds, and the Z2 Zoomers fins, which demonstrate an intimate understanding of swimming musculature, hydrodynamics, and engineering.
Swimming News is courtesy of FINIS, a SwimSwam partner.