FINIS-sponsored swimmer Arianna Vanderpool-Wallace posted the third fastest 50m Freestyle swim in the world this year at the Pro Series event in Charlotte, North Carolina over the weekend. With a time of 24.35, Vanderpool-Wallace is now tied for 3rd in the world with Ranomi Kromowidjojo of the Netherlands, behind the powerhouse sister duo, Cate and Bronte Campbell of Australia, who are seated first and second in the world respectively.

Vanderpool-Wallace's stellar performance in Charlotte marks the beginning of what is sure to be a summer of fast swimming. "The PanAm games are going to be incredibly fast," said Vanderpool-Wallace, looking to July where she'll compete in the PanAm games in Toronto. With her sights set on a competitive field in Toronto, Vanderpool-Wallace is still deciding if she will compete for her native Bahamas at the World Championships in Kazan, Russia.
"Arianna is a standout athlete, in and out of the water. She is primed for well-deserved success over the course of the next year and we are proud to have her on Team FINIS." –John Mix, FINIS, Inc. CEO
About FINIS, Inc.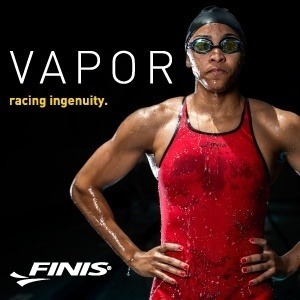 FINIS, Inc. is the worldwide technical leader in technical swimming development. John Mix and Olympic Gold Medal swimmer Pablo Morales founded FINIS in 1993 with a mission to simplify swimming for athletes, coaches, beginners and lifelong swimmers around the world. Today, FINIS fulfills that mission through technical innovation, high quality products and a commitment to education. FINIS products are currently available in over 80 countries. With a focus on elevated design and the fine details of swimming, FINIS will continue to develop products that help more people enjoy the water.
Swimming news is courtesy of FINIS.