SWIMMING AUSTRALIA OLYMPIC TRIALS
Saturday, June 12th – Thursday, June 17th
South Australia Aquatic & Leisure Centre, Adelaide, Australia
Prelims at 10 am local (8:30 pm Eastern)/Finals at 7 pm local (5:30 am Eastern)
Sole Olympic-Qualifying Opportunity
Day 5 Prelims Live Stream (Amazon Prime required)
MEN'S 200 IM – PRELIM
World: 1:54.00 28-Jul-11 Ryan Lochte, USA
Commonwealth: C 1:55.72 12-Jun-19 Mitch Larkin, AUS
Australian: A 1:55.72 12-Jun-19 Mitch Larkin, SPW
All Comer: 1:54.98 29-Mar-07 Michael Phelps, USA
OQT: Q 1:57.98

The men's 200m IM prelims were on the subdued side with just one athlete getting under the 2:00 barrier in the form of Mitch Larkin. The St. Peters Western athlete posted a top-seeded effort of 1:59.21 to hold over a 2-second advantage over the top 2 finishers in the 400m IM here, Se-Bom Lee and Brendon Smith.
Young Thomas Hauck lurks as the 4th seed in 2:02.45, but this is Larkin's race to lose, as the 27-year-old veteran boasts a season-best of 1:56.32 to rank as the 3rd fastest performer in the world. And, Larkin is going all-in in this event, dropping the 200m back to focus on this multi-discipline event instead.
WOMEN'S 100 BACK MC – PRELIM

MEN'S 100 BACK MC – PRELIM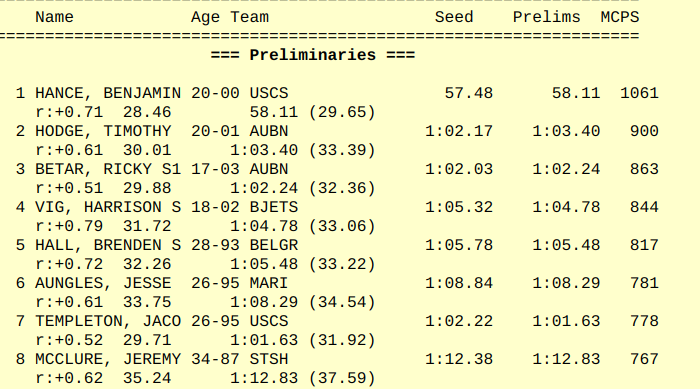 WOMEN'S 50 FLY MC – PRELIM


MEN'S 50 FLY MC – PRELIM
WOMEN'S 200 BREAST – PRELIM
World: 2:19.11 01-Aug-13 Rikke Pedersen, DEN
Commonwealth: C 2:20.12 30-Jul-09 Annamay Pierse, CAN
Australian: A 2:20.54 01-Feb-00 Leisel Jones, Commercial
All Comer: 2:20.04 06-Feb-16 Rie Kaneto, JPN
OQT: Q 2:24.18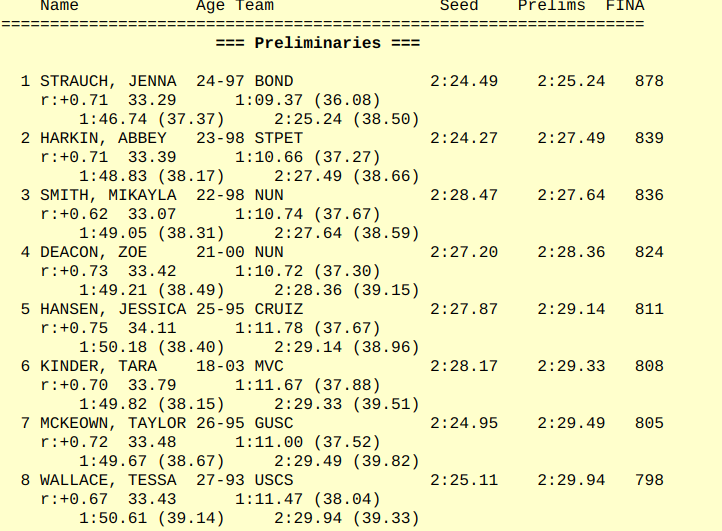 24-year-old Jenna Strauch leads the women's 200m breaststroke field by over 2 seconds, posting a morning prelim outing of 2:25.24. That's less than half a second off of her lifetime best of 2:24.49, a time she'll need to beat to hit the Aussie-mandated QT of 2:24.18 needed for Tokyo.
Abbey Harkin looked controlled to easily make it into the final, clocking 2:27.49. Harkin is the highest-ranked Aussie entering this meet, but still sits just 17th in the world this season.
Mikayla Smith of Nunawading produced 2:27.64 as the 3rd seeded swimmer. Smith's effort hacked almost a second off of her lifetime test of 2:27.20.
Of note, 2016 Rio Olympic finalist in this event, Taylor McKeown, sneaked into the final with a prelims time of 2:29.49.
The question is whether any of these women can get under the QT in tonight's final.
MEN'S 200 BACK – PRELIM
World: 1:51.92 31/07/2009 Aaron Peirsol, USA
Commonwealth: 1:53.17 7/11/2015 Mitch Larkin, AUS
Australian: 1:53.17 7/11/2015 Mitch Larkin, SPW
All Comer: 1:53.72 15/12/2015 Mitch Larkin, SPW
OQT: 1:57.26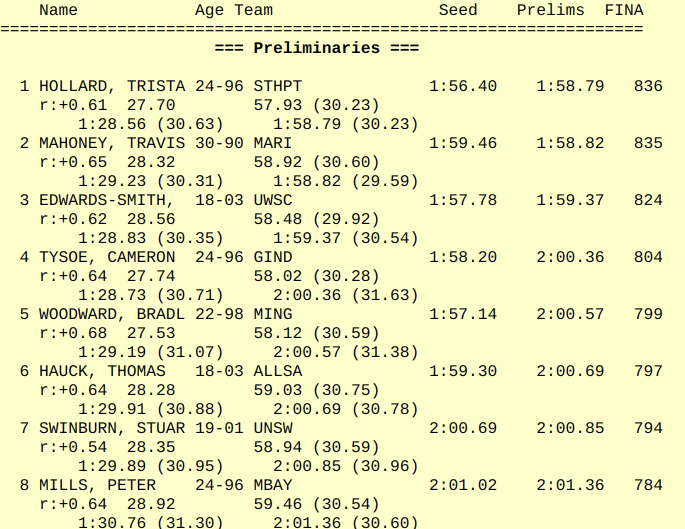 Sans the aforementioned Larkin, this men's 200m backstroke is essentially wide open, with any number of swimmers capable of sneaking to the top of the podium. The question will be if they can muster the 1:57.26 qualification time, a mark which both Tristan Hollard and Travis Mahoney have in their sights after morning swims of 1:58.79 and 1:58.82, respectively.
18-year-old Joshua Edwards-Smith is also in the mix with a sub-2:00 result of 1:59.37, while 6th seeded Thomas Hauck took on the 2IM/2back double and was rendered to 6th place in 2:00.69.
WOMEN'S 100 FREE – PRELIM
World: 51.71 23/07/2017 Sarah Sjostrom, SWE
Commonwealth: 52.03 10/08/2018 Cate Campbell, AUS
Australian: 52.03 10/08/2018 Cate Campbell, Chandler
All Comer: 52.06 2/07/2016 Cate Campbell, Chandler
OQT: 53.31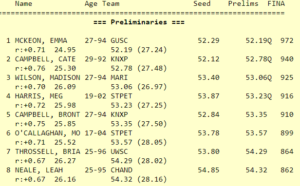 The story coming out of this morning has to be 27-year-old Emma McKeon swimming a new personal best of 52.19. Coming in the heats, no less, McKeon was able to scare the Australian Record held by Cate Campbell (52.06). The swim was a new top mark for McKeon by exactly 0.1 seconds, and is the top time in the world.
Cate Campbell, for her part, posted a truly relaxed-looking 52.78 this morning, taking the 2nd seed for tonight. She took the race out quite a bit slower than McKeon did, splitting 25.30 on the first 50m, to McKeon's 24.95. Campbell's season best of 52.46 is now the #2 time in the world this year.
Madison Wilson was another swimmer to crack her lifetime best this morning, roaring to a 53.06. The swim marked a personal best for the 27-year-old, who had just recently swum her previous best of 53.40 back in April.
Youngster Meg Harris took 4th this morning with a new personal best of 53.23, bettering her entry time of 53.87 by a big margin. Bronte Campbell also turned in a solid prelims time, swimming a 53.35 for 5th place.