Ultra Swim Swimmer of the Month is a recurring SwimSwam feature shedding light on a U.S.-based swimmer who has proven themselves over the past month. As with any item of recognition, Swimmer of the Month is a subjective exercise meant to highlight one athlete whose work holds noteworthy context – perhaps a swimmer who was visibly outperforming other swimmers over the month, or one whose accomplishments slipped through the cracks among other high-profile swims. If your favorite athlete wasn't selected, feel free to respectfully recognize them in our comment section.
Maximus Williamson was a revelation at the World Junior Championships earlier this month in Netanya, making him an easy selection as our Ultra Swimmer of the Month for September.
Williamson, who turned 17 on the first day of the competition, became the fastest 17-year-old of all-time on Day 2 of the meet, winning gold in a time of 1:57.29 to moving into #2 all-time in the boys' 17-18 age group in the U.S. behind Michael Phelps (1:55.94).
During the second day of the 2023 World Junior Championships in Netanya, United States' Maximus Williamson won the boys 200 IM in 1:57.29. This is the fastest time ever registered by a 17-year-old swimmer in the event, surpassing Kosuke Hagino's time of 1:57.35 from 2012. pic.twitter.com/WzgYgfXWey

— Swimming Stats (@SwimmingStats) September 5, 2023
That performance marked a significant personal best time of 1.36 seconds for Williamson, having gone 1:58.65 at U.S. Nationals just over two months earlier.
Williamson went on to set a new National Age Group Record for 17-18 boys in the 100 free—an insane achievement given he only recently aged up—with his blistering time of 48.38 leading off the U.S. mixed free relay.
He followed up by winning the 100 free individually in a time of 48.45, and ended up walking away with seven medals, the most of any swimmer at the meet, including six golds.
In addition to those three swims, he also had three sub-48 relay splits for the U.S. and led off the winning 800 free relay with a new 200 free PB of 1:47.11.
Williamon's Finals Swims
100 free – 48.45 (gold)
200 IM – 1:57.29 (gold)
400 free relay – 47.78 split (gold)
800 free relay – 1:47.11 lead-off (gold)
400 medley relay – 47.57 anchor (gold)
Mixed 400 free relay – 48.38 lead-off (silver)
Mixed 400 medley relay – 47.74 anchor (gold)
Currently a member of the Lakeside Aquatic Club, Williamson was ranked #2 in our Way Too Early boys' high school class of 2025 rankings shortly before the meet, trailing World Championship gold medalist Thomas Heilman.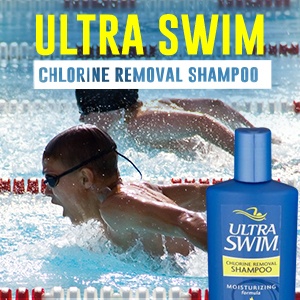 Ultra Swim is the shampoo made for swimmers. It gently removes harmful chlorine, and prevents damaged hair. So swim all you want, without sacrificing your hair.
See all Ultra Swim Products here
Buy Ultra Swim at these locations
Ultra Swim is a SwimSwam partner.