College Swimming news is courtesy of Steve Kornacki and the University of Michigan.
Brent Lang had no way of knowing that his life-altering and career-changing circumstances as a teenager were nothing more than dominoes lined up to fall in an order that assured greatness.
Had his father not been transferred to the British Isles when he was 13, Lang said he very likely would have stuck with baseball and soccer in Oregon and never excelled as a six-time Big Ten and four-time NCAA swimming champion at the University of Michigan.
"I was really uncoordinated on dry land and would trip on just about anything," Lang said with a chuckle. "But I was trying to play baseball and soccer like my older brother, Eric. Then in sixth grade, our family moved to the island of Guernsey in the English Channel. They didn't play baseball, and they were all so good in soccer that I couldn't even make the team.
"So, swimming became our focus on the island. They had a swimming pool and a great swim team, and I began focusing on being a strong swimmer and student at this really great and rigorous English all-boys prep school for the next three years. I got to swim at the British nationals when I was 14 and won it for my age group. It was eye-opening."
Still, had Jon Urbanchek, his coach on those Wolverines teams from 1987-90, not asked him to swim freestyle because a fourth swimmer was needed on the 400-yard relay at the NCAA Championships, he would have stuck to the backstroke and individual medley events.
"I probably would've been a mediocre swimmer in backstroke and IM," said Lang. "But I certainly wouldn't have been an Olympian and certainly wouldn't have been a national champion.
"Life presents you opportunities, and sometimes you don't even know they are opportunities at the time they are presented. It's real important to look up at the opportunities and see where it might lead."
Lang claimed a gold medal in the 1988 Olympics in Seoul, Korea, swimming the first leg of a 400-meter freestyle relay with his best time ever.
But that wasn't the pinnacle for Lang.
He took the lessons learned from Urbanchek on team-building and started a Silicon Valley communications technology company, Vocera, from scratch before turning it into a publicly-traded industry force with more than 380 employees in San Jose, California. He also got his MBA from Stanford, which recruited him heavily out of Sunset High School in Beaverton, Oregon, after graduating with an industrial engineering degree at Michigan.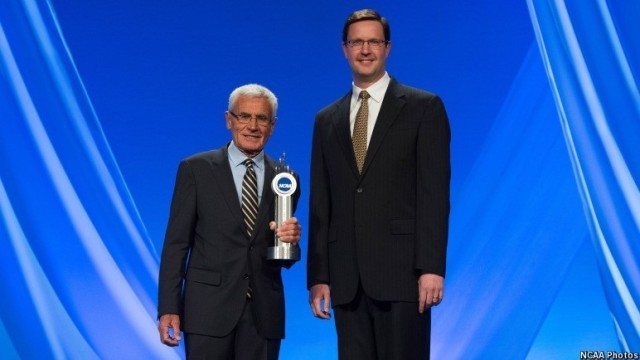 "Maybe it was the luxury of being a swimmer that helped me," said Lang. "I knew I was never going to go pro, and so you knew you had to get an education and plan the rest of your life."
And for excelling at the highest levels of athletics and academics before becoming the president and CEO of his own progressive company that creates solutions for mobile workers, Lang became one of six former student-athletes selected by the NCAA for Silver Anniversary Awards. Presentations were made Friday night (Jan. 16) at a convention gala at the Gaylord National Resort & Convention Center.
"I knew I needed to keep a balance between athletics and academics," said Lang. "That's why this award means so much to me. It was the mission of what I set as my goal. I wanted to use swimming as a training ground and a pathway to the rest of my life."
Accepting the award with him was Urbanchek, a member of the International Swimming Hall of Fame. They posed for a photo on stage, with Urbanchek holding the trophy in his left hand, and exchanged handshakes and hearty back-slaps.
"Once every 25 years you get someone like Brent — someone who really stays in your mind,"

Urbanchek said

. "I have a hall of fame wall in my home. But I only put two photos up on the wall. One is Brent and the other is Eric Namesnik, another swimmer of mine who passed away young in an accident. Some people stay in your mind forever. I told Brent it is more important what you accomplish 25 years after college. The records he had set at Michigan — they're broken. Medals get tarnished, OK?"
Stanford and Baltimore Orioles and New York Yankees pitching star Mike Mussina also was honored along with Stanford basketball player Jennifer Azzi, Oklahoma basketball player Tamyra Rogers, Oregon State football player Pellom McDaniels, and Brown University basketball player Bernard Muir.
Lang was joined by his wife, Beth Van Schaack, and their son, Miles, 13, who plays baseball, and daughter, Brooke, 11, who plays soccer. Urbanchek, who retired in 2004 after 22 seasons as Michigan's head coach, joined them at their table.
"He became like a second father to me," said Lang. "He was such a mentor — more probably out of the pool than in the pool."
Urbanchek was touched by that comment and said, "I never had a son, you know. I have a daughter. But on any given year, I had 25 sons."
He made Michigan swimming a family and showed his "sons" how to be men and leaders. And many of them, like Lang and Rick Wilkening, freshman roommates in the West Quad, became lifelong friends. Wilkening, who lives in Ann Arbor, was the best man in Lang's wedding.
"One of the things that made Jon a great leader was taking a chance on people," said Lang. "When I was a freshman, I'd been recruited to swim backstroke and butterfly, and he gave me a chance to sprint freestyle. They had three seniors set for the relay in the NCAA meet, and I had the opportunity to lead that freestyle relay. That's what led to me converting over to freestyle, and Jon's decision to take a chance on me at that point meant the world to me."
Urbanchek said, "I could tell just by looking at how Brent looked in practice. I knew he could probably do that, and he did, and he beat everybody."
But then there was the day Lang beat nobody in his specialty event.
"The real lesson for me from Jon was how he believed in people and trusted in people," said Lang. "There was a time during my junior year that I was the defending NCAA champion, and I got disqualified in the 100 free preliminaries with a false start. Some coaches would come up and scream at you because you cost the team a bunch of points. But Jon came up to me and said, 'That's OK, buddy! We're going to have you lead off the relay tonight and you're going to prove to everybody that you're still the fastest guy in the 100 freestyle.' "
Lang leaned back on a padded bench outside the ballroom and smiled before shaking his head.
"When you think of it now, I'm the CEO of a public company," said Lang, who has a maize and blue Michigan welcome mat in front of his office desk. "And it's, 'What's your reaction going to be when somebody screws up?' People fail all the time, and the question is, 'Can you give them a chance to fail gracefully, recover and learn from the experience?' And that's one of the things I learned from Jon."
The other building block to his business career that he gleaned from Urbanchek was team building.
"He got the right chemistry, themes and framework for people to trust in each other," Lang said. "He really expected us — particularly the captains — to lead by example. It wasn't a lot of rah-rah, but rather that Michigan swimming was going to represent success that is meaningful across the country.
"And that had me think about the way I run my company — which is all about getting the right team together and the right chemistry. And then getting out of the way and trusting people to do their jobs."
Micro-managing doesn't appeal to Lang.
"Help people see where they need to go, create the vision, and then get out of the way," he said.
Photos of Lang in his U.S. Olympic team sweatsuit and standing on the gold medal victory stand were shown on the big screens in the ballroom, along with video of him swimming his magic 100 in the Olympics.
"There was six weeks before the Olympics after I made the team," Lang said. "And my mantra during that time was, 'It's just another race. It's just another race.' It was a meditative state of trying to stay calm. I kept repeating that in the Olympic Village.
"I led off the relay and was to be the first person in the water. I get up on the blocks and I'm saying, 'It's just another race. It's just another race.' And I dive in the water in this long stream line, and I take two strokes up on top of the water. And then suddenly it hits me: 'This is the Olympics!' And all of a sudden the adrenaline kicks in, and all of this emotion I'd been keeping at bay for six weeks pumps up and all of a sudden I'm on top of the water, feeling real good."
Lang has stayed "on top of the water" in every way. And the Silver Anniversary Award was a way of acknowledging all of his accomplishments and remembering everyone and everything that made it possible.
"It reminds me of how precious the time is as a student-athlete," Lang said. "At the time, I was in a big hurry to start my business career and had my goals set at being a CEO. I was in a huge hurry to go do that. And your pace of life is so crazy when you're a student-athlete. You have little time to go back and reflect.
"So, there's a part of me that wants to give that advice to the guys and gals going through it right now. Just enjoy it for what it is now. It's special time, the greatest years of your life."