Summer is over, school is back in session and it is the beginning of a new swim season! This time of year is a great opportunity to set new goals and develop a plan of action that will help you reach your full potential in and out of the pool. As a student athlete, the most important thing you could do is prioritize proper nutrition. Forming new healthy eating habits will not only make you feel your best but will take your sports performance to the next level.
We've all been there. Your alarm goes off for morning practice and you scramble to find something to eat that will give you energy but won't make you feel like you're going to sink once you hop in the water! Although some athletes find it difficult to eat early in the morning, fueling your body before any workout is imperative. In order to perform your best, you should eat something 30 minutes to one hour before your workout and focus on eating whole foods that contain a balance of carbohydrates, protein and fats. Our muscles use the glucose found in carbohydrates for energy while protein aids in our muscle performance and recovery. Since fats contain more calories per gram than the other two macronutrients, they provide us with more sustained energy and are ideal fuel for long duration workouts. Sugary protein and energy bars are convenient but you will most likely experience a crash after that initial spike in blood sugar.
Not sure where to start? Look no further! Here are my go-to, quick and easy pre morning practice snacks that are delicious, nutritious and will provide you with the quality fuel you need to crush your morning workout.
The Elvis: Peanut butter & Banana toast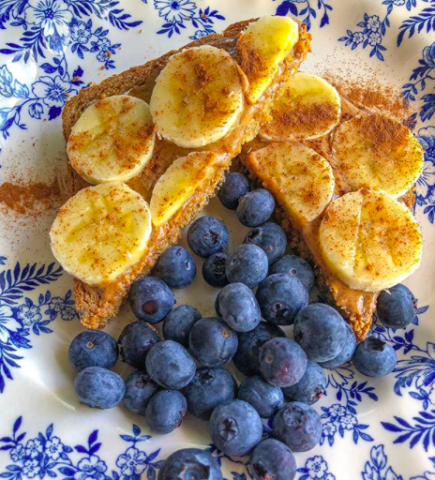 Ingredients
2 slices of whole grain bread
2 tbsp peanut butter
½ sliced banana
Cinnamon (optional)
Named after the King himself, this combo is a nutrient dense powerhouse! The simple, carbohydrates from the banana are easy to digest and will provide you with quick energy whereas the complex carbohydrates take a longer time to break down in your body, providing more sustained energy. The peanut butter contains both fats and protein, which also provide long lasting energy and support muscle function. This particular snack is simple and can be made in any dorm room! I recommend using a bread that contains whole grains, like Food For Life's 7 Sprouted Grains bread. This bread contains no flour and is made from high quality sprouted grains, which provide some healthy fiber and protein as well! If you don't have any bread on hand, you can recreate this concoction using rice cakes or pitas. If peanut butter isn't your thing, don't be afraid to experiment with different nut butters. I love the nutty flavor of almond butter and the creaminess of cashew butter!
Oatmeal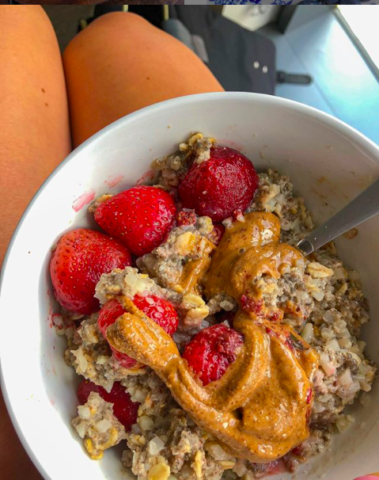 Ingredients
½ cup rolled oats
1 cup water or milk
Cinnamon
2 tsp chia seeds
Frozen strawberries
2 tbsp almond butter
I know what you're thinking. Oatmeal? That's so boring. But it doesn't have to be. It is actually one of the most versatile foods ever! Nutritionally speaking, oatmeal is a fiber rich, nutrient dense, whole grain food, making it the ideal energy source. For your oatmeal bowl, I recommend using rolled oats because they are easy to cook. All you have to do is add about 1 cup of liquid (you can use water or any milk of your choice) to ½ cup of oats and pop it in the microwave for a minute or so, it's that simple! For a balanced snack, I always add fruit or nut butter to my oatmeal bowl. Chopped apples and sliced bananas are great options. If you're in a dorm room and have a mini fridge or freezer, frozen fruit, like berries and mango, is also extremely convenient. I usually mix in chia seeds and add a drizzle of peanut butter or almond butter on top for a good source of heart healthy, omega 6 fatty acids. You can also make overnight oats! All you need to do is put ½ cup oats, 1 cup liquid and 2 tbsp chia seeds in an empty jar (I like to use empty glass or plastic nut butter jars), stir and store in the fridge over night. You can mix in cinnamon and vanilla extract, chopped apples, bananas or frozen fruit and top with nut butter like you would do with a regular oatmeal bowl. What's great about overnight oats is that there is no morning preparation required!
3 Ingredient Pancakes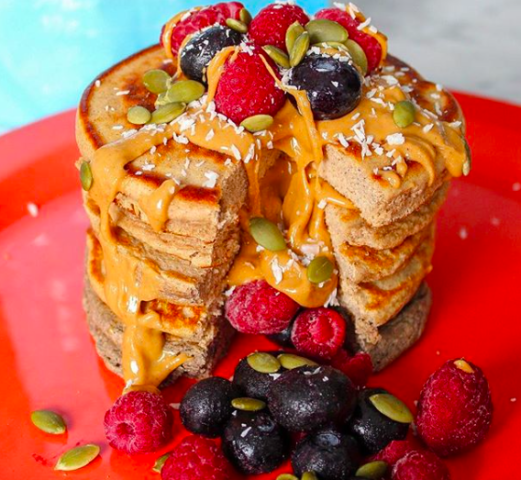 Ingredients
1 banana
1 egg
½ cup rolled oats
Cinnamon
2 tbsp peanut butter
Frozen mixed berries
Handful of pumpkin seeds
1 tsp coconut flakes
That's right. Super quick and simple. If you have some time in the morning, you can make and enjoy these right away however, these pancakes can be made ahead of time and kept in the fridge or freezer, making them the ultimate grab and go pre-practice fuel. You can store them in a tupperware or resealable bag, eat them cold or warm them up in the microwave.  All you need for this recipe is 1 banana, 1 egg and ½ cup rolled oats; a perfect balance of slow digesting complex carbohydrates, protein and healthy fats. Start by mashing the banana in a bowl with a fork. Then, beat in an egg and fold in the rolled oats. If the batter is too thick, add a splash of milk before pouring it into the pan to cook. If you want pancakes with less texture, you can blend all the ingredients in a blender! This recipe yields about 4 small pancakes. I recommend adding cinnamon to the batter and topping the pancakes with nut butter or honey!
These recipes will provide you with quality energy from whole foods, save you time and eliminate the initial panic you feel in the morning when you're scrambling to find something to eat after that alarm goes off. Check out my page for more recipe inspiration and be sure to share your pre-practice snack creations with me @whatzoeeeats.
About Zoe Gregorace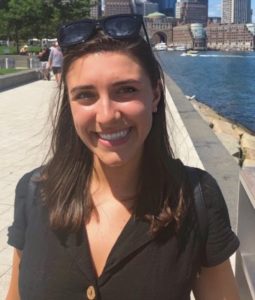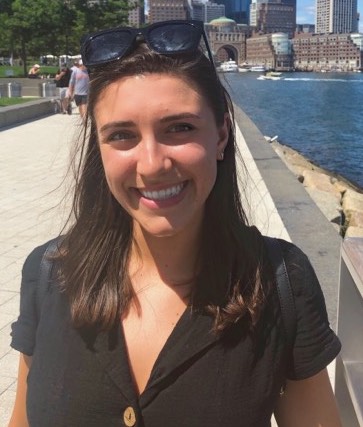 Zoe Gregorace is currently studying Nutrition Policy at the Tufts Friedman School of Nutrition Science and recently graduated from Tufts University, where she earned a Bachelor of Arts degree in Sociology and was a proud member of the Tufts Swimming and Diving team (Go Jumbos!). During her 16 year career as a competitive swimmer, she developed a passion for sports nutrition. She enjoys writing on the topic of nutrition, health and wellness and posts her meal creations on her Instagram page @whatzoeeeats. As a former college swimmer, she strives to share recipes and nutrition tips to promote balanced eating and optimize sports performance.