The Telly Awards has named FINIS, The Factory Agency and Director, Hans Rosenwinkel as Silver Telly Award winners in the 36th Annual Telly Awards for their campaign titled, "Redefine Limitations" featuring Mallory Weggemann. With nearly 12,000 entries from all 50 states and numerous countries, this is truly an incredible honor.
"The Telly Awards has a mission to honor the very best in film and video," said Linda Day, Executive Director of the Telly Awards. FINIS, The Factory Agency and Hans Rosenwinkel's accomplishment illustrates their creativity, skill, and dedication to their craft and serves as a testament to great film and video production."
FINIS, Inc., a leader in technical swimming equipment, has teamed up with The Factory Agency and Hans Rosenwinkel, highly acclaimed Director and launched an awe-inspiring "Redefine Limitations" campaign featuring 2012 Paralympic Champion, Mallory Weggemann in the fall of 2014. The digital and print campaign captured a small glimpse into Weggemann's daily life, as she sets her sights on the Rio 2016 Paralympic Games.
"FINIS is very proud to support Mallory and everything she represents. The Telly Award marks well-deserved recognition for Mallory, Hans and the Factory Agency Team. We know the "Redefine Limitations" campaign will continue to inspire many people around the world, as it has inspired the entire FINIS team. We are thrilled we could contribute to such a powerful message." – Josh Early, FINIS, Inc. Global Marketing Manager
Weggemann's swimming career has been storied with unexpected twists and turns, and 2014-2015 has been no different, as she has been recovering from a severe arm injury throughout the past year and a half.. Even with large and small setbacks, Weggemann has continued to "Redefine Limitations" and push forward to overcome seemingly impossible obstacles and returned to form this past March at the 2015 CanAm Para-Swimming Championships in Toronto, Canada earning a spot on the 2015 Para Pan American roster for Team USA and reclaiming a spot on Team USA's Paralympic Swimming National Team. Highlighted by gold and bronze medals at the 2012 Paralympic Games, Weggemann has high hopes and expectations for the Rio 2016 Paralympic Games.
"I am so very proud of our team effort in the creative and production of this inspiring campaign featuring Mallory Weggemann, that led to winning our very first Telly Award," said Jeremy Snyder, Managing Partner, The Factory Agency. "This is truly an incredible honor and I thank the team at FINIS and Hans Rosenwinkel for helping to make this campaign a reality. We sincerely hope that the campaign will deliver a positive impact on changing perceptions towards disability and motivating everyone to be brave, courageous and rise above to redefine their own limitations in life," said Snyder.
About The Telly Awards
The Telly Awards was founded in 1979 and is the premier award honoring outstanding local, regional, and cable TV commercials and programs, the finest video and film productions, and online commercials, video and films. Winners represent the best work of the most respected advertising agencies, production companies, television stations, cable operators, and corporate video departments in the world.
For its 36th season, The Telly Awards once again joined forces with YouTube to give the public the power to view and rate videos submitted as part of the People's Telly Awards. In addition to recognition from the Silver Telly Council, the judging panel that selects the Telly Awards winners, the Internet community helps decide the People's Telly Awards winners.
A prestigious judging panel of over 500 accomplished industry professionals, each a past winner of a Silver Telly and a member of The Silver Telly Council, judged the competition, upholding the historical standard of excellence that Telly represents. The Silver Council evaluated entries to recognize distinction in creative work – entries do not compete against each other – rather entries are judged against a high standard of merit.
To find out more about the Telly Awards visit our website at www.tellyawards.com.
About FINIS, Inc.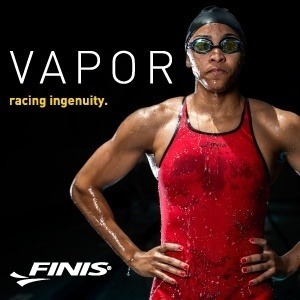 Founded in 1993 in Northern California, FINIS was started by John Mix and Olympic Gold Medal swimmer Pablo Morales. The Monofin and the Swimmer's Snorkel were the first products they developed for the U.S. market; later, they continued to focus on creating training tools for swimmers and coaches worldwide. FINIS products are currently available in over 65 countries and are used by U.S. and international Olympic teams, elite triathletes, and fitness swimmers.
Innovative research and design is FINIS's highest priority. This dedication has resulted in unique products like the Swimmer's Snorkel, which is recognized as the paramount tool to improve a swimmer's technique; the Neptune MP3, which uses bone conduction technology to transmit music to the inner ear instead of ear buds; and the Z2 Zoomers fins, which demonstrate FINIS's intimate understanding of swimming musculature, hydrodynamics, and engineering.
Swimming News is courtesy of FINIS, a SwimSwam partner.