I spent last week at Cornell University, giving a series of lectures on chemical patent law.  I also told SwimSpray's story during a seminar organized by the American Chemical Society. Giving these talks highlighted the perfect storm that led to SwimSpray.  Inventing SwimSpray required Swimming + Chemistry + Patent Law.  Each day last week, I lived this combination: Swimming in morning, then teaching patent law in the Chemistry Department.
Thinking Chemically
            As a PhD student at Cornell, I spent five years making extremely unstable molecules under the guidance of Professor Peter T. Wolczanski.  Our laboratory was the most dangerous place on Cornell's campus.  Looking back, I can remember at least five fires, a few floods, and several explosions.  Fortunately, my lab mate Kurt was also a swimmer–he swam at Davidson College –so we would sneak over to the pool once a day for a quick workout.  I think this kept us both sane.
Professor Wolczanski was a lot like a swim coach: He had high expectations; He screamed at me when I slacked off; and, he motivated me to work my tail off.  After five years of grinding, I started looking at the world as a collection of chemical reactions.  This perspective would later prove critical to my inventing SwimSpray.
Oozing Chlorine at the Patent Firm
            When I completed my dissertation, I took a position at Finnegan Henderson, the world's top intellectual property firm.  Before work each morning, I swam with the Cambridge Masters Swim Club at Harvard University.
For me, working at a law firm was stressful.  Often, I'd find myself sweating bullets for fear of making a mistake or missing a deadline.  Since I was swimming in the mornings, my body would ooze chlorine.  My eyes would burn and my face and neck would become red and irritated.  My colleagues would joke about how my office smelled like bleach.
One day, I realized that my chlorine problem was a chemical problem: I smelled like chlorine because I was still covered in chlorine.  By this time, I was very good at solving chemical problems.  So, once I looked at my chlorine problem from a chemical perspective, I was able to fix it.  That fix grew into SwimSpray.
I never would have invented SwimSpray if I hadn't first learned to think about the world chemically.  Also, I probably wouldn't have cared enough to solve the problem if I hadn't taken a stressful job that also required dressing like a lawyer.
Last week at Cornell, I swam each morning, immediately before putting on my lawyer costume and walking to class.  Three years ago, this routine would have left me uncomfortable–oozing chlorine all day long.  But with SwimSpray, I had zero problems walking straight from the pool to my lectures without any trace of chlorine.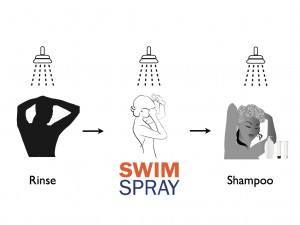 Dr. Andrew Chadeayne is a Ph.D in Chemistry, Master Swimming National Champion, and the inventor of SwimSpray. Follow him on Twitter @swimspray and fan him Facebook.