Matt Biondi is one of the most decorated men in Olympic history, with eight Olympic gold medals, and eleven overall, at the sport's biggest event. In the summer of 1988 in Seoul, Korea, Biondi had one of the most incredible individual performances ever seen by a sprinter, winning five gold medals and breaking four World Records in the process.
What made Biondi one of the greatest ever was his constant drive to be better. If he lost one race, everybody knew to get out of his way in the next one. So legendary was his undying positivity that he was the lead subject of a famous study conducted by a University of Pennsylvania professor on the subject of 'optimism.'
Biondi was timed in a 100 fly, and was told a result that was slower than his actual time. He then repeated the event, and actually swam faster than he did the first time, in stark contrast to many of his teammates who were labeled as "pessimists." Biondi easily could keep himself motivated to get better, because his focus was always on the process and not where he stood on a podium.
After retiring from swimming, Biondi has continued to inspire others as a teacher and swim coach and instill the same drive for success that allowed him to remain one of the most dominant competitors in the sport. At the 2014 USMS Marriott National Championships, Biondi swam the 50 and 100 freestyles, posting times of 21.43 and 46.83 respectively.
In true Biondi fashion, his comment afterwards was simply, "I can go faster."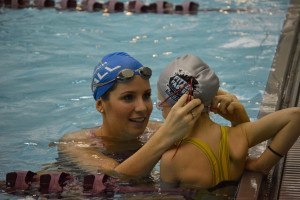 On May 30-31 in Ventura, CA Matt Biondi will be teaming up with three-time Olympian and star of Touch the Wall – Kara Lynn Joyce. The two sprint legends will be working with age group, high school and masters swimmers on the fine points of elite level freestyle and butterfly sprinting techniques. To learn more about these specific and unique clinics, please click below:
Ventura, CA
May 30, Saturday, "The Essentials of Fast Freestyle and Butterfly" (ages 7 to 11)
May 31, Sunday, "High Performance Freestyle and Butterfly Racing Skills" (12 & Over to Masters)
Lincolnshire, IL
Biondi and Joyce will also be working together for two clinics in Lincolnshire, IL on June 20-21.
June 20, Saturday, "Essentials Premier: Freestyle, Backstroke, Starts and Turns"
June 21, Sunday, "High Performance Freestyle, Race Preparation and Mental Strategy"
Cleveland, OH September 12-13
On September 12-13, at the ASCA World Conference in Cleveland, OH this September, Biondi and Joyce will lead a clinic specifically for the Cleveland State University swim team, followed by a two-day Advanced Speed and Power Swim Camp, for swimmers who meet the specific time standards required to attend.
Advanced Speed and Power Swim Camp (two days)
To learn more about Matt Biondi, Kara Lynn Joyce and a full list of their clinics across the country – click on their bio pages below.
Matt Biondi Bio, Fitter and Faster Swim Tour
Kara Lynn Joyce, Fitter and Faster Swim Tour
Swimming News is courtesy of the Fitter and Faster Swim Tour presented by SwimOutlet.com, a SwimSwam partner.