S.R.Smith has just added a new pool lift offering to its comprehensive line of ADA Aquatic Lifts. A 360o rotational pool lift, the aXs2 features a sleek and compact design that requires minimal deck space. It is an ideal pool access solution for public and hospitality swimming pools. The aXs2's powder-coated frame provides extra protection from harsh aquatic environments, and its fully rotomolded seat with flip-up armrests and LiftOperator® Intelligent Control System make it exceptionally user-friendly. Learn more at srsmith.com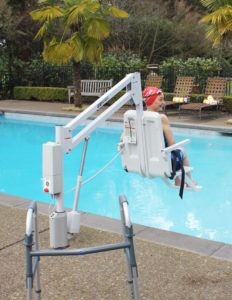 S.R.Smith manufactures a comprehensive line of ladders and rail goods, as well as other commercial swimming pool deck equipment including starting blocks, lifeguard stands, diving boards, slides, games and ADA compliant pool lifts. For more information visit srsmith.com or call 800.824.4387.
About S.R.Smith
S.R.Smith is the worldwide leader of residential and commercial pool deck equipment. Founded in 1932, S.R.Smith is headquartered in Canby, Oregon with additional manufacturing in Portland, Tennessee and Queensland, Australia. S.R.Smith products are featured on some of the finest pools around the world. For more information, visit srsmith.com.
Swimming Gear news is courtesy of S.R. Smith, a SwimSwam partner.