courtesy:RITTER Sports Performance, a SwimSwam partner. 
Most coaches start off in a similar way. They are young and hungry to go out and conquer the world – believing they have discovered the "secret" that others haven't. But inevitably something happens that trips them up and they start to come back down to earth.
So, the question is how can a swim coach actually become better? Some fool themselves thinking that scrolling through social media counts as "continuing education" but if you look at the time spent versus what solid ideas actually come out of it the return investment is pretty poor.
But that's the interesting part. Coaches can actually learn best from others and many times it's what NOT to do. Those are the types of posts you typically don't see, as most people use their social channels for their highlights, not their biggest mistakes and how to learn from them.
If learning from other coaches is the best way to improve then how can this be accomplished in a convenient and consistent way?
You could just rely on trying to chat with other coaches between sessions at a meet or between heats of watching your swimmer. And there have been plenty of great conversations that happen on the pool deck. The problem is that that type of environment rarely allows space and time for coaches to be vulnerable with each other and really get into the weeds of coaching.
RITTER Sports Performance believes that the best way for coaches to constantly improve and learn is through other coaches, especially in a mentorship type of setting. This is one of the main reasons that Paul Yetter is now part of the RITTER Team.
Paul is a prime case for how mentoring can help accelerate your skills and career as a coach. He's had multiple coaching mentors in his life, most famously Bob Bowman, famed coach of Michael Phelps.
"I've been fortunate to have had the opportunity to learn from many coaches over the course of my coaching career, and I'm not only thankful but I'm keenly aware that without those opportunities I wouldn't be as capable as I am today as a coach." Paul explains.
Paul's experience is what drives his passion for leading the new Mentorship Program, a part of The Hive powered by RITTER. This is a unique opportunity to allow coaches to connect with other coaches that are driven to become better and to both learn and teach through shared experiences.
One of Paul's strengths is allowing other coaches to learn through his successes and failures, in addition to all of the lessons he's received from his mentors over the years. Here are a few specifics he's learned from being mentored:
1)      Great coaches keep instructions simple when speaking with athletes or members of the coaching staff. 
The use of cue words, and the repetition of those words during training is an excellent way to teach skills, instruct on team culture, and inspire athletes during training. Coaches should be able to take short (rather than long) breaks between sets, give concise instructions, and keep the athletes moving through the practice.
2)      Great coaches consider the way people learn when instructing or coaching. 
Find alternative ways to teach an athlete when the basic lesson proves ineffective. Use cues that find their way to an athlete's different learning styles; it may be more effective to use visual cues for one athlete, while another may have to repeat the movements to learn the skill. Only the rare athlete will be able to simply hear the instructions and then perform the concept.
3)      Great coaches tend to take look inward at themselves to find the solution to any given problem. 
Oftentimes, there is more than one way to approach the solution.
"Over time I've discovered that the quickest way to get our squads better is to work within our own coaching staffs and seek to help other coaches improve, for the betterment of the athletes within the squad. It's been amazing to see what's come of working with coaches online and on my own pool deck." Paul said describing the experience of the Mentorship Program as well as the continual development he does with his own staff.
"I've been able to assist these coaches while simultaneously gaining knowledge myself through the give and take of our conversations. I've applied this new knowledge and these new skill sets to my own squad of up-and-coming athletes at NBAC."
The learning isn't a one-way street in the mentorship either, for either the coaches in the program or even Paul himself. Here are some reflections from Paul after the first Mentorship Program in The Hive:
1)      As much as I've put my own ideas out there, I've learned many concepts and strategies through speaking formally with dozens of coaches over the last few years, and I've applied them to my program at NBAC. I call this the "mentorship learning cycle" because what goes around does come back around to mentors who are open to it.
2)      Recently within the Mentorship Program in The Hive, I've noticed that the coaches who take a single piece of advice from another coach tend to have two more ideas that support it come forward during the next week. The synergy created during the discussions has seemed to fuel future discoveries within our mentorship group.
3)      Coaches have a lot of fun when bouncing ideas off one another.  It's fun and engaging to talk with other coaches about this unique job we have. I've had a lot of great practices with my athletes after spending an hour talking with 5-10 coaches, and I suspect I'm not alone.
"We want to help create a community of coaches who's #1 desire is to learn and grow throughout their coaching career. By leveraging technology and great coaching leaders, I'm confident we can create an atmosphere where coaches worldwide can come to improve themselves as well as help others." Chris Ritter, CEO of RITTER Sports Performance, said of the Mentorship Program.
As a coach, don't get caught in the trap of trying to become a carbon copy of other successful coaches. Rather in a mentorship relationship you'll be able to learn the principles that you can then apply in your specific situation and in your own personality.
Be sure to listen to the latest Swim Coaches Base Podcast (Apple, Spotify, Google, SoundCloud or Stitcher) in which Paul and Chris discuss the Mentorship Program more in depth. You'll also be kept up to date with this new program through RITTER's social channels, specifically Instagram and Facebook.
You can join The Hive at any time but the deadline to be included in this coming Mentorship Program is Friday, September 13. After that you'll be waiting until the next group starts. Don't put off a great opportunity to learn and grow with other coaches this upcoming season.
For just $1 you can join The Hive powered by RITTER.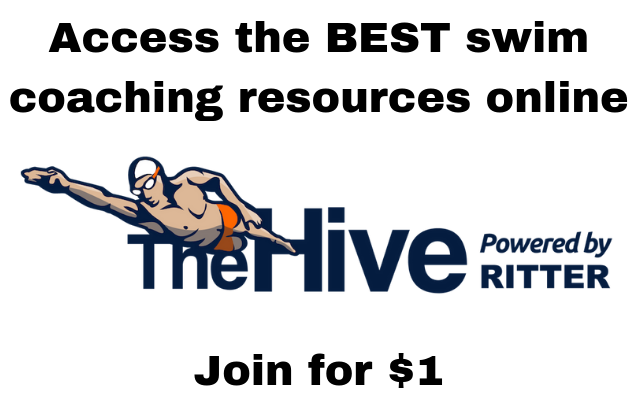 About RITTER Sports Performance
RITTER Sports Performance helps swimmers go faster and coaches get better, worldwide. Through our online resources on strength training, stroke technique, swim-training, race analysis or nutritional coaching–RITTER is ready to help you take your swimming to the next level. Are you?
CONNECT WITH RITTER SPORTS PERFORMANCE:
Ritter Sports Performance is a SwimSwam partner.